ART
FINE QUALITY HAND TINTED STEEL ENGRAVINGS OF 1852 LADIES FASHIONS.
(ANTEBELLUM LADIES FASHIONS) Fine rag content steel engravings, 7" x 10 5/8", hand tinted showing Victorian ladies in the latest frocks and bonnets; engraved in lower border; The World of Fashion", "1852". Removed from a "Ladies Book". The hand tinting and coloring are superb. Would frame up beautifully. Have 4 different engravings that would make an outstanding collage if framed separately and hung together. Pristine. A gem.....[11947****] ..$75.00 each
[11947-1] [11947-2] [11947-3] [11947-4]
SEASON'S GREETINGS FROM THE GUTZON BORGLUMS ON A SEPIA PHOTOGRAPH OF AN UNFINISHED MT. RUSHMORE!
BORGLUM, GUTZON (1867-1941). Am. Sculptor. 5.25" x 7.75" sepia portrait of
the unfinished "Mt. Rushmore" in the Black Hills of South Dakota, his most famous work, and which was also the first federally authorized national memorial. Shows only heads of Washington & Jefferson completed with those of Lincoln and T. Roosevelt not yet carved out of the mountain. On the bottom margin Borglum has hand written "Seasons Greetings/ from the Borglums." The letters "Sea" in "Seasons" very slightly brushed in signing, else fine. A gem and a fantastic association item of one of our national treasures. ......[9806].........$795.00
RARE SIGNED PHOTOGRAPH OF GUTZON BORGLUM, SCULPTOR OF MT. RUSHMORE AND THE CONFEDERATE MEMORIAL ON STONE MOUNTAIN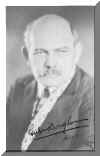 BORGLUM, GUTZON (8867-1941). Am. Sculptor. His works included "Mt. Rushmore" with the gigantic figures of Washington, Jefferson, Lincoln, and Theodore Roosevelt; the Confederate Memorial on Stone Mountain (Georgia) and the figures of Apostles for the Cathedral of St. John the Divine in NYC. Half bust full face sepia portrait, 3.5" x 5.5", bearing photographers signature and boldly signed in full by Borglum. Pristine. Rare....[9290]....$495.00
SIGNED PRINT OF MARC CHAGALL'S PAINTING OF ADAM & EVE IN THE GARDEN

CHAGALL, MARC. Major 20th century surrealistic artist. Spectacular 12 5/8" x 9 3/8" color print of his famous work, the subject matter of which is Adam & Eve in the Garden, plucking the forbidden fruit. Predominant colors are blues, reds, pinks, greens, and yellow. Boldly signed in full by Chagall in his customary indelible jet black art pencil. Extremely attractive and perfect for display. [4729] $995.00
CHRISTO. Artist. Signed color print, 6" x 4" of his controversial work "The Umbrellas", Project for Japan and Western U.S.A., a collage in two parts, 1989, pencil, fabric, pastel, charcoal, crayon & map. On verso is ALS from
his wife dated New York, June 11, 1991, in part: "...We do need more support--it makes us feel better at the end of 17 hours work a day. Friendly thoughts from Jeanne- ? Christo". Interesting piece. Suitable for framing.................[10833]...............$95.00
SIGNED SKETCH OF "WOODY WOODPECKER"
(CARTOON ART) LANTZ, WALTER. Cartoonist. Handsome inscribed and signed sketch of "Woody Woodpecker" on 3" x 5" white card. Suitable for display. Getting scarce. [4701-2] $195.00

ORIGINAL WALTER LANTZ DRAWING OF "WOODY WOODPECKER"
LANTZ, WALTER (1900-1994). Cartoonist. One of the greats. Creator of "Woody Woodpecker" and many other characters. 5.5" x 3/5" original drawing of Woody Woodpecker. Inscribed and signed by Lantz. Strikingly matted in "rainbow" mats (top mat is green with inner mat liners in lilac, teal, yellow and red with gold

wood filet inner liner and has brass plaque engraved: "Original drawing of "Woody Woodpecker"/ by Walter Lantz." Framed in 1.25" gold wood frame, overall size: 12.5" x 12.5". This little piece is one of the most charming items we have ever handled. It would be wonderful in a child's room or anywhere a laugh is needed. ...................................................................[11821].....$395.00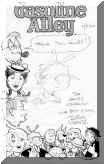 ORIGINAL DICK MOORES DRAWING OF "GASOLINE ALLEY"

(CARTOON ART) MOORES, DICK. Creator of "Gasoline Alley". 6" x 10" personalized "Gasoline Alley" note paper imprinted around the edge with the characters from the strip. In the center Moore has drawn "Gasoline Alley" and inscribed and dated it (1980). The drawing and inscription are about 3" x 6". Suitable for display. >[11618]..$68.50
ALS OF THE ILLUSTRATOR OF `MOTHER GOOSE'

"I NEVER MAKE LITTLE SKETCHES"
PARRISH, MAXFIELD. (1870-1966). Am. painter and illustrator. Best known as illustrator for advertisements, magazines and such books as Mother Goose in Prose, Knickerbocker's History of New York, and Kenneth Grahame's Dream Days and The Golden Age. ALS, 6.5" x 3.5", n.p., n.d., circa 1900, signed with initials "M.P.", written in his lovely and artistic calligraphy: "Dear Miss Brown:/ I wish it were
possible to make a sketch for you, but as such requests come in by the hundreds, you will readily see that I would be days naught else night and day did I attempt to oblige. And what is more I never make little sketches anyway. M.P." Fine..[6451].....$495.00
(OLD WEST) (TEXANA) (ART) REAUGH, FRANK (1860-1945) Texas artist
known as "Painter of the Longhorn". Original Drawing of a Texas Longhorn steer, 4.5" x 3", drawn in sepia art pencil, and signed "F. Reaugh". Handsomely matted and framed. Overall size: 12" x 12". A magnificent and very rare signed drawing, beautifully displayed .......................................[2282-5]................$2500.00
THREE PAGE FREDERIC REMINGTON ALS MENTIONING "GOOD INGUNS"... I AM AGAINST THE WALL AND MUST FIGHT, WHICH I DO REGULARLY... I DESIRE LEISURE AND THE COMPANY OF MEN WHO THINK "STRANGE THOUGHTS..."
REMINGTON, FREDERIC (1861-1909). American painter, illustrator and sculptor. Traveled in Western U.S., worked as a cowboy and was a newspaper correspondent in Cuba during the Spanish-American War (1898). He was renowned as an animal painter and scenes from the Old West. ALS, 8vo, 3pp., signed "Frederic Remington", to "Mr. Secor", (from "301 Webster Avenue, New Rochelle, N.Y., Sunday" n.y. (circa 1890-1895). In full: "My dear Mr. Secor: I have received the fine photographs -- my X-mas from you for which I am much moved by your friendliness. They certainly are fine -- they are what we will call in a humorous way "good Inguns"./ I send you by Adams Ex a little token -- an Xmas token -- and I
hope to manage to invite you to spend a night with me here -- I am so much engaged at present that I cannot do it now. I am in the throes of this quick-living age and I have to "stand up to it". I desire nothing so much as leisure and the company of men who think "strange thoughts", but I am against the wall and must fight which I do regularly but it may be different soon -- well -- we will see. My respects Mr. Secor - (signed) Frederic Remington". Light mounting traces on blank last page. Overall a clean, darkly penned very good example with intriguing content. [11779]+.. $2500.00
CHARMING NORMAN ROCKWELL SIGNED PRINT

ROCKWELL, NORMAN (1894-1978). American artist and illustrator. Color print of his hilarious "Father's Day" "Socks" by Interwoven, a typical oil painting made for advertising purposes. Subject shows a father spanking a boy with his shoe. Both boy and father are wearing knee britches and long socks. Boldly signed on lower border "Sincerely, Norman Rockwell". Handsomely framed in 2.25" bright gold wood frame. Overall size: 11" x 13.5". Rockwell signed prints are no longer common. A gem and a great display piece.......[11814] ....$695.00
NORMAN ROCKWELL ORIGINAL DRAWING
WHIMSICAL PENCIL DRAWING OF A SMALL DOG WHICH WAS ROCKWELL'S TRADEMARK
ROCKWELL, NORMAN. (1894-1978). Am. artist and illustrator. Best known for his legendary Saturday Evening Post covers and his folksy style of art and his unique ability to capture emotions on canvas. Original pencil drawing of a small dog, boldly signed under the drawing which is 3.75" x 5.5". Drawings of small dogs were his trademark. Beneath the drawing is an engraved brass plaque: "Original drawing by/ Norman Rockwell/ American Artist/ (1894-1978)". The drawing is accented by 1/4" gold wood filets and archivally matted in white raw silk mats and framed in a 3/4" bright gold wood frame. Overall size: 12" x 15". Original Rockwell drawings are seldom offered. A gem. ......[11883]....$2500.00
MAGNIFICENT SIGNED COLOR PRINT OF NORMAN ROCKWELL'S FAMOUS PAINTING "THE GREAT MELTING POT
"
ROCKWELL, NORMAN (1894-1978). Am. artist and illustrator. Color print of his well known and poignant painting, "The Great Melting Pot", 6" x 7", showing people of all races, boldly signed on white border, handsomely framed with a 2" gold wood frame. Overall size: 14.25" x 16.5". An oval brass plaque is affixed to the lower blank mat: "Norman Rockwell, Americana Artist/ (1894-1978)" ..........................................................................[11060].........$995.00