MILITARY
He Pressed the Button That Dropped the Bomb Over Nagasaki
Which Ended WW II

ARIAL PHOTO OF BOMBED-OUT NAGASAKI SIGNED BY THE WEAPONEER OF "BOCK'S CAR" WHO DROPPED THE BOMB
ASHWORTH, FREDERICK L. WW II Aviator who was the "Weaponeer" on "Bock's Car". Ashworth pressed the button which released the bomb to fall on Nagasaki on August 9, 1945, following the first bomb dropped on Hiroshima on Aug. 6, 1945. The Japanese surrendered almost immediately after

the 2nd bomb was dropped on Nagasaki. 20" x 16" aerial view photograph of Nagasaki after the bomb was dropped. Photo signed in a light portion: "Frederick L. Ashworth, Commander, U.S. Navy, "Weaponeer", Bock's Car, Nagasaki, 9 August 1945 (later signed). Historically significant. A museum quality piece. A gem...[11543]....$995.00
OFFICIAL SECRET U.S. GOVERNMENT "DAMAGE ANALYSIS OF NAGASAKI" SIGNED BY THE 'WEAPONEER" OF "BOCK'S CAR" WHO PRESSED THE BUTTON WHICH DROPPED THE BOMB THAT ENDED WORLD WAR II
(ATOMIC BOMB) (WW II) (NAGASAKI) ASHWORTH, FREDERICK L. Commander, U.S. Navy, who was the "weaponeer" on "Bock's Car", which dropped the bomb on Nagasaki on August 9, 1945, which ended WW II by causing the Japanese to surrender. Ashworth was ultimately promoted to the rank of Vice Admiral before his retirement from the Navy. Secret U.S. Government Report being a Secret Damage Analysis of Nagasaki following dropping the bomb. 14.75" x 10.25". The document is a graph showing distance from GZ (ground zero), from 0 to 20,000 feet, for damage to 'reinforced concrete' buildings and their occupancy which is broken down into "Heavy Machine Shops, Light Machine Shops, Storage and Offices and Public Buildings. These categories are further broken down into: "No. Bldgs. & Usable Areas; other graphs show various categories and statistics for structures with no salvage value. At bottom of document it is boldly signed by "Frederick L. Ashworth/ Commander, U.S. Navy/ "Weaponeer", "Bocks
Car"/ Nagasaki, 9 August 1945." This is an actual, vintage (circa 1945) official U.S. Government Secret Damage Analysis" chart and report. It was later signed by Ashworth whose material is perhaps the scarcest of the crewmen of the "Enola Gay" and "Bock's Car". Historically significant and (Left & Right scans of document)
a museum quality piece. .........[11815-2].....$1500.00
"BLACK SHEEP SQUADRON"
(WW II) (AIR ACES) BOYINGTON, GREGORY "PAPPY" (1912-1988). Aviator, Air Ace. Won Congressional Medal of Honor in WW II when, as a Marine pilot, he shot down 28 Japanese aircraft. In 1943-44 Boyington led the Marine Fighting Squadron 214 in the Solomon Islands, known as the "Black Sheep Squadron" which was portrayed in the
popular T.V series "Ba Ba Black Sheep". His personalized bank check, drawn on his personal account, and entirely completed by him, Dec. 28, 1981 in sum of $35.20 to the Fresno County Waterworks. Interestingly, his personal check has a W.W. II fighter plane super-imposed on the pale blue bank-check. (This may be an actual photo of Boyington in his famous plane, but we cannot verify this; however, it is the same type plane he flew.) A great item. ....[11954-10]..+...$150.00

VINTAGE ADMIRAL BYRD SIGNED PHOTO IN NAVAL UNIFORM
BYRD, RICHARD E. Vintage 4to half bust SP boldly signed in light portion ("R.E. Byrd") circa 1925. Shown in Naval uniform. Highly desirable and uncommon in this format. Minor tear, expertly repaired, contrast good else fine.... [6792].+....$395.00

CLARK, MARK W. (1896-1984). WW II General. Signature. [10840-2]. ......................................................................... $35.00
POSTER SIGNED BY FOUR FAMOUS AIR ACES, INCLUDING THE FIRST BLACK FIGHTER PILOT AND USAF GENERAL
DAVIS, BEN. Air Ace, 4 kills, first black fighter pilot and first black USAF General; WALKER M. (BUD) MAHURIN, legendary WW II Air Ace; LEO THORSNESS, Medal of Honor Winner, Air Ace in Vietnam. Flew the "Wild Weasel". POW for 6 years; JOE JACKSON, Air Ace, Korean War. Had 10 kills. Handsome color poster, 16" x 20", on heavy stock, being a print of a painting by artist JAY ASHURST of the famous fighter planes flown by the above four aces. Also signed by the


artist. This is


No. 21 of only 25 artist's proofs. Boldly signed by all four Air Aces in pencil in a light portion at the bottom of the print. Handsome and absolutely mint.... ....[11545]. ...... .....$195.00
"OUR COUNTRY! IN HER INTERCOURSE WITH FOREIGN NATIONS
MAY SHE ALWAYS BE IN THE RIGHT; BUT OUR COUNTRY, RIGHT OR WRONG!"
DECATUR, STEPHEN (1779-1820). American naval officer and hero. Commanded schooner "Enterprise" in Tripolitan waters (1803); led daring exploit in burning "Philadelphia", which had been captured and held by Tripolitans (Feb. 16, 1804); promoted to Captain. In War of 1812, commanded the "United States" in victory over the British ship "Macedonian" (Oct. 25, 1812) and the "President" in victory over "Endymion" (Jan. 15, 1815). Commanded Squadron which sailed to Algeria and forced a peace on American terms (1815). At a banquet on his return, he gave the famous toast: "Our country! In her intercourse with foreign nations may she always be in the right; but our country, right or wrong!" He was killed in a duel by James Barron, at the early age of 40.
Franked address cover, 5.25" x 3.5", addressed to "Commr. A. Murray/ Philad.a." In upper right corner is written "Navy Commrs. Office", beneath which Decatur has signed his name in full "Stephen Decatur", with an unusually dark fine signature. In upper left portion is a circular "Washington City, Oct. 6" postmark. The word "Free" is stamped below Decatur's signature. In lower right margin a small 1/2" seal tear has been expertly repaired. The item has a 1/4" bright gold wood filet liner accenting it. Mounted with 8vo antique steel engraving of Decatur showing him full length on the deck of a battle ship, resting his foot on a cannon. Mounted beneath the document is a small oval brass plaque engraved: "Stephen Decatur/

American naval hero/ (1779-1820)". The ensemble is matted in ivory mats accented with terra cotta "V-Grooves" and framed in a 1.5" gold leaf wood frame. Overall size: 21" x 15.75". A museum quality piece ................................................................................[8235].......$2495.00


DENT'S COPY OF GENERAL ORDERS No. 53 NAMING HIM AIDE-DE-CAMP TO GENERAL GRANT
(DENT, FREDERICK T.) Dent was the West Point room mate of U.S. Grant who later married his homely cross-eyed sister, Julia. Dent served on Grant's staff during the Civil War and in the White House. Dent was involved in some of the scandals of the Grant administration and resigned in disgrace. General Orders,/ No. 53./ Headquarters of the Army,/ Adjutant General's Office,/ Washington, July 28, 1866. 8vo. The following named officers are hereby announced as Aides-de-Camp to the General-in-Chief (Grant) with the rank of Colonel, to date July 25, 1866. Brevet Brigadier General Frederick T. Dent, Major 4th, U.S. Infantry. The others named are Cyrus B. Comstock, Horace Porter, Orville E. Babcock, Adam Badeau, and Ely S. Parker. Signed in ink by E.D. Townsend, Assistant Adjutant General. At blank bottom of document is written in red ink: Bvt. Brig. Gen. F.T. Dent, Hd.Qrs. of the Army. Provenance: From the estate of General Dent. Pristine...[11923]...$195.00
DOOLITTLE, GENERAL JIMMY. Aviation great. Handsome 4to color ISP showing Doolittle in uniform....[4715]......$125.00
(WW II) FULLER, LEN. General, British Air Force. Commanded the 41st Div. at Humboldt. Took part in the April 1944 recapture and invasion of New Guinea. Interesting Christmas card in the form of a small booklet with the blue embossed insignia of the Royal Air Force and tied with a red white and

blue ribbon. Inside are printed greetings and the photo of an airplane. Fuller has written an 11 line ALS to a friend and signed "Len Fuller". Interesting WW II item.............. .[11724]...........$25.00

HISTORIC NAZI - HERMANN GOERING ITEM
"Sheet of Paper on Which Goering Signed His Name Five Times During Nuremburg War Trials While Awaiting to Personally Confront Hess"
(NAZI-WW II) GOERING, HERMANN (1893-1946). Joined the National Socialist party (1922) and took command of the storm troopers; took part in the Munich Putsch (1923); exiled in Austria (1923-27); member of the Reichstag (from 1928) and its president (1932 ff.). In Hitler's government, became (1933) Minister for air forces, Prussian Minister of the Interior, and general of infantry; built up new Luftwaffe (air force). Succeeded Schacht as economic dictator of Germany (1937); declared successor to Hitler (1939); named Reichsmarshall (1940); enriched himself, amassed vast art collection at baronial estate Carin Hall. Convicted of war crimes by Nuremburg tribunal (1946); committed suicide in jail. 4to sheet of plain stationery on which Goering wrote five signatures in 1945 (two rare full signatures, one (usual) signature signed "Goering" and two sets of initials.) (see illustration) while he was waiting to confront Rudolf Hess at the Nuremburg War Trials, which was their first meeting since Hess's defection to England prior to the war, and since they had both become prisoners of war and only approx. six months prior to Goering's suicide. Following is the affidavit of the official war crimes court reporter who obtained the item: (Written on letterhead of the U.S. House of Representatives, Washington, D.C., Official Reporters of Debates, Jack Rund, Chief Reporter) "June 9, 1974: To Whom It May Concern as a Record of History: From the spring of 1945 to November 23 of 1945 I was the Chief Reporter of the Nuremburg War Trials, Nuremburg, Germany. My official rank in the service was that of Warrant Officer assigned to the Office of Strategic Service (OSS). During this time, a dramatic moment in modern history, I witnessed many incidents of great historic import. Besides the actual trials themselves, I took testimony of depositions conducted by U.S. interrogators. I took depositions from practically all of the main figures at the trials, including testimony from Goering, Hess and Von Ribbentrop. One of the most interesting moments I experienced related to the circumstances surrounding my obtaining the enclosed original and genuine signatures of Hermann Goering at a deposition in October or November of 1945, about six months before Goering was convicted and sentenced to hang and then took his own life. During this deposition we had some extra time to kill as we were waiting for Rudolf Hess to enter the interrogation room; he was being specially transported from England so that this meeting, the first occasion that these two were reunited, would occur. Also in the room were U.S. Supreme Court Justice Robert Jackson and John Harlan Amen, the chief interrogator for the American contingent. When Hess entered the room, Goering extrovertedly exclaimed "Hello Rudy" and spread his arms in welcome. Hess looked, his jaw dropped, and you could tell that the wheels were turning in his head as this meeting was designed as a surprise. His mouth opened, but he still did not say anything and would not respond to questioning, saying only, "Can't talk" and "I'm tired" (in German). Upon ending this deposition, but before leaving the room, I obtained the sheet of paper that Goering had been doodling upon during our long wait for Hess's arrival. As one

can see, it contains Goering's signature signed two and one-half times. I therefore submit this document unaltered and in original condition to whoever is concerned with this period of history. (signed) Jack Rund, C.S.R." Also comes with a notarized statement from Rund attesting that the item is genuine. Historic Nazi- WW II item. The trio.. (net to all). .[1438]. ........$2995.00
ORIGINAL SIGNED COPY OF A PATRIOTIC SPEECH BY OVETA CULP HOBBY,
HEAD OF THE WAC'S IN W.W. II
(W.W. II) (CABINET) (FEMINISM) (TEXANA) HOBBY, OVETA CULP. Commander of the W.A.C.'s in W.W. II; Secretary of Health, Education, & Welfare under Eisenhower. Wife of W.P. Hobby, a former Governor of Texas and owner of the Houston Post. Mrs. Hobby's copy of a patriotic speech,
undated, but circa 1945, two typed pages, 8 1/2" x 14", with
numerous pencil corrections in her hand. Signed at the end in pencil: "Mrs. W.P. Hobby" beneath which she has written in pencil: "My dear Mr. Templeton: Will this do? You are privileged to change it as you like. Mrs. Hobby". Actually signed twice, and with a scarce form of her signature as her usual signature is "Oveta Culp Hobby". In part: "Texas women in large numbers crossed the seas dedicating themselves to helpful service. Those remaining behind participated in the various war activities with zest and enthusiasm. Red Cross work was entered upon by practically every woman in the state...The women campaigned for the liberty loans, collected with untiring hands and hearts full of tenderness funds for the alleviation of suffering attendant upon the pitiless war...These noble women seek no recognition nor reward for the services rendered; it was a service of love. No tablet will reflect the record and no monument mark the magnitude of their work, but deep in the hearts of the manhood of Texas will be the consciousness that the women of Texas were their comrades in arms, marching with them and now rejoicing with them in the triumph of democracy over a militant and destructive autocracy..." Fine WW II, feminist, and Texana item...[2356]..++..$295.00
ATTRACTIVE LaFAYETTE ALS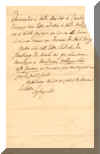 LaFAYETTE, GILBERT du MOTIER de (1757-1834). French statesman. Revolutionary War hero; Maj. Gen. in Continental Army; intimate of Washington; instrumental in Cornwallis' defeat; advocated American cause in France. ALS, 8vo, n.p., n.d., in French, 10 lines. Small piece of the upper right blank margin is missing, affecting two words, else fine. All writing is bold and extremely dark and the signature is a fine one. Untranslated. This is an attractive piece which has a very fresh clean appearance.....[5809]...+.....$795.00

THE ULTIMATE ROBERT E. LEE DISPLAY PIECE! LEE'S SIGNATURE HANDSOMELY MATTED WITH A STRAND OF HIS GRAY HAIR, A RARE PIECE OF HIS PERSONAL BATTLE FLAG, A SEPIA PORTRAIT OF HIM AND A SMALL CONFEDERATE FLAG.

LEE, ROBERT E. (1807-1870). General, Confederate States of America (1861-1865). A bold choice dark signature of Lee, matted beneath a 3" x 4" sepia half bust portrait of him and a 4" x 5" red and navy Confederate flag. ALSO INCLUDED IN THE ENSEMBLE IS AN EXTREMELY RARE 1/4" X 1/4" NAVY BLUE PIECE OF GENERAL LEE'S PERSONAL BATTLE FLAG. To our knowledge, Lone Star Autographs acquired the only known piece of Lee's personal battle flag. PROVENANCE: Comes with copy of 3" x 4.25" card imprinted "At Home" in old English type. Written vertically on the card, is: "General Lee's flag given me by Col. Allen of Va.". ALSO COMES WITH A SMALL STRAND OF GEN. LEE'S GRAY HAIR. PROVENANCE: Comes with a copy of a notarized certificate of authenticity signed by the late veteran autograph dealer and author, Charles Hamilton, which contains a copy of a card with the following written thereon: "Part of a Lock of Hair, cut from General R.E. Lee's head by himself and presented by him to Louise R. Thorne, April 19, 1869, at his house in Lexington, Va." Hamilton's affidavit further states: "Provenance: Christies of New York." The signature, portrait, Confederate flag, piece of Gen. Lee's personal battle flag and hair are all handsomely and archivally matted in mahogany veneer mats and accented with 1/4" gold wood filet liners and brass plaques engraved as follows: "Robert E. Lee/ 1807-1870/ Commanding General/ Confederate States/ of America"; "Actual piece of/ Gen. Robert E. Lee's/ personal battle flag"; and "Lock of hair of/ Gen. Robert E. Lee". Framed in a 2" gold wood frame. Overall size: 25" x 21". A museum quality piece. .....................................................Net to all.......[10763]....+............$7500.00

GREAT WW II ITEM: THE FIRST IWO JIMA FLAG RAISING

"JAPANESE OCCUPATIONAL CURRENCY SIGNED BY CHARLES W LINDBERG, ONE OF THE SIX ORIGINAL FLAG RAISERS ON IWO JIMA"



LINDBERG, CHARLES W. A Marine corporal who was one of the First & original six flag raisers on Mt. Suribachi, Iwo Jima, 10:30 A.M., Feb. 23, 1945. (The now immortal photograph of the event was a re-enactment for the benefit of photographer Joe Rosenthal and different Marines were used.) $100. Japanese occupation currency signed on verso along top margin. Bill printed in sepia with vignette of a native and two water buffalos standing in a stream. (On the recto is a scene showing a thatched hut on a beach, surrounded by palm trees, & imprinted: The Japanese Government/ promises to pay the bearer/ on demand/ one hundred
dollars. There are also Japanese characters at the bottom. A rare, unusual and highly desirable WWII item with wonderful association value. Mint....[10996-6]. ........$195.00

DRAMATIC MacARTHUR SIGNED PHOTO
MacARTHUR, DOUGLAS. Five Star General of the army of WW II & Korean war fame. 7" x 10" matte finish, full face pose in uniform, wearing military cap. Boldly signed in a light portion. Side margins slightly trimmed, touching no image, else pristine....[9989].......$795.00
THE ULTIMATE ADMIRAL NIMITZ WW II PIECE
(WW II) NIMITZ, CHESTER W. (1885-1966). Fleet Admiral. One of the few five star military officers in the history of the U.S. Commander of the Pacific Fleet following Pearl Harbor (1941-1945); Chief of Naval Operations (1945-47). One of the most important military figures of WW II. Nimitz's famous motto is boldly imprinted on a 9" x 4" heavy card and signed at the end by

Nimitz ("C.W. Nimitz") The motto reads, in full: "The Lord gave us two ends to use; one to think with and one to sit with. The war depends on which we choose -- Heads we win -- tails we lose." The piece is quintuple matted with gold filet, red, white and blue liners and matted with a 5" x 4" oval photograph of Admiral Nimitz aboard the U.S.S. Missouri shown sitting at a desk and signing the instruments of the Japanese Surrender which is highlighted by red and gold liners. A 3" x 1.75" brass plaque is mounted below the photograph and engraved "Admiral Nimitz/ "Using both ends"/ signing Japanese/ Surrender Treaty/ (1945)." The ensemble is matted in ivory mats and framed in 2" gold wood frame. Overall size: 18" x 26". Likely unique and the ultimate WW II piece. Net to all.. [11993]..$1500.00
NORTH, OLIVER L. of Iran Contra fame. U.S. Senatorial candidate. Signed copy of his controversial book Under Fire, An American Story, with William Novak, 8vo, 446 pp., Harper Collins Pub., 1st ed., d.j., 1991. His explosive autobiography. North for the first time tells the un-whitewashed story of the Iran-Contra affair, of which he was at the center. His cast of characters includes Ronald Reagan, George Bush, William Casey, and Bud McFarlane. This book crackles with human drama and extraordinary revelations. Inscribed and signed on dedication page: "Many thanks for helping Tyler. Oliver North." Mint.[8203-1] + ..$95.00
Same as preceding except signed only: "Oliver North". [8203-2].+..$95.00
MILITARY DOCUMENT SIGNED BY BOTH BERNARDO O'HIGGINS, THE "LIBERATOR OF CHILE" AND JOSE DE SAN MARTIN, THE LIBERATOR OF PERU
O'HIGGINS, BERNARDO. (1778-1842). Soldier and statesman. Known as the "Liberator of Chile". Military leader of Chilean patriots from 1810; made Commander of the Army (1813); after joining with San Martin; decisively defeated the Spanish at Chacabuco (Feb. 12, 1817); Dictator of Chile (1817-23). His administration was a progressive one. In 1823 he was deposed by revolution and retired to Peru.
SAN MARTIN, JOSE DE. (1778-1850). South American soldier and statesman. Offered his services to Buenos Aires in its fight for independence (1812);

defeated Spaniards (1813); succeeded Belgrano as Commander in Chief (1814); organized army in Argentina (1814-16); crossed the Andes and with General O'Higgins, defeated the Spanish at Chacabuco (1817); and Maipo (1818) in Chile; established independence of Chili; with aid of Lord Cochrane, developed a Chilean fleet and left with it for Peru (1820). Won over Peruvians and entered Lima (July, 1821) as Spanish withdrew; proclaimed independence of Peru; assumed title of "Protector of Peru". Resigned (1822), refusing to oppose Bolivar's ambition, but his work made possible Bolivar's later victories over the Spanish. Regarded as an able soldier and a farsighted and upright statesman. D.S., 8.5" x 12", in Spanish, signed by both O'Higgins ("O'Higgins") with his usual signature, as dictator, Santiago, March 26, 1820, and Jose de San Martin ("Jose de Sn. Martin"), Santiago, 22nd April, 1820. The autograph of both these South American liberators is scarce, particularly O'Higgins. However, documents signed by both are virtually unobtainable, this being the only such example we have seen. The document is chipped and irregularly torn along the left border with some paper loss and minor text loss, apparently from removal from a bound volume, otherwise in fresh, clean and pristine condition. A museum quality piece....[11890]..+..$3500.00
GENERAL GEORGE S. PATTON SIGNED CENSORED ENVELOPE AS COMMANDER OF THE THIRD U.S. ARMY TO THE ADJUTANT GENERAL
(W.W. II) PATTON, GEORGE S. (1885-1945). Legendary WW II General. The WW II general most feared by the Germans. Commanded the Third Army in Western Europe (1944-45). Envelope addressed in type to "Major General James Ulio/ The Adjutant General/ War Department/ Washington, D.C./ U.S.A. " Printed return address is: "Headquarters/ Third United States Army/
Office of the Commanding General/ APO 403. Above return address is the typed word "Censored" beside which Patton has signed in black ink "G.S. Patton, Jr." In blank right corner is typed "FREE" and postmarked "U.S. Army Postal Service APO". The date is partially legible and appears to be 1945. Normal age toning. Mounting traces on blank left and right sides. A strong signature and suitable for display. Scarce.. [12317]..$1995.00
<><><><><><><><><><><><><><><><><><><><><><><><><><>
MILITARY CONTENT PERSHING LETTERS WRITTEN FROM PARIS SOON AFTER THE ARMISTIS
PERSHING, JOHN J. (1860-1948). General of the Army. Commander, AEF in WW I. One of our few 5-star Generals. TLS, 8vo, embossed letterhead of "American Expeditionary Forces/ Office
of the Commander-in-Chief." Marked "Personal" and datelined "France, May 28, 1919", only 6 months after the Armistis on Dec. 11, 1918. To Hon. Guy E. Campbell*, House of Rep., Washington, D.C. In full: "My dear Mr. Campbell: I have received your letter of April 30th, concerning Private Frederick G. Hanselman, and wish to inform you that this soldier returned to the United States March 24, 1919. Sincerely yours, (boldly signed) John J. Pershing". Pershing letters from France are scarce and desirable. Mint condition. ...[12286]..$595.00
*Guy E. Campbell (1871-1940) served in U.S. House of Reps.(1917-33) as both a Democrat and a Republican.
PERSHING LETTER ABOUT A WOUNDED SOLDIER
PERSHING, JOHN J. TLS, 8vo, embossed letterhead of the "American Expeditionary Forces/ Office of the Commander-in-Chief/ marked "Personal" datelined from "France, April 8, 1919,

slightly less than five months following the Nov. 11, 1918 Armistis. To: F.D. Byington, Chief Clerk, Bureau of Pensions, Washington, D.C. In full: "Dear Mr. Byington: I have received your letter of January 14th concerning your son, First Lieut. Samuel B. Byington, and wish to inform you that he is now at Medical Casual Camp, Lazure, American Embarkation Center, Le Mans, awaiting assignment by the Chief Surgeon, American Expeditionary Forces, and is in good health. The letter addressed to your son has been forwarded to the address given above. Sincerely yourS, (boldly signed) John J. Pershing". Superb military content letter about a wounded soldier. Pershing letters from France, particularly with military content, are scarce and desirable...[12287]..$795.00
<><><><><><><><><><><><><><><><><><><><><><><><><><><>
PERSHING PROGRAM SIGNED BELOW HIS PORTRAIT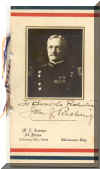 PERSHING, JOHN J. Program booklet, 3.25" x 6.25", on card stock with a small sepia portrait quality half-bust photo of Pershing in uniform, 2 1/8" x 2 7/8", below which he has written "To Brooks Robertson/ John J. Pershing." Printed in lower left corner is "M.L. Turner/ At Home/ Feb. 10, 1920/ Oklahoma City." The booklet is white and has red & blue stripes at top and bottom and is bound with a red, white and blue ribbon. First page is imprinted "In Honor of / Gen. John J. Pershing/ and Staff." The second page lists "Guests" which include Gov. J.B. Robertson, Gen. Roy C. Hoffman, Gen. H.W. Pentecost, Gen. Chas. F. Barrett and Rev. J.E. Pershing, undoubtedly a kinsman of the General. A delightful item which is technically a signed photo. Nice....[12288]...$395.00

POWELL, COLIN L. General. Secretary of State. His autobiography My American Journey, 8vo, 643 pp., Random House, pubs., 1995, 1st ed., d.j. Boldly signed on title page. Colin Powell is the embodiment of the American dream. He was born in Harlem to immigrant parents from Jamaica. He knew the rough life of the streets and he overcame a barely average start at school. Then he joined the army -- and the rest is history. He writes of his climb to Four Star General, National Security Adviser, Chairman of the Joint Chiefs. Powell gives us candid behind the scenes portraits of Presidents Reagan, Bush, Clinton, Stormin' Norman Schwarzkopf and many others. Absorbing.. [12145].+++.$95.00
(AVIATION) (WW I) RICKENBACKER, EDDIE. WW I Air Ace. 4to B&W ISP, shown sitting at desk, 1967. Boldly signed in a light portion. Fine......[6625].....+......$250.00
(WW I) (AIR ACE) RICKENBACKER, EDDIE (1890-1973). WW I Air Ace. Had 26 victories. Fought the Red Baron. 5" x 7" B&W SP, circa 1958, showing him in a business suit, sitting at a desk. Boldly signed. Nice. Comes with transmittal letter from his secretary .[10071]....+.... $195.00


WESTMORELAND, WM. C. Commanding General in Viet Nam. TLS, 4to, personalized letterhead, August 21, 1990, sending a copy of an article he had recently written for the N.Y. Times...[10992].........$48.50
LAST ISSUE --"V-J EDITION" OF THE MANILA "FREE PHILIPPINES"
NEWSPAPER, Vol. IV, Sept. 3, 1945
(With text of the Japanese Surrender Document)
(WW II) "Free Philippines", Manila newspaper, Sept. 3, 1945. Headlines: V-J Edition/ Peace! Lead article: "Aboard U.S.S. Missouri, in Tokyo Bay- Peace was restored to a war ravaged world yesterday when Japan formally and unconditionally surrendered to Allies aboard this giant American battleship. General MacArthur, the Supreme Allied Commander, keynoted the ceremony, saying at its conclusion: 'The entire world is at peace - a new era is upon us.'" Front page photo of "GIs celebrating V-J Day in Manila". Other headlines: "Yamashita Gives Up; Peace in Philippines". Printed at bottom of front page: "This will be the last issue of the Free Philippines as a Manila metropolitan daily." When it was initially published on Feb. 9th while fighting still raged throughout the city, the Manila Free Philippines was established as a temporary expedient to supply news and information until privately printed newspapers with sufficient resources could perform these functions. "...the almost complete destruction of printing facilities in the city, coupled with the acute shortage of newsprint, made it impossible for the great Manila newspapers to begin publication on a scale commensurate with the needs of the city. However, with Japan's surrender and President Truman's official declaration of V-J Day yesterday, the Manila Free Philippines bows out of existence with its task complete." Other headlines: "Drifting Mines Menace U.S. Seventh Fleet" / "Craftsmen For Victory: (shows photos of Halsey, MacArthur and Nimitz), Other photos: Sergio Osmena, President of Philippines, / Stalin, Truman and Churchill at Potsdam / and Clement Attlee. Centerfold has many photos of the Battle of the Pacific. Other headlines: "First Jap General Order Is Issued on Allied Instructions"; "Special Election for Japan Called"; Jap Atrocities at Orusiber 'Torture Farm' Discovered"; "Nearly 2 Million GI's Sent Against Japanese"; "Inflation and Shortages Leave Big Tokyo Scars"; "Soviet Prisoner Bag Now Totals 545,000"; "Japanese Surrender Document Text"; "We Shall Not Forget Pearl Harbor- Truman"; "Nimitz Says V-J Won at High Cost"; "Allied Forces Enter Hong Kong"; "Dutch Indies May Be Liberated Last"; "French Fleet is Being Salvaged"; "Commodore Perry's Faded Flag Displayed at Surrender Ceremony Aboard Missouri". A rare and historic underground WW II newspaper. A museum quality item. Usual fold marks. Excellent overall condition. .................................[11722]..$295.00

HISTORIC NEWSPAPER: FREE PHILIPPINES, MANILA
"SURRENDER SIGNED TODAY AT 10:35 A.M."
(WW II) "FREE PHILIPPINES", Manila newspaper, Free copy, 2nd edition, Vol. IV, Sun., Sept. 2, 1945, 4pp., 10.5" x 14.5", headlines about Japanese surrender which is the feature story. Other headlines: "Japanese Prisoner of War 'Hell-holes' Uncovered"; "Wainwright And MacArthur Meet"; "U.S. Top Leaders At Jap Surrender"; "Reds Advance to Great China Wall"; "MacArthur's 'Long Hard Road'"'; "Hess 'Standing By' for Transfer to Nuernberg"; "Death Sentence for Quisling Demanded"; "Yamashita Decides to 'Come Out' Today". [11723].............$195.00
SOVIET FIELD MARSHALL AND PERHAPS THE GREATEST RUSSIAN HERO OF WW II: WAR DATE MILITARY CONTENT DOCUMENT
ZHUKOV, GEORGI KONSTANTINOVICH. (1896-1974). Soviet field marshal who survived crushing poverty and Stalin's purges to command the Russian armies at the monumental battles of Moscow and Kursk as well as the taking of Berlin. He was the last general to attest to the formal surrender of Germany. DS in Russian, 2 pp.,

4to, Kiev, Oct. 25, 1940. Appointment of a commission to be responsible for quality control at a new Kiev military district headquarters building. Boldly signed. Countersigned by Borisov, Commissar 2nd rank; and Lieut. General Purkaev. Light edge wear, else VG. War date and military content material of any major WW II commander is rare. Material of the Russian Commanders has always been scarce......[11774]..... $695.00