MOVIE STARS & ENTERTAINERS

ALLEN, FRED. Popular radio comedian. Bold signature on album page with two small printed photos of him pasted in corners. On verso, a pencil signature of Charlie Butterworth, a comic character actor, is pasted to page...[11931]..$48.50
ANKA, PAUL...Pop music star. Signed Christmas Card...[3163]..+....$25.00
RARE FULL DESI ARNAZ SIGNATURE
ARNAZ, DESI (I LOVE LUCY) Actor and Band Leader. Co-star of the long running classic early T.V. Show "I Love Lucy". ANS on blue 3 x 5 card. Boldly signed. ...................................[11458].........$150.00

ASTAIRE, FRED. Am. actor and dancer. Won Academy Award. One of the greats. Vintage 4to half bust B&W SP, circa 1935, later signed. Shown at his prime. A gem............[11570].....$250.00
AVALON, FRANKIE. Pop singer and teen idol of the 50s. 4to glossy B&W ISP. [3332]..+ $25.00 each

BACALL, LAUREN. Actress, leading lady. 8vo color printed SP. Nice. Sold for signature value. [329].. $28.50 each

BACALL, LAUREN. Actress. Huge in-person blue ink signature irregularly clipped from album page. [12338]. $45.00
BAILEY, PEARL. Black singer-comedienne. In: Variety Girl, Carmen

Jones, St. Louis Blues, etc. 4to glossy B&W SP, vintage, signed in full. She normally signed only her first name. [3289] $65.00
RAT-PACK SINATRA CONTENT JOEY BISHOP ALS
(SINATRA, FRANK) BISHOP, JOEY (1918-2007). Comic-actor. Last surviving member of Sinatra's famous "Rat Pack". ALS, 4to, May 28, 1990, personalized letterhead. In part: "It would take more time than I have to tell you of some of the wonderful things Frank Sinatra has done in his life-time and never allowed to be known." Mint and a great association item. Scarce in A.Ls.S. A gem. [3579] $195.00
BISHOP, JOEY. Comic actor. In: Onionhead, The Deep Six, Johnny Cool, etc. 4to (8" x 10") glossy B&W Inscribed, signed photo..... .[9052]... .$48.50
CHOICE HUGE HUMPHREY BOGART SIGNATURE

BOGART, HUMPHREY. (1899-1957). Academy Award winning actor (African Queen), etc. One of the greats. Huge bold almost 5" blue ink signature clipped from album page. Perfect for matting. [12337]. $995.00 (Shown in Greyscale)

BOGDANOVICH, PETER. Movie director, writer, producer, actor. 4to glossy B&W SP. Not common... [3288].. $25.00
BOND, TOMMY "BUTCH" (LITTLE RASCALS). Child star. Bold signature on small personalized white card imprinted: "Butch" and "Tommy 'Butch' Bond of The Little Rascals". [10659]***..$25.00
(G.W.T.W.) BROOKS, RAND. Actor. Best known for his role as Scarlett O'Hara's short lived husband, Charles Hamilton, in "Gone With The Wind". Reprint of an early 4to B&W photo, circa 1940, in character from a western. Boldly signed. Nice. ..[4297]** ..$35.00

JOE E. BROWN'S AUTOBIOGRAPHY
BROWN, JOE E. (1892-1973). Comic actor and entertainer. Known as "clown-prince" of the movies, radio and TV and "Self-appointed Ambassador of Goodwill". His autobiography: Laughter is a Wonderful Thing as told to Ralph Hancock, 8vo, 311 pp., A.S. Barnes & Co., N.Y., pubs., 1956, 1st ed., d.j. inscribed and signed on first free blank end paper. A heart warming story of a humorist and humanitarian who was one of America's best loved personalities. Excellent condition. ..................>[11561].......$95.00
BUTTONS, RED. Comic actor. Vintage 5" x 7" B&W SP, circa 1945. Signed in green ink which does not reproduce well...Good contrast........[5853] .... $50.00
BUTTONS, RED. Comic-actor. 4to B&W ISP. [3295]. $38.50 each.

CAREY, McDONALD. Actor, leading man. 4to TLS telling price of his book of poems. Not common in letters. [3296] $25.00

CODY, LEW. (1884-1934). Am. leading man of silent films. In: The Demon (18), Don't Change Your Wife(19), etc. Married to Mabel Normand, a comedienne and player in Keystone comedies and a Chaplain co-star. 4to sepia half-bust SP, circa 1925. Fine. Not a common movie autograph.... [11574]......$48.50

COSBY, BILL. Comic actor. 4to B&W SP in-character from "Uptown Saturday Night", with Sidney Poitier and Harry Belafonte. [3169] $25.00

CRAWFORD, JOAN Am. actress and leading lady. One of the greats. Won Academy Award for her role in Mildred Pierce (45). 4to B&W matte finish ISP, circa 1955. Striking full face, half-bust pose. Nice..........[11480]........$150.00

CRENNA, RICHARD. Actor. Vintage 4to B&W ISP, circa 1950. The earliest and finest Crenna SP to cross our desk...[3171]..$25.00

CURTIS, TONY & JERRY LEWIS. Actor and actor/comic. 4to B&W glossy SP, scene from Boeing-Boeing, 1965, boldly signed by both. Top and side margins trimmed, thus priced. [3479] $75.00
(C & W) DAVIS, SKEETER. Country & western signer of the 50's & 60's. 4to B&W SP, circa 1950. Scotch tape in several places around margins and staple hole in upper blank left corner and a few hairline creases. Still a nice item. A scarce C&W autograph....[11935]...+.$75.00
DeCARLO, YVONNE. Actress and leading lady. 5" x 7" B&W ISP. [3299] $35.00

EDDY, NELSON. (1901-67). Am. actor and singer of the 30's and 40's. Former Opera star. Best known for the 1930's series with Jeanette MacDonald. Handsome candid 4to informal ISP, half-bust pose wearing a partially unbuttoned open neck shirt. Shows him smiling broadly. A handsome photo and pose. Hard to imagine a finer Eddy item..[11466]..$175.00
IN PERSON EVERLY BROTHERS SIGNATURES
EVERLY BROTHERS (PHIL & DON). First Rock & Roll Duo. Influenced other artists. Vintage in-person full signatures of both on verso of 3.5" x 2.25" school photo of unidentified adolescent girl. Not common Rock & Roll autographs...[7377]..+.$75.00

FARENTINO, JAMES. Actor, leading man. In: War Lord, Psychomania, etc. Vintage 4to glossy B&W ISP. Scene from movie, circa 1965... Nice..[6719]. ....$38.50
Christmas Card from Rock Star & Teen Idol Fabian
FORTE, FABIAN. Known as "Fabian". Rock star and teen idol of 50's and 60's. Christmas card, 3.5" x 6.5", boldly signed in red "Fabian Forte". (Full signatures are uncommon as be usually signs himself with his first name only).. ..Mint..>[11608]...$25.00

PLAYED THE TITLE ROLE OF "GOLDFINGER"
FROBE, GERT. (1913-88). German character actor. Played in the title role of "Goldfinger" (64), "Those Magnificent Men in Their Flying Machines" (66), etc. 4" x 6" B&W glossy SP. Candid full face half-bust shot. Scarce. [12003]. $75.00
GARDINER, REGINALD. British actor who perfected the amiable, silly type. Played leads in early talkies. Vintage 4to B&W ISP, circa 1945. Not common. Mint [3606] $45.00
GERE, RICHARD. Actor. Extraordinary 14" x 11" color SP boldly signed in light portion with a "paint pen". Scene in-character from "The Cotton Club" (1984) showing him embracing and kissing a partially clad unidentified actress. Mounted to acid free mat board from previous framing. Nice. [3903]..$95.00
______________________________________________________
VALENTINO'S MYSTERIOUS LEADING LADY - ON AND OFF THE SCREEN

GODOWSKY, DAGMAR (1897-1975). Raven haired, Vienna born "Vamp" of the 20's. Daughter of pianist-composer Leopold Godowsky. Best known for her roles in Red Lights, The Common Law, Virtuous Liars, Without Warning , and A Sainted Devil (with Valentino), The Price of a Party, Hitchin' Post as Mata Hari in a Marie Dressler comedy, Stronger Than Death (with Navimova, whose protegee she was), Honor Bound and The Peddler of Lies with Frank Mayo whom she married in 1921 (marriage annulled in 1928 when she learned he was a bigamist). Her last movie was the 1924 film, Meddling Women in which she starred with Lionel Barrymore. She was perhaps best known for her off-screen lovers who included Chaplin, Caruso, Stravinsky, Valentino, Arthur Rubinstein and Jascha Heifetz. Her autograph material is rare in any form. The following small lot is from the estate of a personal friend. Each piece comes with a printed photo of her at her prime, circa 1920:

ALS, 4" x 6", n.p., 1964. Thank you note. Tape staining on verso. Good signature..[11599]..........$45.00

ALS, 3.5" x 8.75", n.p., n.d., London scene on front. Tape staining on right border, touching no writing. Good signature............ [11600]....$45.00

ALS, 5" x 6.5" London, Oct. 26 (1969). Good content letter to friends thanking them for writing David Frost "...wish I could be on Frost program....I think him great....would adore that. I am very much spoiled here and friends are wonderful. Tonight with Bessy Love -- Beebe Daniels, etc., for dinner..." Has name on return address portion. Tape stain touching name on return address. Letter and signature are fine. Great content.............[11601].......$75.00

1965 Christmas Card, 3.5" x 5.25" with ANS inside dated 1965. Tape stains from mounting at top and bottom, touching signature, thus priced......[11602].....$25.00

1967 Christmas Card, 6" x 4", tape staining from earlier mounting on both sides of message side, barely touching signature, thus priced.................[11603]......$25.00

1969 Christmas Card, 4" x 6" with good content ALS inside, in part: "...was awfully upset about Lamparski's book - He didn't have to make me even older than I am. -- I had been such a friend to him and can't understand why he wrote such a deliberate lie..." ............ [11604].......$65.00

ALS mentioning her controversial autobiography, personalized red embossed letterhead, n.d., circa 1958, about 6" x 7", 4pp. Letter of thanks for a gift. "...I am remaining to finish my book and hope to go to Ireland in August..." (In 1958 she published her autobiography First Person Plural. Critic Romano Tozzi said in his review: "Now past middle age, and extremely corpulent, she looks fondly back on the days when she had the power to captivate men with what she does not hesitate to call her unbelievable beauty and overwhelming charm.." Tape staining on inside, not touching signature and only touching 4 letters of one word. Signed with huge bold 6" signature............[11605]....$65.00

ALS, July 15, 1964, 2pp., on red embossed personalized stationery, about 6" x 7". Letter of thanks. Tape stains on verso. Faint show through. Signed with enormous 6.5" signature.......[11606].....$65.00

ALS, 4to, Nov. 9, 1863, personalized stationery, letter to a friend: "...I have been madly busy and leave today for the south..." Signed with large 5" signature. Slightly trimmed, else very good.....[11607].....$65.00
______________________________________________________
GORME, EYDIE. Entertainer. 4to B&W ISP. .................................................[5849] .....$18.50
GRANGER, STEWART. British actor and leading man. 5" x 7" half-bust B&W vintage ISP, circa 1950, later signed. Comes with original envelope addressed by him. The pair.....[10650]..$50.00

GRAY, ERIN. Actress. 4to B&W ISP, in character as "Kate Summers" from "Silver Spoons"......[5861].. ....$18.50
WILL H. HAYS, CHAIRMAN OF THE REPUBLICAN NATIONAL COMMITTEE, LAMBASTS THE WILSON ADMINISTRATION AND CLAIMS VICTORY (FOR HARDING) BEFORE THE ELECTION.
HAYS, WILL H. Movie Czar. Postmaster Gen. under Harding; later, became Movie Czar and controlled film industry with an iron fist. Instituted movie "ratings". TLS, 4to, Oct. 12, 1920, letterhead of Republican National Committee, with elephant logo in lower left corner. The letterhead includes the "Executive Committee" among whom are: Harry M. Daugherty (later Harding's Atty. Gen. of Tea Pot Dome Fame), Mrs. Corinne Roosevelt Robinson (Sister of T.R.
& Aunt of Eleanor). James G. Blaine, Jr. is listed as "Eastern Treasurer". In Part: "My dear Mr. _____, We have had a long, hard pull for the last two years in this endeavor, and as we are now coming to what I believe is going to be a successful conclusion, I want again to assure you of my appreciation for all you have done. I know it is not necessary to write you to keep up the work till the very last minute, and I am not writing for that purpose. I want us to do this, of course, and I know you will, because we want to make the victory so big that it will forever make certain that a responsible political party cannot avoid responsibility for maladministration. I hope the time never comes in this country when either party can avoid responsibility. ...." Boldly signed. Minor border chipping, else fine. Unusually good political content.....[9948]..+..$195.00
(MOVIES) (CABINET - PMG). HAYES, WILL H. Movie czar. Postmaster Gen. under Harding. Later, controlled movie industry with an iron fist and instituted movie rating. TLS, 4to, Oct. 6, 1931, letterhead of "Motion Pictures Producers & Distributors of America", N.Y.C., to E.E.E. McJimsey, (influential editor) Springfield, Mo. Letter of thanks for his letter & "...I do hope I can see you in California this winter...Look me up sure. I will be there in January..." Boldly signed. Nice..[9936]...+...$48.50
HE PLAYED IN CASABLANCA

HENDRIED, PAUL Suave British-American actor. On screen in England as Paul Von Hendried from 1937 and in America from 1942. In: Goodbye Mr. Chips, Casablanca, Deep in My Heart and many more. Vintage 7" x 9" matte finish half-bust sepia ISP. Casual pose showing him smoking a cigarette. Inscribed in blue fountain pen ink. Fine. Not a common movie autograph..[11573]. ...$75.00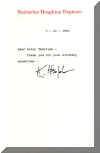 HEPBURN, KATHERINE. Actress and leading lady. Brief TLS, 8vo, May 20, 1992, thanks for birthday greeting. Boldly signed "K. Hepburn". Fine..[11981]..$195.00
IN-PERSON SELF-CARICATURE OF ALFRED HITCHCOCK'S TRADEMARK PROFILE, HANDSOMELY FRAMED

HITCHCOCK, ALFRED. (1899-1980). English film director. Became known as master of suspense and film technique. Directed: Rebecca (1940, Academy Award), Suspicion (1941), Spellbound (1944), Notorious (1946), Strangers on a Train (1951), Dial M for Murder (1954), Rear Window (1954), Vertigo (1958), North by North West (1959), Psycho (1960), The Birds (1963), Torn Curtain (1966), Topaz (1969), Frenzy (1972), and Family Plot (1976). In-person self caricature drawn by Alfred Hitchcock. Hitchcock's self caricature became his trade mark. This is a nice bold vintage example, circa 1955, drawn on the verso of a receipt, 3" x 2"; has faint fold marks, vertically and horizontally, which are noticeable only on very close scrutiny. Hitchcock caricatures are rare and desirable. This piece is handsomely double matted in blue raw silk and buff mats. The caricature itself is lined with a 1/4" gold filet wood liner. Beneath the caricature is a brass plaque engraved: "Original caricature/ by Alfred Hitchcock/ (1899-1980)". The piece is framed in a 1.5" gold wood frame. Overall size: 15.5" x 18.5". Striking movie display piece. ....[4780]...$895.00
HOLT, JENNIFER. Western actress and leading lady of the 40's. Starred in over 30 westerns. ALS on lined paper, 8vo, Dec. 24, n.y., sending holiday greetings. Notes on verso by the recipient. The recto of the letter is clean and mint. Not a common movie autograph. [3353] $45.00
HOPE, BOB. Comic-actor. 4to B&W SP, publicity photo, in-character from "Paris Holiday", 1958. Choice. [3495] $65.00
JAHAN, MARINE. Actress-dancer. Doubled for Jennifer Beals for dance scenes in "Flashdance". 4to B&W ISP. [3331] $18.50
SCARCE SILENT SCREEN AUTOGRAPH
KERRY, NORMAN (1889-1956). Am. actor of the silent screen. In: The Black Butterfly (16); Merry Go Round (23), The Hunchback of Notre Dame (23); Phantom of the Opera (26); The Unknown (28), etc. His last film was Air Eagles (31). Vintage sepia 3/4 length matte finish ISP, with photographers signature. Portrait quality. A scarce early movie autograph...........[11590]........$175.00
LAMOUR, DOROTHY. Actress and leading lady. Lovely 4to B&W ISP, circa 1950. Later signed. Choice. [3565] $125.00

LANDON, MICHAEL. Actor. Signed script. Best known as "Little Joe" in "Bonanza" & star writer & director of "Little House on the Prairie". Script for "Highway to Heaven"/"The Secret"/Prod. No. 7855; Story No. HTH-44, written by Paul W. Cooper/Final Draft/Aug. 7, 1985/Michael Landon Productions, soft bound, 58 pp., signed on the front cover "Best wishes, Michael Landon. Michael Landon material is scarce in all formats. This is the only signed script we have seen. Nice piece of movie memorabilia. Fine. [12206] $295.00
CHILDREN'S SHOW PIONEER OF EARLY T.V.
LEE, PINKY. Comic-actor, T.V. pioneer ("The Pinky Lee Show"). In: Lady of Burlesque, Earl Carroll Vanities, etc. ALS, 4to, n.p., n.d., (circa 1955) on personalized stationery, to a handwriting analyst, sending sample. Fine signature. [3339] $45.00

LEMMON, JACK. Late great Academy Award winning actor. Striking 4to B&W profile ISP. Handsome. ....[11567]. $48.50
VINTAGE LIBERACE ISP WITH SIGNED PIANO SKETCH
LIBERACE. Pianist and entertainer. Vintage 4to B&W ISP, circa 1955, showing a handsome young Liberace at the keyboard of his piano. Beneath his signature he has drawn his trademark piano with candelabrum. Minor surface creasing which would not show if this piece were framed. A gem, showing Liberace at his best..........[9992]..+...$165.00


LOWE, EDMUND. Suave Am. leading man of 20's, 30's, 40's, and 50's. Was a big success as "Quirt" in What Price Glory (26) and subsequently played many similar roles. 7" x 9" half-bust matte finish B&W ISP. Interesting inscription: "For Ellen Emblem, an excellent scalp and face masseuse, wishing her all good luck. Edmund Lowe". Fine...........[11595]..................$65.00
"THE RAT PACK" AT "THE SANDS" IN LAS VEGAS

MARTIN, DEAN. Actor. Interesting 4" x 5" B&W printed SP, circa 1960, showing Dean Martin, Frank Sinatra, Sammy Davis, Jr., Peter Lawford and Joey Bishop standing in front of the billboard at the Sands Hotel with their names prominently displayed on the billboard.. Anything connected with the infamous "Rat Pack" is scarce and desirable. All are now deceased. Boldly signed "Dean Martin 'Dino'". Photo is mounted to matboard. [8682]..$125.00
MASSEY, RAYMOND. Canadian born actor and leading man. Vintage 4to B&W SP, in-character from "Desert Song" (1953) [3371] $65.00

MASSEY, RAYMOND. Canadian-born veteran actor (b.1896). He played saturnine, benevolent or villainous roles in scores of films from 1922. He was also star of the long running T.V. series "Dr. Kildare" (as Dr. Gillespie). Fine vintage B&W 5" x 7" matte finish half-bust SP, shown sitting and holding a book. Signed in black fountain pen ink, circa 1940. Choice [12332] $75.00

MATTHAU, WALTER. Actor, leading man. 10" x 8" B&W SP. Character study. Nice ...[6736]..$45.00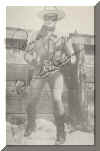 (THE LONE RANGER) MOORE, CLAYTON. Actor. Best known for his long running role as "The Lone Ranger" in the early T.V. series by that name. Full length 6.75" x 10" printed photo of him in character showing him with both guns drawn. Interestingly, he has boldly signed "Regards, The Lone Ranger" below his facsimile signature. He has also drawn an outline around his hat...[11910]...$35.00
SIGNED SELF CARICATURE OF THE GREAT SILENT STAR COLLEEN MOORE
MOORE, COLLEEN. Actress and major silent star. ANS & self caricature on blue 3 x 5 postcard: "For Dave-- I will draw something for you too -- me in 1923. Colleen Moore. She has drawn a 1" x 1.75" self caricature to the left of her signature. Fine. A great item.. .......[11451]..$150.00

MURRAY, KEN. Signed Christmas Card..........................[3162]........$15.00
CANDID RUDOLF NUREYEV ISP

(BALLET) NUREYEV, RUDOLF (1938-1993). World renowned ballet master and choreographer. Handsome 10" x 8" B&W ISP dramatically signed and inscribed in gold ink. Candid shot showing a bare chested Nureyev at his dressing table talking to Prima ballerina assoluta Dame Margot Fonteyn in his dressing room following his performance of "Le Corsaire" in The Magic of Dance in honor of Danskin's 100th anniversary. Fine. A gem...[10339]..$250.00
OLIVIER, SIR LAURENCE. Actor and leading man. 4to B&W SP, signed with rare full signature, in-character as Sir Gerald Scaith, Head of the British Secret Service, showing him viewing with horror the destruction incurred by Russian KGB agents in United Film's feature presentation "The Jigsaw Man", 1983... [4513]...$250.00



POWELL, WILLIAM . Oblong 4to B&W SP. Scene from a movie with Jean Harlow, circa 1935. Later signed by Powell. A nice association item. ........[11585]......$95.00
RARE SIGNATURE OF SILENT STAR MARIE PREVOST
PREVOST MARIE (1898-1937). Anglo-French leading lady of American silent films. In: East Lynne with Variations (20), Her Night of Nights (22), The Loves of Camille (25), Tango (last film) (36), etc. Signature on album page: "For Jack, Marie Prevost". (The ink in her pen did not flow smoothly. Somewhat light, nevertheless, the signature is a good one.) (There are several other signatures on the back and same side of the page as hers, not touching or affecting her signature). One of the rarest of all Hollywood signatures. Virtually unobtainable. ....[5499].....$295.00

PRICE, VINCENT. Horror star. 4to B&W SP in character as "Egghead" from "Batman". Nice.......... .[5449].....$195.00

QUINN, ANTHONY. Mexican-Irish actor and leading man. Won Academy Award for "Zorba". One of the Greats. 4to B&W ISP. Full face, candid shot shown smoking a cigarette. [12300].. $65.00
---
VINTAGE RONALD REAGAN PUBLICITY PHOTO SIGNED FOR HIM BY HIS MOTHER!


(REAGAN, RONALD). (B. 1911). 40th U.S. President. 8" x 10" of

Reagan and Eleanor Parker in "The Voice of the Turtle", Warner Bros. first national picture, inscribed by Reagan's mother "To Nancy -- a scene from Voice of the Turtle from Ronald Reagan". On verso Mrs. Reagan has written "Hoping you are coming through fine, Nancy Lou. God bless you, I'll keep my fingers crossed." Mounting traces at tips of corners and several unobtrusive hairline creases*. Both are signed with blue ink which doesn't reproduce well. Contrast good on actual items.............>[10826]....$175.00

*The above piece was featured on a television talk show in 1984. Comes with copy of postcard from T.V. host Bill Harris
---

REDFORD, ROBERT. Actor, producer, director and writer. One of the greats. Vintage 4to B&W half-bust SP, shown wearing tennis jacket and no shirt. Beefcake pose. Huge bold signature. Scarce in genuine material... [12299]. .$195.00
RARE SP OF EARLY MOVIE IDOL WALLACE REID WHO STARRED IN THE IMMORTAL "BIRTH OF A NATION"
REID, WALLACE (1892-1923). American leading man of the silent screen. His role in "Birth of a Nation" (1915), catapulted him to overnight stardom. Reid became an idol -- handsome face and perfect physique. In: "The Deerslayer"(11), "The Love Mask" (16), "House of Silence"(18), "The Dancing Fool"(20), "The Affairs of Anatol"(21), "The Ghost Breaker"(22), "Adam's Rib"(23), etc. At his untimely death in 1923 at age 31 he was the number one male star at the box office. Due to his early death, Reid's autograph material is rare in any form. SP, 5 x 7.75", matte finish, sepia, half bust, full face pose, circa 1920, boldly signed in dark purple ink in a light portion: "Sincerely, Wallace Reid"....Fine...[4832]...$495.00
(CARTOON ART) RIPLEY, ROBERT (1893-1949). Cartoonist of "Believe It or Not" fame. Interesting 4to half bust ISP shown wearing a jungle hat signed: "To Jane Smith, All the Best, Ripley - Believe It or Not"........[11479]......$195.00
ROBINSON, EDWARD G. (1893-1973). Actor. Famous for gangster roles. Huge 4" in-person blue ink signature clipped from album page. Choice. [12341] $75.00
RARE MOVIE ITEM - OVERNIGHT STAR OF "ELEPHANT BOY"
SABU (1924-1963) (SABU DASTAGIR) Juvenile actor of the 30's and 40's. He was a stable boy in Mysore when he was noticed by Director Robert Flaherty who starred him in "Elephant Boy" (1938). In: The Drum (38), The Thief of Baghdad (40), The Jungle Book (42), White Savage (43), Cobra Woman (44), Tangier (46), Black Narcissus (46), etc. Vintage 5" x 7" sepia half-bust ISP shown wearing his turban and boldly inscribed and signed in emerald green ink (circa 1940). Due to his meteoric and ephemeral career and early death, his material is rare in any form... [12328] $195.00
SAVALAS, TELLY. Actor & TV star. 4to B&W ISP. Close up of face, inscribed "Jack Who loves ya, Baby!" & signed [10681]..$40.00

SCALIA, JACK T. Actor. Handsome 4to B&W 3/4 length pose SP. Bottom slightly trimmed.. ..........[5898]........$18.50
SCHNEIDER, JOHN. Singer / actor. "Dukes of Hazard", etc. 4to color ISP. Nice. ............[11813]...+..........$25.00
ZACHARY SCOTT FINANCIAL DOCUMENT SIGNED
SCOTT, ZACHARY. (1914-1965). Am. leading man with considerable stage experience. In: The Southerner (45), Stallion Road (47), Born to Be Bad (51), etc. DS, 4to, Beverly Hills, Feb. 8, 1951, two small circular file holes at top, else fine, authorizing all his future salary checks delivered over to Arthur Lyons. Interesting. Signed with a magnificent 5.5" signature. Scott's material is scarce...[6381].. $95.00
SHORE, DINAH. Actress, singer, T.V. Hostess. Huge bold in-person blue ink signature as Dinah Shore Montgomery. Scarce format. [12342]. $35.00

SIEGFRIED & ROY Las Vegas entertainers. Famous act with big cats. One of the duo was almost mauled to death by one of the big cats and is now permanently disabled. 4to B&W SP, showing both with a huge leopard, signed "Magically, Siegfried and Roy, Vegas, 1987". ......[11878].......$75.00
SOMMER, ELKE. Actress. Poster, 24" x 36", of one of her paintings showing a group of people holding umbrellas entitled "Elke Sommer / Art is Forever/ Edward Weston Graphics/ New York, Paris, Los Agneles." Signed and dated by Sommer: "March 23, 1982, to Scott with love and happiness, Elke Sommer" Attractive. Suitable for framing..........[11548]...........$48.50
GALE SONDERGAARD SP IN-CHARACTER FROM "ANTHONY ADVERSE"
SONDERGAARD, GALE. Actress and leading lady of 30's and 40's. 4to SP from her first role in the 1936 Academy Award winning movie "Anthony Adverse". Later signed. Choice [3368] $85.00
FULL NUDE SP OF THE FAMOUS STRIPPER BLAZE STARR, SUBJECT OF THE BOOK AND MOVIE "BLAZE"
STARR, BLAZE. Stripper. 4to B&W glossy full nude SP, shown semi-kneeling on a leopard skin, searing only "Chanel No. 5", inscribed in bright blue felt tip: "With Love and Lust, Blaze Starr". She has embellished her signature with small red hearts and a

blue & red star. Reprint of a vintage photograph, circa 1960, showing her in her heyday...[9941-3]...$95.00
SIGNED BLAZE STAR LIP STICK PRINT
STARR, BLAZE. Stripper. 3" x 5" card with her bright red lip stick print on which she has also written "With love and kisses Always, Blaze Starr." She had drawn 2 small red hearts and a blue & red star beneath her signature. Fine. Excellent display piece [9942-2]...$35.00

STEWART, JAMES. Actor. One of the greats. Vintage 4to B&W ISP. Scene from "Dear Brigitte" (1965). [3364] $150.00

STEWART, JAMES. Actor, super-star. Vintage 4to B&W SP. Scene from "Flight of the Phoenix", 1965. Scarce in this format. [3267] $175.00
STEWART, JAMES. Actor & leading man. Vintage half bust SP, ca l935, later signed. Showing him at his prime. Mint. [12189] $l95.00
TAYLOR, ELIZABETH. Academy Award winning actress. Absolutely stunning 10" x 8" SP showing her beautifully dressed and bedecked with jewels. Boldly signed. Mint. A gem....[10346]..$395.00

VALLEE, RUDY. Am. actor and signer and "crooner". Radio and T.V. personality. Vintage 4to B&W ISP dated 1951. In character from "The Fabulous Suzanne" starring Barbara Britton, Rudy Vallee with Otto Kruger, etc...[11488]....$38.50
WEBB, CLIFTON (1893-1966). Am. leading character actor. Former dancer and stage star. In films he became known for his 'washpit' roles. In: Cheaper by the Dozen (50); Three Coins in the Fountain (54), The Remarkable Mr. Pennypacker (58), etc. 7" x 9" B&W half bust ISP, circa 1950 shown wearing a Derby hat. Mounted to heavy paper. Great vintage movie piece. .....[11593]........$75.00
PATRIOTIC LAWRENCE WELK BOOK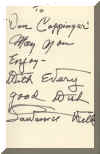 WELK, LAWRENCE. Big Band leader. Long running T.V. Show. His book My America, Your America with Bernice McGeehan, 8vo, 182 pp., Prentice - Hall, Inc., 1st edition, 1976, dust jacket, boldly inscribed on first free blank end paper: "To ____, May you enjoy -- with every good wish, Lawrence Welk." Welk reflects on his life, trials and successes in this song of praise and appreciation to his family (both personal and professional) and the ideals that make this country great. Includes stories, backstage glimpses and a Bicentennial prayer for the rebirth of America. The only signed copy of this book we have seen. [11912]..++..$65.00

WELK, LAWRENCE. Big Band leader. Long running T.V. Show. His book This I Believe, with Bernice McGeehan, 8vo, 195 pp., Prentice-Hall, Inc., 1st edition, 1979, dust jacket, boldly inscribed on first free blank end paper: "To _____, Hope you will enjoy this book and maybe share some of its philosophy. Your friend - (boldly signed) Lawrence Welk". Welk goes behind the scenes and takes you through a typical day -- showing how the band is run and how a show is taped. About this book he says: "I'm going to tell you, from the heart, the things I believe in - the philosophies that have helped me build this beautiful, beautiful life and the personality traits I believe lead to success -- the kind of success that lasts a lifetime and transcends money, fame or fleeting happiness." Profusely illustrated. Includes a photograph of him holding his famous white baton.....[11913]..++...$65.00
WELK, LAWRENCE. Band leader. T.V. star. Vintage 9" x 12" color photo of Welk on front of program signed by Welk. Inside, signed by following orchestra members by their photos: Dick Dale, Aladdin, Alice Lon, Myron Floren, Rocky Rockwell. In person examples....[3145]....$48.50
WELK, LAWRENCE. Band leader. TLS, 4to, 1958, on "Lawrence Welk and His Champagne Music" letterhead; thanks for Christmas greetings and kind comments on television shows. Boldly signed [10000]...$48.50
(WELK, LAWRENCE). Band leader. Christmas card with printed greeting and original envelope (1960), a "Drive Safely" sticker and two small 2" x 3.5" calendars with his photos on recto. The quartet...[10002]...$35.00
WILDE, CORNEL. 4" x 5" matte finish vintage ISP, circa 1950, later signed. Choice.. [6971]..$38.50

WOODS, DONALD. Am. actor and leading man of the 30's and 40's who usually didn't get the girl. 4to B&W half-bust ISP, dated 1967. Nice. ............[11469].........$35.00