PRESIDENTIAL EPHEMERA
RARE ORIGINAL PREVIOUSLY UNKNOWN AND UNPUBLISHED DAGUERREOTYPE OF PRESIDENT JAMES BUCHANAN
(BUCHANAN. JAMES) (1791-1868). 15th President (1857-1861 ). Extremely rare original daguerreotype half-bust portrait of Buchanan (circa 1860) of presidential vintage, 3" x 4" mounted in lovely original case with gold liner around portrait and red velvet liner inside front cover. Overall size 3.75" x 4.75". Hinges of cover broken. Some wear to cover. Ornate designs on the front and back cover. The portrait itself is in fine condition. Buchanan was one of the first presidents to be photographed (the first presidential photo was an old age portrait of John Ouincy Adams). However, few portraits were taken of Buchanan. Photography did not really come into its own until about 1860 and Lincoln was the first president to be extensively photographed. This piece is one of a handful of original portraits of Buchanan known to exist and to the knowledge of the authors, is previously unknown and unpublished. A great presidential rarity .(Net to all). Museum quality piece [4551] $2995.00
Notwithstanding the foregoing, while it is our personal opinions that this daguerreotype is of James Buchanan, we cannot prove it. In short -we believe this is James Buchanan but do not know how to prove it! One of the most convincing things to us about this portrait is that Buchanan was near sighted in one eye and far sighted in the other causing him to slightly tilt his head in an effort to focus. His head is slightly tilted in this photo, and appears to be Buchanan.
LEGAL DOCUMENT CONCERNING GROVER CLEVELAND'S BUFFALO LAW FIRM

(CLEVELAND, GROVER) President. (Frances Folsom Cleveland). First Lady. Quaint legal document, tall 4to, on lined paper to the Judge of the Superior Court of Buffalo petitioning the court to "try at the July Trial Term....only such causes as both parties desire and are ready to try." Buffalo, June 30, 1879. Signed by 30 members of the Buffalo Bar Association, including "Benjamin Folsom" a Kinsman (perhaps an uncle) of future First Lady Folsom Cleveland. Grover Cleveland was a member of Folsom's firm and one of his law partners was Oscar Folsom, father of Frances. When Oscar died, Cleveland became legal guardian of Frances and when she became 21, the 49 year old bachelor President married her in the White House. As a child, Frances called Cleveland "Uncle Cleve". After Cleveland was elected to high office an admirer asked him why he did not marry. Cleveland retorted that he was "waiting for my wife to grow up!!..." ad so he was. Quaint and interesting association item...11975]..$95.00
(EISENHOWER, DWIGHT D.) 3/4" circular blue enamel on gold Presidential Seal suspended from a gold plated 1" bow. In original white box.....[11537]........$150.00
---
Ford Philatelic Items
(FORD, GERALD R.) President and Vice President. First V.P. chosen under terms of 25th Amendment. Only President to not have been elected as V.P. or President. Ford served as Vice President only 258 days (Dec. 6, 1973- Aug. 9, 1974). His Vice Presidential material is scarce. Mint unused Ford V.P. envelope(s) embossed in blue: "The Vice President, Washington" with Ford's printed franking signature
beneath which is imprinted: Vice-President:

Mint envelope, 8.75" x 4".......................[11517-5]..........$48.50



Mint envelope, 7.5" x 4.75"...................[11518-14]........$48.50
---

(FORD, GERALD R.) 2.25" Gold plated Presidential tie bar with Ford's facsimile signature on the gold bar and a 3/4" red, white and blue enamel Presidential Seal on the tip. In original blue box with Ford's gold facsimile signature in gold on lid of box..............[11534]..........$150.00

---
ONE OF PRESIDENT FORD'S PERSONALIZED PRESIDENTIAL GOLF TEES

(FORD, GERALD R.) (GOLF). President & Vice President. Personalized white wood golf tee, 2 1/8", imprinted: "President Gerald Ford". Rare type of presidential memorabilia. Mint............[11540-M]...........$95.00
---
1881 GARFIELD MEMORIAL SERMON
(GARFIELD JAMES A.) Pamphlet, 8vo, 24 pp., grey covers, entitled "James A. Garfield/ Memorial Sermon/ by Rev. Arthur Mitchell, D.D. Title page is imprinted: "James A Garfield,/ A/ Memorial Sermon/ Delivered in the/ First Presbyterian Church,/ Cleveland, O.,/ By/ Rev. Arthur Mitchell, D.D.,/ On/ Sunday, September 25, 1881,/ Cleveland, O.:/ Fairbanks & Co., Printers, 16 & 18 Frankfort St./ 1881." The sermon begins: "Memorial Sermon/ "I will make a man more precious than fine gold; even a man than the golden
wedge of Ophir. -- Is. XIII: 12./ We share, my friends, to-day the greatest grief that America has ever known. It is no exaggeration to say that no one stroke of providence has ever spread throughout all our land such poignant and universal pain, or has been so widely felt as a shock and a sorrow in every portion of the earth. I am not using words without care. I do not forget those dreadful days of April, sixteen years ago, when the slow procession passed from state to state, bearing the remains of the beloved Lincoln to the tomb. But there was one whole section of our land, it will be remembered, which had never acknowledged him as their ruler, and had never viewed him, alas! except as their foe..." Excellent condition..[6946].......$195.00
GRANT'S MAUSOLEUM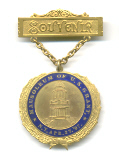 (GRANT, U.S.) Gold colored metal 1.5" circular pendant depicting Grant's mausoleum with blue enamel around the edge stamped in gold: Mausoleum of U.S. Grant, N.Y., April 27, (18)97. Suspended by gold color chain from a rectangular 1.5" long bar imprinted "Souvenir". Grant died in 1885. This
souvenir honors Grant's 75th Birthday. A great piece of Grant memorabilia... ....[11521-2]....$150.00

Same as above but bronze color medal....... ....[11522]..........................$125.00
---

GRANT, FREDERICK DENT. Son of U.S. Grant. Closely clipped close of ALS. Rare.....[5838]....$35.00
RECONSTRUCTION CONTENT HARPER'S WEEKLY
THOMAS NAST CARTOON ABOUT RECONSTRUCTION WITH ANDREW JOHNSON DEPICTED.
(RECONSTRUCTION) HARPER'S WEEKLY, N.Y., Sat., March 13, 1875. Front cover is cartoon showing several Senators in the Senate Chamber, one of whom is Ex-President Andrew Johnson (who served one year in the U.S. Senate in 1875 after leaving the White House). One Senator is holding a paper imprinted: "The Confederate Soldiers"/ Parole of Honor/ For Gen. Francis M. Cockrell and the Senator from Missouri. Caption under cartoon states: Under Parole of Honor -- The Ex-officers of the Ex-Confederate Army in Congress: Senator Burnside: "I can imagine no contingency that would make him violate his parole... the people will never again sit idly by and allow treason to gather head." Bottom corner of first page missing, with light staining to left corner, else very good. Editorials about a third party, a Democratic "restoration", the 1876 election, Samuel Tilden, etc. National and international news, a number of drawn illustrations and cartoons, mostly by Nast; many quaint ads..+++..[11719]..$68.50
RARE BENJAMIN HARRISON EPHEMERA FROM HIS FAMOUS 1891 PACIFIC COAST TOUR
UNUSED COMMEMORATIVE ENVELOPE FROM PRESIDENT HARRISON'S TOUR TO THE PACIFIC COAST, APRIL 14 - MAY 16, 1891
(HARRISON, BENJAMIN) President. Mint, unused envelope with gold embossing in upper left corner: "Tour of/ The President/ to the Pacific Coast/ April 14 to May 16th/ 1891. This tour was the highlight of Harrison's moribund administration. He was accompanied on this tour by First Lady Caroline Harrison and his son and daughter-in-law. Provenance: From the estate of his only son, Russell Benjamin Harrison, who was on the President's special train for the famous Pacific tour. Mint. Rare...[6232]**..$195.00


MRS. LBJ HOSTS LUNCHEON FOR MRS. H.H.H.
(JOHNSON, LADYBIRD) ('68 Presidential Campaign) Luncheon invitation, 4.5"x 5.75"..."Mrs. Lyndon B. Johnson/ requests the pleasure of your company/ at a luncheon/ to meet/ Mrs. Hubert H. Humphrey/ and to attend/ an historical fashion show/ Tuesday, Oct. 22, 1968/ at 12:30 o`clock/ Terrace Motor Hotel/ Austin, Texas." Mint...[11988]. $95.00

LBJ PRESIDENTIAL PRESENTATION DEER SKIN BOOKMARK
(from LBJ Ranch)
(JOHNSON, LYNDON B.) Chocolate brown soft deer skin leather bookmark, 2" x 8". On recto is a blind stamped Presidential Seal and "With best Wishes/ Lyndon B. Johnson" stamped beneath the seal. Verso is stamped in gold print: Deer Skin/ From The/ LBJ Ranch". These bookmarks were necessarily few in number and were very selectively given by Johnson. This is the only such item we have seen. Shows normal wear and a couple of small scratches. Overall condition is good. A Presidential rarity. ..[12012]..$295.00

INVITATION TO JOHN F. KENNEDY'S INAUGURATION
(KENNEDY, JOHN F.). President. Engraved invitation, 4to, to the Inauguration of John F. Kennedy as President and Lyndon B. Johnson as Vice Pres., Jan. 20, 1961. Has raised gold Inaugural Seal at top. Mint. ..[11967]. ..$195.00
MASS CARD FROM JFK'S FUNERAL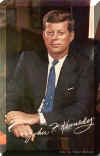 (KENNEDY, JOHN F.) President, Assassinated. Mass card, or prayer card; the type used at JFK's funeral, 3.5" x 5.5", with color half-bust photograph of President Kennedy on the recto and the following printed on the verso: "In Prayerful Remembrance/ of our Beloved President/ John Fitzgerald Kennedy/ May 20, 1917/ November 22, 1963..." The following is one of the late President's favorite passages from Scripture, from Ecclesiastes, the third chapter: "There is an appointed time for everything; a time for every affair under the heavens. A time to be born and a time to die...A time to kill and a time to heal... A time to weep and a time to laugh..." beneath which is printed the famous line from Kennedy's inaugural address: "Ask not what your country can do for you; ask what you can do for your country." Mint...[11974-2] ...$195.00 (verso
RARE KENNEDY ASSASSINATION ITEM
(KENNEDY ASSASSINATION). Mint unused gold ticket, 4" x 2 ½", to the Texas Welcome Dinner for Kennedy which was to have been held in Austin the evening of Nov. 22, 1963. The ticket is printed as follows: "The State Democratic Executive Committee/

TEXAS WELCOME DINNER/ in Honor of/ President John F. Kennedy/ and/ Vice President Lyndon B. Johnson/ Municipal Auditorium/ City of Austin/ Seven-thirty o'clock/ Friday Evening/ Nov. 22, 1963/ Admit One/ Optional Dress/ No. D 5086." Few of these items have ever come on the market or are known to exist. Pristine condition. .....[2595-M] ..............$995.00
(KENNEDY, JOHN F.) (1917-1963). Thirty-fifth President of the United States. Kennedy faced-down Khrushchev during the Cuban Missile Crisis, re-invigorated NASA, and signed the Nuclear Test Ban Treaty. Assassinated. Document, one of Kennedy's pink, personal checks, 8.5" x 3.25", unaccomplished and unsigned, with "JOHN F. KENNEDY" printed in capital block letters on the left side of the document. This example is check no. 5004, issued by The
First National City Bank of New York. Lower left corner has been removed, not affecting the printing on the check, else pristine. Personal bank-checks of our modern presidents are scarce with few exceptions. Kennedy is particularly rare in this format......................[11496].....$595.00
"KENNEDY IS KILLED BY SNIPER AS HE RIDES IN CAR IN DALLAS;
JOHNSON SWORN IN ON PLANE"
(JOHN F. KENNEDY ASSASSINATION) Original late city edition of the New York Times dated November 23, 1963. Banner headline "KENNEDY IS KILLED BY SNIPER AS HE RIDES IN CAR IN DALLAS; JOHNSON SWORN IN ON PLANE". Front page photos of JFK and LBJ. Other headlines: Texan Asks Unity/ Congressional Chiefs of Both Parties Promise Aid/ Leftist Arrested/ Figure in a Pro-Castro Group is Suspect -- Policeman Slain/ Gov. Connally Shot; Mrs. Kennedy Safe/ President is struck Down by a Rifle Shot From Building on Motorcade Route - Johnson, Riding Behind, Is Unhurt/ President's Body Will Lie in State/ Parties Outlook for '64 Confused/ Why America Weeps/ Kennedy victim of

Violent Streak He Sought to Curb in Nation. Darker toning band along half fold. Two section edition. Excellent condition. One of the most famous and significant headlines of the 20th century...........[11698].........$195.00
LINCOLN RELICS
(LINCOLN, ABRAHAM) 16th President. Two Small pieces of wood from Lincoln's Law Office and Home, each approximately 3/4" square, and a small piece of black silk that was on Lincoln's Coffin. (The black silk is beautifully mounted in an oval, gold 1" locket with double crystals) These relics are handsomely matted in a black silk mat with two 4" x 4" portraits of Lincoln (one beardless, in an oval opening and one in a square opening). The portraits are double matted with gold and green liners. The wood relics are mounted inside a 5" x 4" gold filet liner, and the locket containing the black silk is mounted within a 3.5" x 3.5" gold filet liner. The frame also contains four oval brass plaques engraved in script which identify the relics: "Wood From/ Lincoln's Home/ 1844-1861"; "Wood From/ Lincoln's Law Office/ 1844-1861"; "Piece of Black Silk/ Drape that was on/ Lincoln's Coffin" and another that reads "Relics of / Abraham Lincoln/ 1809-1865". The relics and portraits are beautifully framed in a 1.5" bright gold wood frame, overall size: 17" x 19". PROVENANCE: Comes with copies of certificates of authenticity from a partner in
the Lincoln-Herndon Bldg., Custodian of Lincoln's Home, and a post card from a descendent of "Capt. Benedict" who obtained the black silk, detailing circumstances surrounding obtaining same. Desirable and interesting collection of Lincoln relics beautifully matted and framed. A magnificent display piece. Net to all.. ..[723-M]....$595.00

(NIXON, RICHARD) Gold color metal Nixon pendant with his name done interestingly in the shape of a cross........ ...........[11519]...........$48.50
(NIXON, RICHARD M.) Gold plated Presidential tie bar, 2.25", with Nixon's facsimile signature on the gold bar and a red, white and blue enamel Presidential Seal on tip of tie bar. In original white box with Nixon's facsimile signature on lid. Handsome.............[111531]...................$150.00

(NIXON, RICHARD M.) Gold plated Presidential tie bar with Nixon's facsimile

signature on bar and blue and white embossed Presidential Seal on tip. Comes with pair of blue & white on gold 3/4" circular cuff links of White House Communications Agency with White House and a World insignia in center. Comes in original blue box with gold Presidential Seal on front. The trio.............. .....[11532]..........$250.00
CAPTAIN'S CUP FROM NIXON'S PRESIDENTIAL YACHT: "USS SEQUOIA"

(NIXON, RICHARD M.) White hard plastic cup, 4" tall, 3" diameter, with presidential seal around which is printed: "U.S.S. Sequoia/ Presidential Yacht." "Captain" is imprinted below the seal. A desirable piece of presidential ephemera........ .....[10262]........$195.00
"PRESIDENTIAL TOYS"
"Airport Playset". Models of Air Force One, Presidential Limousine, Presidential Helicopter, Presidential Car, Secret Service Vehicle, Road Signs reading "Security Zone", "Presidential Motorcade" and traffic cones. The vehicles, plane and

helicopter all have the Presidential Seal emblazoned on them. The models are all made of die cast metal with plastic parts, and all have authentic detail. Still in the original unopened box. A great gift for the presidential collector. A great display set. Highly desirable collectible. Nine piece set................ [10760]**... ....$95.00
AGREEMENT BETWEEN WARNER BROS. PICTURES, INC. AND METRO-GOLDWYN-MAYER PICTURES REGARDING LOANING THE SERVICES OF RONALD REAGAN TO PLAY "GIL JONES" IN "THE BAD MAN", ONE OF REAGAN'S LESS MEMORABLE ROLES
(REAGAN, RONALD). Letter agreement, Nov. 9, 1940, 4to, 3pp., between Warner Bros and M-G-M, loaning Ronald Reagan's services for the role of "Gil Jones" in "The Bad Man" from Nov. 11, 1940 until Dec. 7, 1940 at the rate of $500. per week for 4 weeks and to pay the Studio $1500. MGM agrees to furnish all costumes, first class transportation to all locations; give credit(s) to Reagan in all advertising and carry workman's compensation insurance on the artist; that Reagan will be released at 4:30 P.M. on Dec. 7, 1940 in order to make a radio appearance in connection with publicity for the photoplay "Sante Fe Trail" in which Reagan appeared. Signed by the Asst. Secretary for Warner Bros. and the Asst. Treasurer for Loew's Inc.., a subsidiary of MGM. Attached to the letter is an MGM inner office memo on blue paper which states: To: W.K. Craig c/c F.L. Hendrickson - Art Smith; Subject: "Bad Man #1169 (Ronald Reagan) From: Fred Datig, 2-24-41. Due to the fact that Chris Pin Martin is on layoff at Fox Studios and also that we need him practically every day for retakes on Bad Man, we have decided he is to be kept on salary continuously, commencing Feb. 12 until such time as he has completed all retakes for us. This same applies to RONALD REAGAN. Great item dealing with the early movie career of a future president and one of his less memorable roles. ..........[11507]...$295.00
THE FIRST PRESIDENTIAL INAUGURATION HELD ON JANUARY 20TH. OFFICIAL INVITATION TO FDR'S SECOND (1937) PRESIDENTIAL INAUGURATION WITH OFFICIAL ENGRAVINGS OF FDR & GARNER
(ROOSEVELT, FRANKLIN D.) Official engraved Inaugural Invitation, 6" x 10", with presidential seal at top: "The honor of your presence/ is requested at the ceremonies/ attending the Inauguration of the /President of the United States/ January Twentieth*/ Nineteen hundred Thirty-seven". Lists names of arrangements committee: Matthew W. Neely, Chm.; & Jas. T. Robinson, Frederick Hale, John V. O'Connor, Robert L. Doughton & Bertrard H. Snell. Comes with official 8vo sepia portraits of FDR and V.P. Garner which are suitable for framing. The trio.. Fine. .[6571]...$295.00* All previous presidential inaugurations were held on March 4th of the year the President took office.
PROGRAM FOR FDR'S 1937 "BIRTHDAY BALL FOR THE PRESIDENT" to Raise Funds for the Warm Springs Foundation and Polio Research
(FDR) (POLIO) Souvenir Program/ The Birthday Ball/ For/ the President/ Saturday Night/ January 30, 1937/ Cliffside Park High School, Cliffside Park, N.J., / Sponsored by a Committee of Patriotic Citizens. Has likeness of FDR on the cover. Inside the front cover is imprinted: "Greetings. Because poliomyelitis is a malady which affects both nerve and muscle, and because our President has suffered from this affliction, these Birthday Balls have been inaugurated. The proceeds contributed
by all of us at the various balls go toward maintaining the Warm Springs Foundation in Georgia where so many have obtained beneficial results. In Cliffside Park tonight we are doing our modicum in this great cause. We not only observe President Roosevelt's birthday, but we also make it possible for some one in our community, who in unfortunately afflicted by poliomyelitis, to receive the necessary medical treatment." Lists the numerous local patrons and committees. Mounted to an old album page on the verso of which is stationery and envelope from the Mayflower Hotel in Washington, D.C. Nice FDR association item. The first such item to cross our desk....[11503]....$75.00
(ROOSEVELT, THEODORE). President. Engraved invitation with gold eagle 5.25" x 4.5". The President & Mrs. Roosevelt invite Mr. & Mrs. Schneider to a White House reception, Feb. 20, 1908 "from nine to half after ten o`clock". Comes with tiny admission pass for the Schneiders to "Please present this card at the door of the White House, Thursday evening, Feb. 20th" in original 3.5" x 2.25" envelope. The pair... [12319]..$125.00
(ROOSEVELT, THEODORE). President. Engraved invitation from The President (T.R.) to Mr. Schneider for dinner at 8 o`clock, Feb. 9th (n.y.). Comes with original envelope with gold embossed eagle on back flap and calligraphically addressed to "Mr. Schneider". The pair. [12320] $125.00 (Similar in appearance to item # [12318] above.)
HISTORIC WHITE HOUSE RELIC PAPERWEIGHT
(WHITE HOUSE). Piece of original White House Brick (ca. 1792-1800) removed during President Truman's renovation in 1950. The bricks used in building the White House were all made in kilns built on the grounds of the "President's House" in the autumn of 1792 where a brick yard was established. The kilns themselves were probably located in what is today the north yard of the White House. This proved to be a cramped location and great stacks of bricks stayed in the way during the duration of building the White House and were always a source of complaints from the workmen. Because of the cost of transportation, no thought was given to importing bricks from elsewhere. In 1793 the services of a master brick maker named Jeremiah Kale were obtained by the Commission. He proved to be a wise choice and remained on the job for five (5) years, until the brick work for the White House was done. Fortuitously, Kale found the soil at the site of the President's House to be particularly suited to making brick, being rich in clay and sand with an additional supply of sand from nearby creeks and river beds. The White House bricks are a distinctive and handsome rosy-pink color which was determined by the flow of air into the kiln during the firing process and the firing temperature determined the density of the brick. When the Truman renovation of the White House began in 1950 Major General Glenn E. Edgerton, former Chief-of-Staff of the Army and Executive Director of the Commission on the Renovation of the White House presented a plan for the rescue, sale and disposal of old White House materials which was approved by President Truman on February 17, 1950. In their final report, the Commissioners wrote that "the entire operation was designed to be self-supporting and it turned out to be so by a considerable margin." Small piece of original White House brick, rosy-pink color, approximately 1 5/8" x 1/2", cut from a larger piece, handsomely mounted to a white Italian carrara marble base, 5" x 2.5", beneath which is mounted an engraved brass plaque which reads: "AUTHENTIC PIECE OF/ WHITE HOUSE BRICK/ CIRCA 1792-1800." The paperweight has felt padding on the verso to prevent scratching furniture. Provenance: Comes with copies of
correspondence to original recipient from the Commission on the Renovation of the Executive Mansion dated September 19, 1951 and a copy of the original authentication plate which was furnished with each White House memento kit. Also comes with a copy of a contemporary news paper article entitled "Rebuilding the White House Inside Out". A handsome and historic White House relic................[11443]...+.....$175.00
MINT WHITE HOUSE STATIONERY
(WHITE HOUSE) Mint sheet of White House stationery, circa 1965, 6.25" x 9.25," imprinted in dark blue "The White House/ Washington". Has the presidential eagle watermark............[11515]........$95.00

(WHITE HOUSE) Mint sheet of White House memo pad, 4" x 5.25", imprinted in dark blue "The White House/ Washington". Has presidential eagle watermark..........[11516-M]......$25.00
(FDR) YELLEN, JACK. Lyricist. W/Milton Ager, wrote "Happy Days are Here Again" in l929 for an MGM movie, "Forever Rainbows". Lacking confidence in the film, MGM stored it until l930,but Yellen & Ager arranged that the song be performed in Oct. l929 at the Pennsylvania Theater in New York on what became known as "Black Friday", the day of the stock market crash. The song was so successful that MGM re-shot the scene in which it was performed so the chorus would be added & promptly released the film. It became Franklin D. Roosevelt's theme song at the l932 Democratic National Convention in Chicago. Roosevelt preferred the song "Anchors Aweigh", but Louis Howe could not abide the pipe organ rendition of it which he heard on the radio from his room at the Congress Hotel. Lela Stiles, a reporter who worked for Howe, suggested "Happy Days Are Here Again", & Howe telephoned the organist at the convention & told him to play it after Roosevelt was nominated. New Dealer Raymond Moley remembered that after the nomination the exhausted Howe "groaned out between coughs: 'Tell them to repeat

"Happy Days Are Here Again." '". At first, the ironic "theme song of ruined stock speculators," the song became a symbol of hope during the Great Depression. Its use by Harry S. Truman, John F. Kennedy, & Jimmy Carter suggests that this legacy of the New Deal is an enduring tradition in the Democratic Party. TLS, 4to, personalized letterhead "Melody Meadows, The Yellen Farm, Concord, Erie County, New York", April 3, l934, to (the famous autograph collector) Rev. C(ornelius) Greenway, Brooklyn, N.Y.: "Dear Sir: Please forgive the delay in complying with your flattering request. I enclose the words of "Happy Days Are Here Again," in my handwriting. I regret that I cannot assist you in obtaining the autograph thereto of my former collaborator. With kindest regards and best wishes, Sincerely yours, (signed) Jack Yellen". Yellen's material is scarce in any form. This is a great content letter with great association value. [3342] + $395.00