ROYALTY & HEADS OF STATE
HUGE BOLD SIGNATURES OF THE LAST TWO KINGS OF PORTUGAL ON THE SAME PAGE: ONE WAS ASSASSINATED AND
THE OTHER WAS OVERTHROWN!
CARLOS I. (PORTUGAL) (1863-1908). King of Portugal and the Algarves (1889-1908). Assassinated at Lisbon by republicans on Feb. 1, 1908, with the crown prince, Luis Filipe. MANUEL II (1889-1932). King of Portugal and the Algarves (1908-10). He lost the throne through the Revolution of 5 October, 1910,
and fled to England, where he later died. Quarto piece of gilt edged card-stock signed at the top by "Carlos I R, Buckingham Palace, I-XII-(1)904" with a huge fine 5" signature. Below, Manuel has later signed with an enormous 6.5" signature: "Manuel R, Glasgow, 31.X.1916" Likely unique. Both are scarce royal autographs. .............[6018]..........$595.00
AN UNUSUAL PHILATELIC ITEM SIGNED TWICE BY KING CAROL II OF ROUMANIA
CAROL II (1893-1953). King of Roumania (1930-1940). Deserted wife, and went to Paris to live in exile with Magda Lupescue; formally divorced Princess Helen (1928). Returned to Roumania (1930); supplanted his son Michael as King; reign marked by continued attempts to please both Russia and Germany; abolished political parties, tried unsuccessfully to establish dictatorship. Created Front of National Rebirth (1938); driven from throne; fled to Spain. Very unusual philatelic item signed twice by King Carol II. Carol II, like Farouk of Egypt and George VI of England was a noted stamp collector. This is an approval book of T. Allen, Essex, England, a noted stamp dealer. The face value of the booklet was 425 pounds. Whenever Carol II removed a
postage stamp he would sign the booklet where the stamp had been to denote that he had removed same. Evidently, he was to be billed when his purchases reached a certain amount. Carol II has signed this booklet twice in pencil (one of two pages illustrated). A great royal item as well as a likely unique philatelic piece. ........[5973]........$195.00

D.S. BY QUEEN CAROLINE OF ANSPACH AS QUEEN REGENT OF ENGLAND DURING ABSENCE OF KING GEORGE II
CAROLINE OF ANSPACH (ENGLAND)(1683-1737). Queen of Great Britain and Ireland. Wife of George II. Went to England on accession of George I (1714); gathered distinguished circle including Pope, Gay, Chesterfield and Lord Hervey; connived at husbands amour with Henrietta Howard; crowned Queen (1727); kept Sir Robert Walpole in power; appointed bishops rather for learning than orthadoxy; she was queen regent of England on the four occasions when the King was absent from England. She hated her eldest son Frederick who in-fact did not live to succeed his father. DS as Queen Regent, tall folio, 11.5" x 18.5", n.d., circa 1740-45, being an order to pay the military, 2pp., recto & verso. Signed at top of first page (as is customary with British monarchs by virtue of being the first man or woman of the realm). The document is rather interesting and is entitled "By Her

Majesty, the Queen/ Guardian of the Kingdom", etc. Abstract of the foregoing list: " Regiments" following which is listed the names of regiments and individuals and their "HalfPay/ Per Diem". Caroline's material is uncommon, particularly as Queen Regent. This document undoubtedly has to do with Military pay during one of George's campaigns. .....[11562].....$795.00

(CHARLES II). Receipt for taxes, 8vo, oblong, 1661, detailed accounting for taxes levied, signed by the tax collector. Quaint. Mint....[3329]..$75.00
"ROYAL WEDDING"ALS OF EDWARD VII ACKNOWLEDGING CONGRATULATIONS ON ENGAGEMENT AND IMPENDING MARRIAGE OF HIS SON, THE FUTURE GEORGE V TO MARY OF TECK (LATER QUEEN)
(ENGLAND) EDWARD VII (1841-1910). King of England (1901-10). ALS, 2pp. (1 page front & back), 3.5" x 4.5", signed "Albert Edward" as Prince of Wales, on his imprinted Royal correspondence card, Marlborough House, May 9, (1892). To Mrs. Emma Hartmann, on the engagement of his son, George V, to Mary of Teck, "I am very grateful for your kind letter of congratulations on my son's engagement. No event could have given me greater pleasure and I feel sure that they will be very happy." With original envelope. Wonderful item associating two Kings and a Queen of England...Mint......[6556]...$595.00

EDWARD VIII. King of England who gave up the throne for the American "woman I love" and WALLACE WINDSOR. Album page boldly signed "Wallis Windsor" and "Edward, Duke of Windsor". Wallace normally signed "Wallis, Duchess of Windsor". This piece is signed with a desirable form of her signature. Mint......[ [9131]....$595.00
CHARMING CHILDREN'S BOOK WRITTEN AND SIGNED BY SARAH FERGUSON THE CONTROVERSIAL DUCHESS OF YORK


FERGUSON, SARAH. Duchess of York. Her book: Bright Lights, 8vo, 165 pp., Delacorte Press, 1996, 1st ed., d.j. Boldly signed on title page: "Sarah, The Duchess of York". With great humor the Duchess continued the adventures of Amanda and Emily, following the social whirl from a special point of view showing that no matter where they live or who their families are, people are not so different after all. Mint.................[11792].+ .....$175.00

(GREECE) GEORGE II (1890-1947). King of Greece (1922-23, 1935-47). Bold signature on embossed Waldorf-Astoria note card. Comes with a 5" x 6" color printed photo and a mint Greek stamp bearing his likeness. The trio. ..[4719]....$125.00
LAST WILL AND TESTAMENT OF ROBERT COWLEY, 1730, OF STOCKLAND, NEAR AXMINISTER, DEVONSHIRE
(GEORGE II) WILL OF ROBERT COWLEY, 10 June 1730, "in the third year of the Reign of our Soverign Lord George the Second", on vellum, 15" x 12". Interestingly, this will was probated in 1735 and has the certificate of probate and pendant probate seal affixed to the bottom of the document. The first such document to cross our desk. Interesting and unusual legal document.. [11833]. ..+.....$95.00
QUAINT 1780 REVOLUTIONARY WAR ERA
ENGLISH DOCUMENT - RELEASE OF LEGACY, COUNTY OF CHESTER (INHABITED BY BRITONS & ROMANS FROM 61 A.D.)
(GEORGE III) Legal Document, 2pp., recto & verso, 12" x 19.25", rag paper, darkly penned, signed and sealed with red wax seal on verso, being a Release and Confession of Legacy upon reaching his majority by one George Richardson which he inherited from his Grandfather, the Reverend James Richardson, late Rector of Tilston, in the County of Chester, deceased. The Legatee releases the Executors of the estate "...I do hereby further remise, release, discharge and exonerate...her, his & their lands, tenements,, goods and chattels - respectively of and from all and all manner of action and actions, suit and suits, cause and causes of actions and suits, debts, dues, duties and demands whatsoever for any matter, cause or thing whatsoever from the beginning of the world to the day of the date hereof..." Beautifully and darkly penned. In fine condition. Unusual type legal document. Quaint. Fine. ...[11783].++. $150.00
HANDSOME ELEPHANT FOLIO ENGLISH INDENTURE
FROM THE REIGN OF GEORGE III. ----- "OUR LAST KING"
(GEORGE III) Indenture, 31 1/2"x25 1/2", Nov. 21, 1811, being Deed of Covenant respecting the repairs of bridges upon lands at Pothingoll in the parish of Kington, Langley, Wilts. Beautifully & ornately penned on vellum w/a scalloped top & six small red wax seals at the bottom by the signatories. Also has the king's revenue seal & a 1 1/2" blue square seal. A colorful & handsome example which would display beautifully. Documents from the reign of George III, "Our Last King", have great association value. This example has it all. Near mint. [12223] $275.00
RARE SIGNED CABINET PHOTOGRAPH OF QUEEN ISABELLA II, LAST QUEEN OF SPAIN
(SPAIN) ISABELLA II. (1830-1904). Queen of Spain (1833-68). Daughter of Ferdinand VII and Maria Christina. Became Queen on death of her father, with her mother as Queen Regent. Last 25 years of her reign was a period of continuous strife. In 1846 married her cousin Don Francisco Asis; overthrown by revolution in 1868. Fled to Paris and abdicated in favor of her son, Alfonso XII (1870). ISP, 6.25" x 8.25", standing pose in be-jeweled ornate dress with royal sash, wearing royal tiara and otherwise dripping with jewels. Inscribed and signed on the mat ("Isabel de Borbon"); lightly bumped at corners; normal age toning, still very good. Photographers markings on verso are "Walery" Photographie, grue de Londres, Paris. Mounting traces on verso. Rare in this format. ...[12107]. ..$1250.00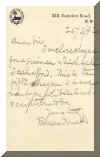 TESTY ALS OF J. RAMSEY MacDONALD ABOUT A POLITICAL DONATION
MacDONALD, J. RAMSEY (1866-1937). Twice Prime Minister of Great Britain. A pacifist, he opposed England's entry in WWI. Organized first Labor Ministry in the history of England. ALS, 4" x 6" letterhead embossed with a logo and his address. March 25, (18)92: "Dear Sir I enclose cheque for a guinea which is all I can afford. This is the fifth cheque I have sent for political subscriptions. Yours truly (boldly signed) R. MacDonald". Clean darkly penned example.....[11944]...$175.00

NASSER SIGNED PHOTO
NASSER, GAMAL ABDEL (EGYPT) (1918-1970). President of Egypt (1956-58);
nationalized Suez Canal (1956); formed United Arab Republic (1958; included Syria, 1958-61) and was its first president, (1958-70); built Aswan High Dam on Nile (completed 1968); defeated in war with Israel (1967). Overthrew King Farouk. Interesting 6.5" x 9.5" SP. Half bust printed semi-profile pose, professionally mounted to mat. On the buff mat, beneath his likeness, Nasser has signed his name in full in English and dated it "4.3. 1961". A handsome and very uncommon item.......................................................................[5667]..........$395.00
RAINIER III. Prince and hereditary ruler of Monaco. 5.75" x 4" color SP shown with his children as well as Caroline's husband. Handsome.. .[10481] .......$95.00

RAINIER III, Prince of Monaco; married film star Grace Kelly. 4" x 6" family group color postcard photo of Rainier, Prince Albert, Princess Caroline and her husband, Stefano Casiraghi, and Princess Stephanie, boldly signed by Rainier in a light portion. [12301]..$125.00
SIMEON II. (BULGARIA) Last King of Bulgaria. 4.5" x 6.5" B&W SP, (1987) shown with Queen Margarita and their five children. Boldly signed in silver ink (with good contrast which does not reproduce well). Handsome......[7643] ....$65.00
SIMEON II. (BULGARIA)Last King of Bulgaria. Boldly signed Christmas Card with holographic note: "Do let us know if you pass through Madrid!" On the front of the card is a Swiss winter scene. Comes with original envelope. ........[7644].. $65.00

SINNJEE, SIR BHAGVAT, Maharajah of Gondal. (INDIA). Fine Signature and title on small heavy card..[8459]..$68.50
(ITALY) UMBERTO II (1904-1983) Last King of Italy. Succeeded his father, King Victor Emmanuel III, who resigned in his favor. Umberto ascended the throne on May 9, 1946. On June 2, 1946 a plebiscite was held which favored a republic, thus abolishing the Italian monarchy. On June 13, 1946, Umberto and his family were forced into exile. First Day Cover for five cent U.S. Flag stamp, postmarked Washington, Jan. 9, 1963 and cancelled "First Day of Issue", with a color vignette of Old Glory on left side of cover. Umberto has signed in the upper center, partially across postmark. An uncommon royal autograph. Mint..[7336] .$195.00
KING OF ITALY DURING WWI AND WW II
(ITALY) VICTOR EMANUEL III (1869-1947); King of Italy (1900-1946). Son of Umberto I; active leader in W.W.I; acquiesced to Fascist seizure of power and in Mussolini's unconstitutional acts; reduced largely to a figurehead sovereign; assumed titles of Emperor of Ethiopia (1936) and King of Albania (1939); by concordat (1929) recognized full independent sovereignty of Vatican City; failed to secure Italian neutrality in W.W.II or to assert authority on failure of Mussolini; relinquished all power to son, Umberto II (1944) and abdicated (1946). D.S. as King, 10" x 15", 2pp. (signed on verso), 1920. Huge bold signature measuring over

6" long, untranslated. Appears to deal with the national opera. Minor border chipping, expertly repaired. Royal autograph of a major 20th century monarch. .....[2338].......$125.00




SIGNATURE OF EMPRESS VICTORIA OF GERMANY
VICTORIA (GERMANY) (ENGLAND) Empress of Germany. Mother of Kaiser
Wilhelm II; Princess Royal of Great Britain. Eldest child of Queen Victoria. Pencil signature signed "Vicky" on lined paper as a child. Signature approx. 1" long and 3/4" tall. Overall size 2.75" long x 1 5/8" tall. Not common. Comes with vintage 12mo engraving, circa 1890. The pair. ...........[1408]*.....$75.00
---
CAMPAIGN CONTENT LETTER FROM KING WILLIAM III OF ENGLAND
TO CHARLES II, KING OF SPAIN, FELLOW MEMBER OF
THE GREAT ALLIANCE, FORMED AGAINST LOUIS XIV OF FRANCE
WILLIAM III, (1650-1702). Stadholder or King of the Netherlands (1689-1702). Posthumous son of William II. Prince of Orange; despite Act of Seclusion (1654), trained for stadholder; accepted at length by Johan de Witt as future ruler; appointed captain general (1672) for war with France and England; despite Perpetual Edict (1667), also named stadholder in response to popular outcry (1672); defeated France (1674) and achieved general peace in Treaty of Nijmegen (1673). Married (1677) Mary, daughter of Duke of York, later James II of England; after Glorious Revolution in England (1688) appealed to by both Whigs and Tories to be English king; landed at Torbay, Devonshire, with Dutch army (1688); invited by Parliament to accept throne; crowned (1689) as joint sovereign with Mary; accepted Declaration of Rights (1689); Act of Toleration passed (1689); went to Ireland, defeated James at battle of the Boyne (1690); reigned as sole sovereign after death of Mary (1694); plot to assassinate him (1696) discovered and conspirators executed. Joined first Grand Alliance against France (1689) which led to war (1689-97), concluded by Treaty of Rijswijk (1697); issued Act of Settlement (1701); formed second Grand Alliance (1701); died as a result of a fall from his horse.

LETTER SUBSCRIBED AND SIGNED IN FRENCH ("VOTRE AFFECTIONE FRERE WILLIAM R") to a fellow monarch, 1 page, 4to, "Au Campe de Leuse", 23 August, 1694. An interesting campaign letter. William explains that new provisions are needed for the storehouses on the Meuse serving his troops and those of the United Provinces, and asks his fellow sovereign and ally (unfortunately unnamed) to exempt from the usual import taxes (peages) the 6000 tons of oats and the 18000 rations of hay with which he wishes to reinforce the stores. He emphasizes that such an action on the part of his ally can only be for the common good. William's 1694 campaign in the long war against France was inconclusive; he led a very strong force of nearly ninety thousand men but the French managed to avoid any serious engagement. The letter is in very fine condition. All writing is dark and bold. The letter reads, verbatim:

"At the Camp of Leuse, 23 August 1694, My brother: As the needs of the present situation require that the storehouses, on the Meuse, which furnish provisions for my troops and those of the United Provinces, be provided with new supplies, this letter is to ask you to give the necessary orders, to absolve and exempt from dues and import taxes in your areas on the Meuse, 6000 tons of oats and 18000 rations of hay, with which we wish to reinforce the said storehouses. I dare to assure myself that in accordance with your good intentions towards our common interests, you will wish again to favour them on this occasion. I will conclude this letter by assuring you of the sincere affection with which I continue to be, My Brother, (The following is entirely in Williams hand) Your affectionate brother William R".

The Grand Alliance against France was initially comprised of the Dutch, Danes, French Huguenots and Germans, as well as the Ulster Protestants. The letter was written from "An camp de Leuse", which is in Belgium. At that time Belgium was part of the Netherlands which were then owned by Spain and were known as the "Spanish Netherlands". Spain was ruled by Charles II [(1661-1700), son of Philip IV; during minority, under regency of queen mother, Mariana de Austria; assumed government (1675), with kingdom in weak and demoralized condition; took as adviser (1677-79) Don Juan, the younger; m. 1st Marie-Louise d'Orleans (1679); 2d, Maria Anna of Bavaria-Neuburg (1689); joined Grand Alliance in war against Louis XIV, terminated by Peace of Rijswijk (1697); having no offspring, was prevailed upon to choose as successor Philip of Anjou, grandson of Louis XIV. His death was signal for beginning of War of Spanish Succession.]

Inasmuch as Charles II of Spain was both a member of the Grand Alliance and ruler of Belgium in 1694, this letter was almost certainly written to him. Additionally, the Meuse River mentioned in Williams' letter as being the location of the storehouses for the Grand Alliance, of which Charles was a member, begins in Northeastern France, from whence it flows into Belgium and thence into Holland where it empties into the North Sea. The geographic location of the Meuse corroborates the recipient being Charles II of Spain inasmuch as it flows through only three countries: France, Belgium, and Holland. Since William was warring against Louis XIV of France and he was himself King of both England and Holland, Belgium and its ruler, Charles II of Spain, is left by process of elimination. Letters between Kings are seldom
encountered, particularly with such fine content. The autograph material of King William III of England is among the scarcest of British monarchs. Few important campaign content letters of William such as this are known to exist. The British Museum requested a copy of this letter and additionally requested that we waive the seven year waiting period before the copy could be used by scholars and researchers. Net to all...........[6162].........$4995.00
---

(WILLIAM III). Unusual (Channel Isles) Isle of Guernsey Indenture, 11" x 9.5", in French, Oct. 5, 1695, being an agreement between two brothers, Charles

and Edmond Andros, et al, providing for "payment in wheat by way of income." The date is in the fourth line of text. Comes with 8vo antique map of the Island of Guernsey. Document has 1.25" black circular wax seal of the Guernsey bailly. Mint condition. Suitable for display. A highly uncommon and unusual indenture. ..........[7059].......$195.00
BATTLE OF WATERLOO CONTENT DOCUMENT SIGNED BY KING WILLIAM IV

(BATTLE OF WATERLOO) WILLIAM IV (1765-1837). King of England and Hanover (1830-1837). DS, tall 4to, boldly signed at top with a 6.25" signature, in part: "Whereas certain allowances as of our Royal Bounty, have been granted to officers of long and meritorious services, and also to the Relatives of Officers of Our Land Forces, who have lost their lives in Our Service, and whereas Eliza Frances Crofton has humbly besought us, that, in consideration of the death of her late Father Brigade Major Walter Crofton, Captain of the 54th Regiment of Foot who was killed at Waterloo... the allowance of Fifty pounds a year." Some light foxing, normal age toning and slight paper loss from left blank margin, which does not touch or affect any text. All writing is bold and dark and William's signature is a particularly huge dark example. Anything connected with the Battle of Waterloo is most desirable. ..[6089]. .....$695.00



ALS OF FUTURE ENGLISH KING WILLIAM IV INTERCEDING WITH A TRADESMAN ON BEHALF OF HIS MISTRESS, MRS. JORDAN,
WITH WHOM HE HAD TEN CHILDREN

WILLIAM IV

. (ENGLAND) (1765-1837). King of England (1830-37). Before William's more or less forced marriage to Adelaide, who later became his Queen, he had lived openly, sans wedlock, with Dorothy Jordan, known as "Mrs. Jordan", a well known actress, by whom he fathered ten "natural" children. When it became evident that his brother, George IV, would not produce children, William and his bachelor brothers were forced to marry to continue the dynasty. Although he was under great pressure to marry, William did not marry until after Mrs. Jordan's death in 1816. He married Adelaide in 1818 when he was 53 years old. Although they had two daughters, both died in infancy, leaving William with no legitimate heirs. After William became King he ennobled his children by Mrs. Jordan. Highly interesting

ALS, 8vo, 2pp., (recto & verso) written in the third person and signed in the text with a most unusual form of his signature "HRH The Duke of Clarence", Bushy (his estate was known as "Bushy Park" and one of his many titles was "Ranger of Bushy Park", Thursday, n.y., circa 1810. In full: "Mrs. Jordan's compts. to Mr. Yarrell, and is desired to inform him by HRH the Duke of Clarence, that the Oracle and British Press is never received at Bushy 'till a day after the proper time --
she has it also in command to inform him that Mr. G.N. Well, is in future to have the sending (of) the papers to Bushy from Monday next instead of his Brother." Has integral address leaf addressed to "Messrs. Yarrell and Jones / Newspaper Office." Fine. An interesting letter of a future King of England interceding with a tradesman on behalf of his mistress. Great association item. ...[9518].........$595.00