TEXANA

ORIGINAL SIGNED COPY OF A PATRIOTIC SPEECH BY OVETA CULP HOBBY,
HEAD OF THE WAC'S IN W.W. II
(W.W. II) (CABINET) (FEMINISM) (TEXANA) HOBBY, OVETA CULP. Commander of the W.A.C.'s in W.W. II; Secretary of Health, Education, & Welfare under Eisenhower. Wife of W.P. Hobby, a former Governor of Texas and owner of the Houston Post. Mrs. Hobby's copy of a patriotic speech,
undated, but circa 1945, two typed pages, 8 1/2" x 14", with
numerous pencil corrections in her hand. Signed at the end in pencil: "Mrs. W.P. Hobby" beneath which she has written in pencil: "My dear Mr. Templeton: Will this do? You are privileged to change it as you like. Mrs. Hobby". Actually signed twice, and with a scarce form of her signature as her usual signature is "Oveta Culp Hobby". In part: "Texas women in large numbers crossed the seas dedicating themselves to helpful service. Those remaining behind participated in the various war activities with zest and enthusiasm. Red Cross work was entered upon by practically every woman in the state...The women campaigned for the liberty loans, collected with untiring hands and hearts full of tenderness funds for the alleviation of suffering attendant upon the pitiless war...These noble women seek no recognition nor reward for the services rendered; it was a service of love. No tablet will reflect the record and no monument mark the magnitude of their work, but deep in the hearts of the manhood of Texas will be the consciousness that the women of Texas were their comrades in arms, marching with them and now rejoicing with them in the triumph of democracy over a militant and destructive autocracy..." Fine WW II, feminist, and Texana item...[2356]..++..$295.00
(OLD WEST) (TEXANA) (ART) REAUGH, FRANK (1860-1945) Texas artist
known as "Painter of the Longhorn". Original Drawing of a Texas Longhorn steer, 4.5" x 3", drawn in sepia art pencil, and signed "F. Reaugh". Handsomely matted and framed. Overall size: 12" x 12". A magnificent and very rare signed drawing, beautifully displayed ........[2282-5]................$2500.00
REPUBLIC OF TEXAS HERO WHO WAS ONE OF FEW OFFICERS TO SERVE IN EVERY THEATRE OF WAR: BEXAR, GOLIAD, AND SAN JACINTO!
(REPUBLIC OF TEXAS) (BATTLE OF BEXAR, GOLIAD, SAN JACINTO) (BATTLE OF NEW ORLEANS) SMITH, BEN FORT was one of the most interesting of the Heroes of the Texas Revolution, having served as a major under Andrew Jackson at the Battle of New Orleans in the War of 1812 and been U.S. Agent to the Chickasaws and Mississippi legislator before settling in Austin's Colony in Texas, where he set up a slave-running operation into Texas from Cuba. During the Texas Revolution, he was a member of the Consultation and an officer under S.F. Austin in the Siege of Bexar. He raised a company of men and donated eleven leagues of land to the Texas government, and served at San Jacinto as Houston's Adjutant General.  He also served for a time as commandant of Goliad, thus making him one of the only officers to serve in virtually every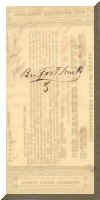 theater of the war. He was sent with Henry Teal as Texas Commissioner to deliver the Treaty of Velasco to Filisola. During the Republic he served as Texas Ranger Captain on Indian campaigns and as Congressman, where he became even more famous as author of the Bankruptcy Law and for freeing his slaves. Republic of Texas Stock Certificate, payable to and signed on verso by Benjamin F. Smith. Also signed by E.M. Pease, as comptroller. Pease was later Gov. of Texas. Certificate is for one share of $100. 6 5/8" x 3.5", Houston, Sept. 1, 1837. Usual cancellation slashes which do not touch or affect signatures. Fine...[3180]...$350.00

(TEXANA) (AUTHORS) WEBB, DR. WALTER PRESCOTT. Author & historian. Brief ALS on bottom of letter to him from a collector asking him to sign copies of three of his books (about the Texas Rangers and Great Plains) and mentioning J. Frank Dobie. Webb has written a 10 line response at the bottom of the letter regarding where to send the books. Not common and excellent association value. [1336].+.$75.00