MISCELLANEOUS

(NOBEL) ADDAMS, JANE (1860-1935). Am. social reformer and peace advocate. Awarded Nobel Prize (1931). In 1889, opened social settlement called "Hull House" in Chicago. Became acknowledged leader of social settlement work in U.S. Elected to American Hall of Fame. Extremely choice autograph sentiment signed on 3 1/8" x 2.25" card. Darkly penned. In full: "Faithfully yours/ Jane Addams/ Hull House/ Chicago". Mounted to 8vo album page. Fine..[11969].+ .$150.00
FINE QUALITY HAND TINTED STEEL ENGRAVINGS OF 1852 LADIES FASHIONS.
(ANTEBELLUM LADIES FASHIONS) Fine rag content steel engravings, 7" x 10 5/8", hand tinted showing Victorian ladies in the latest frocks and bonnets; engraved in lower border; The World of Fashion", "1852". Removed from a "Ladies Book". The hand tinting and coloring are superb. Would frame up beautifully. Have 4 different engravings that would make an outstanding collage if framed separately and hung together. Pristine. A gem.....[11947****]]. ..$75.00 each (See Web site for illustration of others)
[11947-1] [11947-2] [11947-3] [11947-4]
"THE ULTIMATE BOY-SCOUT ITEM"
HANDSOME QUARTO HALF BUST FORMAL SEPIA PORTRAIT OF ROBERT BADEN-POWELL, FOUNDER OF THE BOY SCOUTS, IN SCOUTING UNIFORM & HAT
BADEN-POWELL/ ROBERT STEPHENSON SMYTH. 1st Baron Baden-Powell of Gilwell (1857- 1941). English soldier. Entered army (1876); served in India, Bechuanaland, Ashanti; became export scout; chief staff officer, Matabele campaign (1896-97); held Mafeking through 217 day siege by Boers until relieved (1900); made major general; inspector general of cavalry (1903); lieutenant general (1908); retired (1910). Inaugurated Boy Scouts (1908) and with sister Agnes (1858-1945), The Girl Guides (1910). Published Scouting for Boys (1908) based on
his army manual Aids to Scouting (1899); initiated Wolf Cubs (1916). Acclaimed Chief Scout of the World at first Boy Scout Jamboree (1920). Created baron (1929). Fine quality quarto half-bust sepia portrait of Baden- Powell shown in scouting uniform and hat. Boldly signed in full in a light portion of the image "Robert Baden-Powell, 1917" Two pin holes in upper blank corners from previous mounting. Overall condition is excellent. This is "the" finest Baden-Powell portrait we have ever seen and the ultimate scouting item! ...[6364]..........$1295.00
SCARCE SIGNATURE OF THE INVENTOR OF "BAKELITE"

(INVENTORS) BAKELAND, LEO H. (1863-1944). Am. chemist and inventor. Manufacturer of photographic papers of his own invention; known esp. for his discovery of the synthetic resin bakelite (1907). Rare signature clipped from letter. Overall size 4.5" x 1.5". Fine [1171] $95.00
BONNIE & CLYDE ARCHIVE
(BARROW, CLYDE) & (PARKER, BONNIE). Nationally infamous Texas outlaws. Collection of newspaper clippings, mostly from the 70's, with a journalist's notes, being a chronology of their crime sprees and an interesting interview with Bonnie's sister, Billie Jean Moon. Has a vintage 8" x 10" B&W glossy of the death car used in a movie captioned "The original AMT Movie Bonnie & Clyde Car Ford Sedan." The car is riddled with bullet holes. Interesting material........................[10458].....$150.00
CRIME OF THE CENTURY THE LIZZIE BORDEN AXE MURDER CASE
(CRIME) (BORDEN, LIZZIE) New York Herald, Monday, June 12, 1893, pp 5 & 6 (recto & verso of one page) being one full page. On page 6 is an article entitled and headlined: "Rapid Work In/ The Borden Trial/ Wonderful Progress of the Government in Developing Its Evidence/ Points which Have Been Made/ Negative Testimony Tending to show that only the Defendant could Commit the Murders/ What Remains To Be Told/ Emma Borden Expected to Give Important Information About the Burned Dress. The article contains two diagrams encaptioned: "Plan of the Floor where Mr. Borden's Body was Found" and "Plan of the Floor Where Mrs. Borden's Body was Found". One section of the article is entitled "The Handleless Hatchet". The last paragraph states, in part: "The matter of wrapping up the hatchet by Medley and Desmond can be easily explained. They say each man did wrap up the hatchet... The paper contains a quaint ad for a ladies dress "For the Country". On the verso of the Borden article are lengthy articles about "Cost of the Sherman Law" and "Baneful Effects of the Sherman law". Minor border chipping; fold creases. Overall a clean very good page. Provenance: From the estate of Russell Benjamin Harrison, son of the president. Russell traveled and frequently sent newspaper clippings of interest to his wife of which this was one.....[11772]......$195.00
RARE KIT CARSON SIGNATURE HANDSOMELY MATTED AND FRAMED
(OLD WEST) CARSON, CHRISTOPHER ("KIT") (1809-1868). Scout, trapper, explorer, Indian Agent and Union General. Choice dark signature "C. Carson", beneath which is written "Colonel, 1st, N.M. Volunteers", 2.25" x 1.25", matted with 4.5" x 6.5" oval portrait of Carson, and brass plaque, both of which are matted with marbled liners in buff mats and framed in a 1.75" gold wood frame, 22.25" x 16.75" overall size. The brass plaque is 5" x 5" and is engraved as follows: "Christopher (Kit) Carson/ (1809-1868)/ Legendary Old West Hero/ Trapper, Scout and Indian Agent./ Guide, Fremont's Expeditions (1842-1845). / After Battle of San Pascual (Dec. 6, 1846),/ Carson crawled through enemy troops/ and summoned aid for San Diego/ During Civil War fought Indians in the Southwest." The autographic material of Kit Carson is rare in any form and has become the target

for forgers. In the past forty plus years, we do not recall having seen more than a handful of Kit Carson material. We have never seen a finer example. ...........[11714]......$8500.00 The brass plaque photographed darkly. Actual plaque is bright brass.
POSSIBLY UNIQUE SIGNED PHOTOGRAPH OF
GEORGE WASHINGTON CARVER
CARVER, GEORGE WASHINGTON (1864-1943). Black Am. botanist. Son of a slave, he led an itinerant early life and obtained an education by his own efforts; B.S. (1894) and M.S. in Agriculture (1896) from Iowa State. He was the Director of the Agriculture Dept. and of agricultural research at the Tuskegee Inst. from 1896. He promoted crop diversification among Southern farmers, especially growing peanuts, soy beans and other soil enriching crops. He developed over 300 derivative products from peanuts, and 118 from sweet potatoes. He won the Spingarm Medal in 1923. He is also a member of the Am. Hall of Fame. EXTREMELY RARE 3" X 5" B&W SP, SIGNED ON MOUNT "GEO.
W. CARVER, 6-2-1937" The photograph is a 3/4 length candid printed snapshot showing him outdoors; mounted to card stock. Handsomely framed. Carver never sent out signed photographs. Provenance: From the largest signed photograph collection in the world which was recently broken up. This piece is illustrated in a reference work of signed photographs. The 1994 Sanders Price Guide to Autographs lists no price for a Carver SP, meaning they could find no record of one having ever come on the market. Possibly unique and a museum quality piece.....[9244]...+....$3495.00
RARE SIGNED PHOTO OF GEORGE WASHINGTON CARVER
CARVER, GEORGE WASHINGTON (1864-1943). Am. Negro botanist. He was born of slave parents in Missouri and stolen with his mother and carried into Arkansas. Despite great adversity and hardship he received an education. He taught at Tuskegee Institute from 1896. He is known especially for his research in the industrial uses of the peanut which he is largely responsible for introducing into the South. Signed printed photograph showing Carver shaking hands with F.D.R. Signed on the mat "Geo. W. Carver". Carver never sent out signed photographs. However, someone wisely mounted this photograph to heavy card stock and got Carver to sign it. Scattered light foxing. A gem and a museum quality piece... ..[11941]..+..$1500.00
RARE SIGNED PHOTO OF GEORGE WASHINGTON CARVER
CARVER, GEORGE WASHINGTON (1864-1943). Am. Negro botanist. He was born of slave parents in Missouri and stolen with his mother and carried into Arkansas. Despite great adversity and hardship he received an education. He taught at Tuskegee Institute from 1896. He is known especially for his research in the industrial uses of the peanut which he is largely responsible for introducing into the South. He promoted crop diversification among Southern farmers, especially growing peanuts, soy beans and other soil enriching crops. He developed over 300 derivative products from peanuts, and 118 from sweet potatoes. He won the Spingarm Medal in 1923. He is also a member of the
Am. Hall of Fame. 4to signed portrait. Extremely attractive half bust pose, signed vertically in left lower corner of portrait: "Geo. W. Carver." Top left corner crease, pin hole in top center margin, lower right corner of portrait missing, not effecting signed area. Minor soiling, mounting traces on verso. Carver never sent out signed photographs. Provenance: Comes from the estate of a person (1880-1966) who lived in Des Moines, IA and acquired it contemporarily and treasured it until she passed away. It remained in the family until recently. A copy of the letter of provenance comes with the piece. This is the only signed portrait we have ever seen of Carver and have only seen two other signed photographs in addition to this one (of which Lone Star Autographs owns all three). This would be a $5000. piece if it were not damaged and slightly soiled. A rare piece of Black American History...[12349].+..$2995.00
CHAMPION, PROSPER. Developer of Champion Spark Plugs. DS, 4to, "C" agreement (referred to above), A.C. Spark Plug Co., covering purchases and shipments made between Jan. 1, 1928, signed by "P. Champion, June 20, 1928" for A.C. Spark Plug Co. and by C.B. Chupp for Pitcarin Aircraft Inc. and by Jos. P. Gordon for The Geo. W. Nock Co. Mint. Rare business autograph. .[9781]...$295.00

ALS OF EARLY FEMINIST AND WOMAN'S SUFFRAGE AND LABOR REFORMER
DICKINSON, ANNA E. (1842-1932). Early feminist. American reformer and lecturer, b. Philadelphia. Lectured for woman suffrage and labor reform. 8vo, on personalized embossed stationery, 1873. Perfect for framing. ........[028]....$95.00
"DOUBLE-BUBBLE GUM -- AN AMERICAN INSTITUTION" -- SIGNED TYPESCRIPT BY THE INVENTOR ABOUT THE DEVELOPMENT OF DUBBLE BUBBLE GUM
(INVENTOR) (AMERICANA) DIEMER, WALTER. Inventor. Developed "Dubble Bubble Gum:, an American institution. It quickly surpassed Tootsie Rolls to become the world's biggest selling one cent confection. Annual sales today for Dubble Bubble are $150 million dollars. DS, 4to, 3pp., entitled "Walter Diemer, Inventor --Double Bubble Gum, excerpted from "The Great American Chewing Gum Book". In part: "...I realized I'd forgotten to put any coloring in the gum." Diemer remedied
his mistake the very next day, when he made a second superbatch. "Pink food coloring was the only one I had on hand," he said, "And that's the reason ever since, all over the world, that bubble gum has been predominantly pink". Boldly signed at conclusion....[7159]**...$150.00
"ORIGINAL FBI JOHN DILLINGER WANTED POSTER"
(CRIMINALS) (DILLINGER, JOHN). Original FBI Wanted Poster, 8" x 8", March 12, 1934. Shows two mug shots of Dillinger and a facsimile of his signature as well as all 10 of his finger prints. Lists his alias as "Frank Sullivan" and his "Description" as: "Age, 31 years; Ht., 5' 7 1/8"; Wt., 153 lbs.; Build, Medium; Hair;
Medium Chestnut; Eyes, Grey; Occupation, Machinist; Marks and Scars, 1/2" scar back left hand; scar middle upper lip; brown mole between eyebrows; mustache". His criminal record lists various offenses beginning in 1924: assault & battery with intent to rob and conspiracy to commit felony; bank robbery, and murder". Issued by J. Edgar Hoover. (Net to all)........[2667]..........$395.00

.
DIXON, JEANE. Psychic. TLS, 8vo, on letterhead of her "Children to Children" organization, sending one of her favorite sayings and giving an author permission to use in his book. Signed "Jeane". Comes with the saying typed on a 3 x 5 index
card: "If we work hard at the little things of our common hours, we will triumph in our lives." Boldly signed in full and dated by her "June 20, 1983". The pair..[11673].......$38.50

(EDISON, THOMAS A.) (STOCK CERTIFICATE). Stock Certificate No. 6 for 100 shares of Phonograph Corporation of Indiana issued to Thomas A. Edison, Inc., of West Orange, N.J., Sept. 13, 1922. Unsigned. In red ink "Void" is written partially across the face of the document, and cancellation holes. This was a replacement certificate for Nos. 1-5. Overall a clean example. Excellent association item....[11973].....$250..00
(ENGLAND) Red, white and blue enameled pin, 1.75" x 1" of Union Jack. Handsome...[11524]......$25.00
NOW CLASSIC AND LONG OUT OF PRINT AUTOGRAPH REFERENCE WORK
FROM THE PRESIDENT'S PEN, an Illustrated Guide to Presidential Autographs, by Larry F. Vrzalik & Michael Minor, with Introduction by Senator Ralph W. Yarborough, 4to, 164pp., State House Press, (1991), 1st ed., with d.j. Contains chapter on "Autograph Collecting, Past, Present and Future", being an overview of the hobby; Appendix A contains an extensive "Recommended Reading List", Appendix B is a Pricing Guide to presidential autographs; Appendix C is a list of autograph organizations and publications; Appendix D is a monograph on the handwriting and signature of Lyndon B. Johnson, being the only such study done thus far on our 36th president, which contains dozens of illustrations of genuine, secretarial and autopen LBJ material. The book also contains a Glossary of Terms used in the hobby. Additionally, there are profusely illustrated individual chapters on each president, Washington through Bush (Sr.), which illustrate letters and documents written and signed by each of the presidents. Each presidential chapter also contains a brief biographical sketch, highlights in office, dates of terms, births and deaths, and other significant data. The presidential chapters also contain much rich anecdotal material and human interest stories about the presidents, much of which is not commonly known and some of which is previously unpublished. One of only three reference books ever written on presidential autographs. Supplies are dwindling. Hardback..(Used copies are selling on E-Bay for over $100.) ..[6159]...$95.00
"THE MAN WHO RAN WITH BONNIE & CLYDE":
IN 1930, WITH CLYDE BARROW, FORMED FAMOUS "BARROW GANG".
ACCOMPLICE OF CLYDE BARROW, BONNIE PARKER, AND RAYMOND HAMILTON
(OUTLAWS) (BONNIE & CLYDE) FULTS, RALPH. (d.1985). Famous outlaw, bank robber and criminal of the 30's. He met Clyde Barrow in prison when he was 19, where he was serving a sentence for grand larceny. In 1930, with Clyde Barrow, formed what came to be known as the "Barrow Gang". In 1932 the "Barrow Gang" was about to raid the Eastham Prison farm near Trinity, Texas to free prisoners when Fults was shot and captured. Barrow escaped. On another earlier foray in Texas with Bonnie & Clyde, he and Bonnie were captured and Clyde escaped again. In return for releasing Bonnie, he took the wrap and was sentenced to 15 years in the penitentiary. In

1935, six months after Bonnie & Clyde were shot to death in a police ambush, Fults was paroled. He joined forces with Raymond Hamilton, a former Barrow associate who had been declared Public Enemy No. 1 by the F.B.I. Fults and Hamilton shot their way out of several police traps as they left a string of robberies across Texas, Oklahoma, and Mississippi. On March 28, 1935, they disarmed a 15 man posse and eluded 20 National Guardsmen after a bank robbery in Prentiss, Mississippi. Both were arrested within three weeks. Hamilton was executed. Prosecutors sought the death penalty for Fults but he received a 100 year sentence in return for a guilty plea. Fults was again paroled in 1944 and "went straight". 8" X 10" DS with biographical information about Fults with bold headlines "The Man Who Ran With Bonnie and Clyde", which contains his photograph. The piece is on fine quality rag content paper. Boldly signed by Fults in upper blank portion, making a fine display piece. Fine and excessively rare outlaw item, suitable for framing. Provenance: In 1984 after reading about Fults in the Dallas Morning News we contacted him and asked him to sign several copies of his biographical article which we had reprinted on good quality paper. Fults kindly agreed and we mailed him the copies, which he signed and returned, with a cover letter answering questions about his crimes and mentioning Raymond Hamilton and trying to find Bonnie Parker's sister. A dealer is currently listing one of these pieces at $795.00 We are the original source of these items and we have only a handful left. Comes with copy of Fults' handwritten letter and his return mailer on which he has written his name and address. .....Mint......[1541-8]...........$595.00
FINE 1758 COPY OF "THE LONDON CHRONICLE" WITH NEWS FROM THE COLONIES
(GEORGE II) (COLONIAL AMERICA) (MEDICINE). Extremely good copy of "The London Chronicle: or Universal Evening Post". From Sat., April 22, to Tuesday, April 25, 1758, 8" x 11", 8pp., printed on rag-content paper. Front page article(s) concerning the Colonies and America. -- Governor DeLancey's speech to the General assembly of New York, on Friday March 10, 1758...following is a lengthy article regarding the state of the Am. Colonies and a request from the King to raise troops from Mass. Bay, New Hampshire, Connecticut, Rhode Island, New Jersey, and the southern provinces, concluding..."The dangers impending on North America, the extraordinary succors supplied by the crown; the losses we have sustained, the proximity and the accessibility of this province, more immediately obnoxious to the mail irruptions of the enemy from Canada, are the most powerful and cogent motives that can be suggested, to induce you to exert your most vigorous efforts, on this truly important and critical occasion." Choice and mint. Excellent content. [3313]+ $150.00
LAST WILL AND TESTAMENT OF ROBERT COWLEY, 1730, OF STOCKLAND, NEAR AXMINISTER, DEVONSHIRE
(GEORGE II) WILL OF ROBERT COWLEY, 10 June 1730, "in the third year of the Reign of our Sovereign Lord George the Second", on vellum, 15" x 12". Interestingly, this will was probated in 1735 and has the certificate of probate and pendant probate seal affixed to the bottom of the document. The first such document to cross our desk. Interesting and unusual legal document.. [11833]. ...+......................$95.00

MAGNIFICENTLY FRAMED SIGNATURE OF GERONIMO
WITH IMPECCABLE PROVENANCE
GERONIMO (1829-1909). Indian name Goyathlay, i.e., "one who yawns". American Apache Indian Chief. Given nickname "Geronimo" (English Jerome). Geronimo was a captive of the U.S. government after his capture in 1886, for the rest of his life. After his capture he was initially taken to Florida, then Alabama, and, finally, in 1894 the government permanently moved the Apaches to Ft. Sill, Oklahoma. Geronimo settled as a farmer near Ft. Sill, Oklahoma. During his captivity he periodically worked at expositions where he was put on "exhibition" by the government. He was, however, allowed to sell his autographs and bows, arrows and other objects he made. He would also sell articles of his clothing, including the shirt off his back! While incarcerated in Alabama (1888-94) Geronimo was taught to print his name. He probably learned to print his name between 1888-1890. Since Geronimo could not read and write, the individual letters in his name meant nothing to him. In fact, according to contemporary accounts, he printed his name vertically, top to bottom, much like a totem or drawing , instead of writing horizontally, left to right. Although Geronimo did, on rare occasions sign his name in ink, he preferred using a pencil. Virtually all his authentic autographs are in pencil; however, he signed his name in ink on the bows, arrows and other artifacts which he made and sold. Geronimo sold his signature and signed photographs for $.10 to $2.00. The price he charged was, apparently, contingent on what the market would bear. Because Geronimo's signature is simply and crudely printed, and because it is today among the rarest and most avidly sought of all Americana, it is an easy and profitable target for forgers. In our opinion no signature of Geronimo can be safely purchased without impeccable provenance and/or supporting documentation for the aforementioned reasons. This example has impeccable provenance. Bold pencil signature of Geronimo measuring almost 3" long on a 3.75" x 2.5" album page. Handsomely matted with a handsome quarto sepia photograph made from the original negative and matted in mahogany veneer mats and hand made marbled paper mats. Beneath Geronimo's signature is a small oval brass plaque engraved: "Signature of/ Geronimo/ (1829-1909)". Framed in 2" gold leaf wood frame. Overall size: 26" x 20". (The signature is archivally encased in a mylar sleeve but could be easily removed should one wish.) PROVENANCE: When we purchased this piece it was mounted to an old album page with several contemporary newspaper clippings about Geronimo, including his eulogy. The signature and newspaper clipping were expertly removed and deacidified by a restorationist. The original clippings (circa 1904-1909) are contained in a special pocket on the back of the frame.


A museum quality piece with impeccable provenance. Comes with three contemporary newspaper clippings. The quartet... (Net to all)....................[9139].......$7995.00


Close up of Signature >
EXCESSIVELY RARE AND FINE UNPUBLISHED 1907 POSTCARD PHOTO OF GERONIMO AS PRISONER, SHOWING HIM ON HORSEBACK SURROUNDED BY CAVALRY OFFICERS AT THE 101 RANCH
(GERONIMO) Rare and fine sepia post card photograph of Geronimo shown full length on horseback wearing his warriors trappings and surrounded by U.S. Cavalry guards in uniform, also on horseback. This remarkable photograph was taken in 1907 at the "101 Ranch" where he was taken as a prisoner to be "on exhibition" at the annual ranch "Round-Up" days and Rodeo. Geronimo's expression is fierce and it is evident that he was less than enthusiastic about being present. PROVENANCE: The photograph was made by the famous Old West photographer, George B. Cornish, who maintained a studio in Arkansas City, Kansas, from 1898 until his death in l946. In his early years he worked with W.S. Prettyman, and both men extensively photographed in Indian Territory, both having a special interest in preserving the history of the Old West. Cornish was also interested in photographing cowboys and cowgirls. Many of his photos were sepia. His postcards were sold locally, including at
the 101 Ranch Rodeo. Miss Edith Berroth was employed as an assistant to Mr. Cornish in 1912 and worked for him until his death. Part ownership of the studio was left to her and she continued to operate the studio until her retirement in l969. Many of the early photos were gradually sold and when she retired, she gave the remaining material to the Cherokee Strip Museum. This photograph (which was purchased in l984) is from the last very small group known to exist. They were carefully stored (from 1907) and passed from the possession of Mr. Cornish to Miss Berroth to the museum. This photograph is of the original printing, therefore making it an authentic print. The above information as to provenance is contained in a letter from the Cherokee Strip Living Museum and is signed by the director. This is truly a fantastic, rare and absolutely mint Old West--American Indian item which comes with a copy of the letter of provenance from the museum...........[1010]M.............$1500.00
IS THIS THE AUTOGRAPH OF JACK THE RIPPER? OR WAS HE AN ACCOMPLICE OF THE MAD PRINCE EDDY?
GULL, DR. WILLIAM W. (CRIME) (JACK THE RIPPER?) (1816-1890). Knighted for his brilliant treatment of the Prince of Wales (later King Edward VII) when the Prince had typhoid in 1871; he was also physician to Queen Victoria. He held important posts in government, and wrote the English standard works on cholera and alcohol. Rumor constantly associated him with Jack the Ripper, possibly in

concert with the Prince of Wales, the Mad Prince Eddy, who was also a prime suspect in the case. Cut signature dated March 17, 1872. .Rare. ...[8563]........$295.00
RECONSTRUCTION CONTENT HARPER'S WEEKLY
THOMAS NAST CARTOON ABOUT RECONSTRUCTION WITH ANDREW JOHNSON DEPICTED.
(RECONSTRUCTION) HARPER'S WEEKLY, N.Y., Sat., March 13, 1875. Front cover is cartoon showing several Senators in the Senate Chamber, one of whom is Ex-President Andrew Johnson (who served one year in the U.S. Senate in 1875 after leaving the White House). One Senator is holding a paper imprinted: "The Confederate Soldiers"/ Parole of Honor/ For Gen. Francis M. Cockrell and the Senator from Missouri. Caption under cartoon states: Under Parole of Honor -- The Ex-officers of the Ex-Confederate Army in Congress: Senator Burnside: "I can imagine no contingency that would make him violate his parole... the people will never again sit idly by and allow treason to gather head." Bottom corner of first page missing, with light staining to left corner, else very good. Editorials about a third party, a Democratic "restoration", the 1876 election, Samuel Tilden, etc. National and international news, a number of drawn illustrations and cartoons, mostly by Nast; many quaint ads..++..[11719]..$68.50
INVITATION TO 1795 HARVARD GRADUATION
(HARVARD UNIVERSITY) Handwritten invitation, in Latin, 8vo, slightly irregular top margin, to Harvard University Graduation, Oct. 28, 1795, for one "Johannis Russell". Mounted to page from early 19th century album. On verso of the mounting page is mounted a handwritten notice of Bans of Matrimony, 8" x 2.5" for Edward Russell of North Yarmouth and Miss Lucy Stevens, of Portland. Signed Edward Russell, town clerk, North Yarmouth, June 13, 1812. Quaint and interesting early Americana item. ....[5346]....$195.00

(FBI) HOOVER, J. EDGAR. Controversial Veteran Director of the FBI. TLS, 4to, March 12, 1958, on official letterhead, sending photo (not present)& biographical sketch, which is present. Fine. The pair. [12227] $195.00


(FBI ) HOOVER ,J. EDGAR. Veteran Director of F.B.I. Has become a controversial figure. Extremely fine vintage 4"x6" matte finish sepia portrait boldly signed on lower blank mat. Mounting traces on verso. Circa 1955. [12228] $125.00



THE EARLIEST & BEST J. EDGAR HOOVER SIGNED PHOTOGRAPH WE HAVE SEEN
(FBI) HOOVER, J. EDGAR. Veteran Director of the Federal Bureau of Investigation. Handsome semi-profile sepia drawing of a young Hoover, matte finish,9"x11", inscribed & signed in a light portion: "To _____, Best Wishes, J. Edgar Hoover, 2.8.43". Right upper tip missing & mounting traces on upper left tip neither touching the image. Could be easily matted out. Hoover material from this period is seldom offered. Handsome. [12229] $195.00
(Note: When viewing the enlarged image, the change in toning along a horizontal line through the top scalp line is due to the original being scanned in two scans and then put together to form a single image. There is no line on the actual drawing.)
(FBI) HOOVER ,J. EDGAR. Veteran Director Federal Bureau of Investigation. Official letterhead, Jan.31, 1966, letter of Commendation to employee "It is a pleasure to commend you for the outstanding attitude you exhibited in reporting for duty today despite extremely hazardous travel conditions...in spite of an announcement that all Federal Government agencies would be closed, you reported for duty…I have instructed that a copy of this letter be placed in your personnel file…boldly signed. Fine. Good content. [12230] $165.00


LAST OF THE GREAT TRAIN ROBBERS -- COLORFUL OLD WEST OUTLAW
(OUTLAWS) (OKLAHOMA) JENNINGS, AL. Outlaw and train robber. A prosecutor who became an outlaw. His brother, Ed, was shot and killed by flamboyant frontier lawyer Temple Houston. Al swore vengeance and turned to crime. Al and his brother Frank robbed a number of trains in Oklahoma Territory. Jennings fled to
Honduras where he hid for some months. While there he became friendly with another fugitive, William Sidney Porter, later known as the writer O. Henry. Jennings is the subject of several of O`Henry's literary characters. Jennings returned to Oklahoma and committed more robberies. He and his gang were finally captured after a four day chase. Jennings was tried and convicted on a charge of assault to kill and given a life sentence. He served five years in the federal penitentiary at Leavenworth. Later, he received a pardon from President Theodore Roosevelt and became a writer, lecturer & evangelist. Striking 4to B&W glossy ISP. On lower border he has written in purple ink: "To my pal Cliff, Al Jennings, Sept. 6, 1942." A striking 3/4 length photograph of him on horseback wearing a wide brimmed western hat and his infamous six gun. His gun belt with bullets is clearly visible -- and several bullets are missing! Striking and desirable outlaw piece. Jennings is quite scarce in this format, this being only the second such example we have seen.. ...[8376].... ...$1500.00


(COLONIAL AMERICANA) (AM. INDIANS)
(MANHATTAN) (ANTIQUITIES). Authentic trade bead, circa 1625, known as a "Manhattan Trade Bead" because it is the same type trade bead used by the colonists to purchase Manhattan Island from the Indians. Manhattan Trade Beads are distinctive and unmistakable. They are approx. 1/2" long and 1/2" in diameter. The beads themselves are white glass with alternating bold bright red and blue stripes. We have had an original Manhattan Trade Bead as described above handsomely framed on dark red raw silk mats. The bead has an oval brass plaque beneath it engraved "Manhattan Trade Bead". The bead and the plaque are surrounded by a square gold wood filet, beneath which is another brass plaque engraved: "The type of trade bead used to buy Manhattan Island from the Indians,
circa 1625." Framed with a heavy 2" weathered wood frame which is highlighted in gold. Overall size: 11" x 14". A striking and handsome colonial Americana item of historic significance....[2896-2]...$395.00

LEAKEY, RICHARD. Anthropologist. Son of Louis & Mary Leakey. Has continued their work & discoveries. Sig. on card. Quite scarce. [8194] $l25.00

(SCIENCE) (MEDICINE) LISTER, JOSEPH JACKSON (1786-1869). English optician. Wine merchant by trade. Investigated principles of construction of the object glasses of microscopes and discovered fundamental principle (law of the aplantic foci) of the modern instrument (1830); first to ascertain true form of red corpuscles of mammalian blood (1834). DS, 4to, Manchester, May 18, 1835, being export certificate for certain "Goods, wares, or merchandise". Tips of upper corner neatly cut away, affecting no text. Boldly signed. Clean. An early science/ medicine autograph..[5108]...$395.00
PIONEER MICROSCOPIST WHO WAS THE FIRST TO SEE A MAMMALIAN RED BLOOD CORPUSCLE
(SCIENCE) LISTER, JOSEPH JACKSON (1786-1869). English optician. Investigated the principles of construction of microscopes and discovered the fundamental principal of the modern instrument (law of the aplantic Foci) (1830). He was the first to see the true form of a red blood corpuscle of mammalian blood (1834). His son Joseph Lister, became the founder of antiseptic surgery. Third person ALS, 4to, April 6, 1835, having to do with a refund; unevenly stained, edges clipped; fold splits expertly repaired on verso. Comes with integral address leaf. His material is much scarcer than his famous namesake son. Writing is dark and bold.....[11966]...$595.00

(LONDON) Gold-color metal pin with the white & red cross of St. George and "City of London" in gold on red-enamel. Handsome... ....[11523].........$25.00
1839 HAND TINTED MAP OF "OCEANICA" WHICH
SHOWS CALIFORNIA AS A PENINSULA AND TEXAS AS A REPUBLIC.
(MAPS) MAP OF OCIANICA, designed to accompany Smith's Geography for Schools, 11.5" x 9.5", hand tinted. quaint spelling, e.g., "Mantchooria", "Australasia", "Sandwich Islands", "Niphon", etc. Shows North Pacific Ocean, Farther India, etc. In

the upper right corner is "North America", "United States", "Mexico", which clearly shows Texas as a Republic and California as a Peninsula. There are marks on the map indicating "Protestants", "Pagans", etc., 1839. Handsomely framed in 1/2" gold antique frame. A great display piece...........[11831].....$595.00
(MAPS) MAP OF AFRICA, 11.5" x 9.5", hand tinted, designed to accompany Smith's Geography for Schools, 1839. Shows "Barba States - Algeirs, Tripoli, Morocco and Barca, Egypt, the Red Sea, Dongola, Nubia, Fezzan, Soudan, Abyssinia, Berbera, Zanguebar, Morcaranga, Zimbeas, Lower Guinea, Benguela, "Great Southern Desert - unexplored" (as part of Ethiopia). At the top of the map of Africa is the "Sahara or Great Desert". There are insets on lower left corner of "Lower Egypt" and "Liberia". On the inset of Liberia the various
colonies are identified: Monrovia, Georgia Colony, Pennsylvania Colony, Louisiana Colony, Mississippi Colony, Maryland Colony, etc. The countries shown on the map are handsomely tinted in pastel rose, green and yellow. The symbol for "Pagan" is profusely scattered throughout the map. A great display piece..[11832]...$395.00
EARLY AUTOMOBILE MANUFACTURER
(AUTOMOBILE MFG.) (McLAUGHLIN AUTOMOBILES) McLAUGHLIN, R.S. Early automobile manufacturer. TLS, 4to, Nov. 21, 1912. Ornate letterhead of "McLaughlin Motor Car Co., Limited, High Grade Automobiles, Oshawa, Ontario." Letterhead has vignette of the auto mfg. plant which, interestingly, shows horse drawn buggies and wagons in front of the plant, as well as a train. What appears to be a line of finished "McLaughlin Motor Cars" is visible emerging from the side of the plant. Letter firing an employee recuperating from surgery "...in the interests of the company, it is necessary for us to put someone on in your place..." Signed "R.S. McLaughlin", President. Scarce early automobile item. [4234]..$295.00
ILLUMINATED MEDIEVAL VELLUM LEAF FROM THE
"BOOK OF HOURS"
(MEDIEVAL CHANT) VELLUM LEAF, 8.25" x 11", being a medieval chant from a Book of Hours, 14th - 15th century. Music lines are red, notes and Latin words are in black. Capitals (which are 2 lines tall) are illuminated in alternating blue and red. A convenient display size. Suitable for framing. Clean and fine. .[4840]*..$395.00

(MISCELLANEOUS) Lot of signed photos, letters, and notes of the following: Anthony Newley, 5 x 7 B&W SP, shown shooting the finger"; Stella Stevens, 4 x 6 color ISP; Arthur Franz, 4to printed B&W ISP(3 file holes in left margin); Marie Windsor, 4to B&W ISP (her return add. scotch taped to lower margin); Jack Carter, 4to B&W SP; Dennis Morgan, 4to B&W ISP, Anne Jackson, 4to B&W ISP; Eli Wallach, 4to B&W ISP; Hugh Hefner, 4to color ISP, Barbara Walters, 4to B&W SP, Merv Albert, 4to B&W ISP, Jack Valenti, 4to B&W ISP; Bob Costas, 4to color ISP; Maureen O'Sullivan, ALS, 1991, on personalized post card (Postal markings on recto & verso); Mare Willingham, TLS, 4to, 1950, mentions her expanding family. The lot of 16 items....(As is).. ..[11671]......$98.50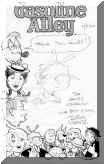 ORIGINAL DICK MOORES DRAWING OF "GASOLINE ALLEY"

(CARTOON ART) MOORES, DICK. Creator of "Gasoline Alley". 6" x 10" personalized "Gasoline Alley" note paper imprinted around the edge with the characters from the strip. In the center Moore has drawn "Gasoline Alley" and inscribed and dated it (1980). The drawing and inscription are about 3" x 6". Suitable for display. >[11618]..$68.50

RR STOCK CERTIFICATE ENDORSED BY THE LEGENDARYJ.P. MORGAN

(BUSINESS) MORGAN, J.P.

(1837-1913). Banker, financier and philanthropist. Stock Certificate, One share of stock, 9" x 14", in the Chicago, Rock Island and Pacific Railway., issued to "Kuhn, Loeb, and Co., and Drexel, Morgan, and Co.", for
Ten Bonds, issued Aug. 1, 1888, and cancelled Nov. 8, 1888. Signed by R.R. Cable, with ornately engraved border and large engraved vignette of a steam locomotive and train going through a city. On verso the certificate is boldly endorsed by Morgan: "Drexel,
Morgan, and Co." No cancellation marks touch Morgan's endorsement. Morgan is uncommon in autographic material, particularly business related items. A clean, fresh example..
...[025]*** ....................................................[11061]............$795.00

CANDID RUDOLF NUREYEV ISP

(BALLET) NUREYEV, RUDOLF (1938-1993). World renowned ballet master and choreographer. Handsome 10" x 8" B&W ISP dramatically signed and inscribed in gold ink. Candid shot showing a bare chested Nureyev at his dressing table talking to Prima ballerina assoluta Dame Margot Fonteyn in his dressing room following his performance of "Le Corsaire" in The Magic of Dance in honor of Danskin's 100th anniversary. Fine. A gem...[10339]..$250.00
RARE TARGETS DRAWN AND SIGNED BY ANNIE OAKLEY,
THE GREATEST SHARPSHOOTER OF ALL TIME
OAKLEY, ANNIE (1860-1926). American Markswoman. She starred as a markswoman in Buffalo Bill's Wild West Show (1885-1902). Annie was a legend in her own time. Her many shooting feats astound in their telling, e.g., splitting the thin edge of a playing card at 90 feet and then hitting it 5 or 6 more times with her bullets before it hit the ground. Sitting Bull, her fellow performer in Buffalo Bill's Wild West Show, gave her the nick name of "Little Miss Sure Shot". Annie began hunting at age nine to support her widowed mother and siblings. She sold her hunted game to locals and her shooting skill eventually paid off the mortgage on her mother's house. In 1882 she married Frank Butler, a vaudvillian who had a shooting act. Annie initially acted as his assistant; however, Butler soon realized that she was more talented than was he, and he became her assistant and business manager. In Europe, Annie performed for Queen Victoria and other crowned heads, and heads of state. When she performed in Berlin, she had such good aim that the Prince of Prussia, the future Kaiser Wilhelm II, requested that she shoot the ashes off the tip of a lit cigarette he held in his mouth, which she did. A contemporary wag observed that had Annie shot Wilhelm instead of his cigarette, WW I could have been prevented. Her autographic material is rare in all forms and seldom offered. However, her authentic signed targets are among the rarest and most desirable of all Western Americana.
TARGETS DRAWN AND SIGNED BY ANNIE OAKLEY. Provenance: Typed note of provenance signed by Norma Griffey and Gary Griffey, 1965, which states: "A RUBBING FROM SOUTH DAKOTA GRAVE YARD tomb of Spotted Wold - we were related to. (Rubbing of grave stone.) with ref to Annie Oakley signed targets(2) Daddy gave me the two signed targets to Gary and me before he crossed over. I took the one dated 1920 and Gary took the Annie Oakley target that says "with Buffloe(sic) Bill Show" on the back of his autographed target shot by ANNIE OAKLEY(.) My target says 1920 and Annie signed it. It was a page from her camping book. I promised Daddy that we would always take care of the autographs as his Mother had received them at the WILD WEST SHOW and knew three of the famous people in the show. Norma Griffey june 4, 1965 (signed), witness GARY GRIFFEY (signed)". Also comes with sheet of 11.5" x 6.75" printed black paper target with white grid, semi-circle and "X" printed on the paper. On verso is written: "Circa/date not known of this target. This use to go behind the old Annie Oakley Book Bull's Eye Target she shot with a .22 gun." There appears to be one bullet hole in the grid.
A.

Page from Annie Oakley's own camping book, 4.5" x 5.5", the "American Sportsman", revised

edition, 1908. According to the provenance, the page was from Annie's own camping book from which she removed a page and drew a bull's eye thereon. There are multiple bullet shots through the same hole which is an approximately 1.5" oblong hole. It is evident from the edges of the hole that multiple bullets were shot into the same Bull's eye. At the top of the target page, Annie has signed in full and dated the piece "Annie Oakley, 1920." A clean item with impeccable provenance. A museum quality piece of Western Americana of the utmost rarity and desirability… .[12021]… $17,500.00
B.

Paper Target, overall size 7.75" x 5.75" with 5 distinct bullet holes and signed in ink "Annie Oakley" and dated by her "1920". Mounted to larger black and white grid/target card. One bullet hole is larger than the others and has a "2" written beside it implying two bullets went through that certain hole in which case there are 6 bullet holes made by Annie Oakley. On the verso of the card is written in pencil "With Buffalo Bill Show." Some soiling and wear but very good with a strong, dark signature. A gem and a museum quality piece….[12022]…...$17,500.00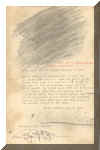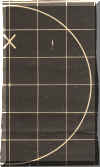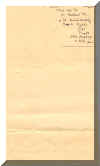 Images of accompanying provenance:
RELIGIOUS REFORMER AND THE FATHER OF PENNSYLVANIA
RELIGION CONTENT WILLIAM PENN ALS
PENN, WILLIAM. (1644-1718). English religious reformer and colonialist. Son of Adm. Sir William Penn. Studied law; in charge of family estates in Ireland (1666). Joined Society of Friends; preached and wrote 42 books and pamphlets, esp. No Cross No Crown (1669); imprisoned for nonconformity (1667, 1669, 1670). Engaged in English political campaigns, championing religious tolerance, frequent elections, and uncontrolled parliaments (1675-80). As a trustee to manage West Jersey colony in America, had important part in framing its charter (1677) with its famous Concessions and Agreements. Inherited from his father a large financial claim against Charles II; petitioned the king for a grant of land in the New World as payment of the debt, received grant of Pennsylvania (1681); visited the colony in person (1682) and took to the colonists his Frame of Government. In Pennsylvania, amended Frame of Government to meet popular demands; made peace treaties with the Indians; superintended laying out of Philadelphia. In England (1684-99) through accession of James II (1685) and revolution of 1688; ordered foundation of a public grammar school in Philadelphia (1689) which still exists as the William Penn Charter School; presented (1697) to London Board of Trade a plan for union of American colonies. Again in Pennsylvania (1699-1701); renewed peace treaties with Indians; granted a liberal charter (1701) to the colony. Suffered a stroke (1712); his affairs managed by his wife, Hannah, until his death. He bequeathed his proprietary interests in Pennsylvania to his widow as executrix for their four sons, John, Thomas, Richard (1706-1771) and Dennis (d. before 1727).

ALS, 4to, 2pp., (recto & verso of same page), no place (but written in England where he had returned and remained until his death in 1718), dated "25.7.1707". Mysteriously written to "Noble Friend" in behalf of a young associate, Richard House. "...he is heartily of principles to serve the government and yt on an English & right Protestant bottom." In full: "Noble Friend 25.7.1707The Bearer is ye Gentleman, his name Richard House, a younger brother of a good family. Sober, Industrious, and qualifyed for the small station he prays for, a land waiters. He is heartily of principles, to serve ye Govermt, & yt on an English & right Protestant bottom. I beg a letter in his favour to Wm. Dudley, that if in his turne, a vacancy falls he would please to recommend the Bearer to ye Lord for it. I shall humbly and
earnestly waite for the happy time promest me, &, with submission, the Sooner the more obligeing to Thy very respectful faithful Friend Wm Penn". The letter is clean and fine with normal age toning. Penn material is scarce in all forms and is usually found in the form of folio signed documents, especially land grants. Penn letters, particularly with good content, are rare. This is a museum quality piece. A gem. Provenance: From the estate of the late U.S. Senator and Pennsylvania Governor Edward Martin.......(Net to all)....[10705]....$12,500.00
COPY OF "MAIN STREET MERCHANT" SIGNED BY J.C. PENNEY
(BUSINESS) PENNEY, J.C. (1875-1971). Early department store magnate. Penney's book: Main Street Merchant, the story of the J.C. Penney Company, by Norman Beasley, 8vo, 274 pp., Whittesey House, McGraw-Hill Book Co., Inc., N.Y. - Toronto, 1st ed., no dust jacket, spine slightly rubbed and faded, else fine. Internally sound. Inscribed and signed on first free blank end paper. by "J.C. Penney". Frontice piece photo of Penney. "What is needed today, as always, is the ability and the will to work hard toward the achievement of a goal, any goal, which is right and clean and decent and worth while. / In essence, those are the things that built the Penney Company. Those same things keep it alive today... I hope that young men and women reading this story will be strengthened and encouraged to challenge the cynicism which is the fashionable attitude of the times - strengthened and encouraged to put to the test this formula for successful living: Respect yourself; Respect others; work hard and continuously at some worthwhile thing."....[11914]. +..$250.00
VERY RARE SIGNATURE OF THE FIERCE SIOUX CHIEF RAIN-IN-THE-FACE, WHO IS REPUTED TO HAVE KILLED BOTH GENERAL CUSTER AND HIS BROTHER, CAPT. TOM CUSTER, AT THE BATTLE OF LITTLE BIG HORN, , AND WHO ALSO CUT OUT AND ATE TOM CUSTER'S HEART!
(CUSTER MASSACRE) RAIN-IN-THE FACE (ITIOMAGAJU). (B. 1835 near forks of Cheyenne River in North Dakota.) A noted and important Sioux Warrior and Chief of the Unkpapa tribe. Brother of Iron Horse. He is reputed to have killed both Gen. George A. Custer and his brother Capt. Tom Custer, whose heart he cut out and ate, at the Little Big Horn Massacre. He received his name after fighting all day in the rain. It had been his habit to paint his face half red and half black to represent the sun when covered by darkness. The rain caused his red and black paint to run and his face became streaked. Rain-In-The-Face went on the warpath many times, but his first important experience as a warrior was in the attack on Ft. Phil Kearney, Wyoming, in Dec. 1866, when Capt. Fetterman and his Command of eighty men were killed. After the discovery of gold in the Dakotas, which brought a steady stream of miners, settlers and the railroad, the Indians were in an ugly and troublesome mood. They welcomed neither railroad nor men. In 1873 an expedition of some seventeen hundred men under Gen. Stanley was sent to the Dakotas. Gen. George Armstrong Custer and the Seventh Cavalry formed a large part of the command. Custer's brother, Tom Custer, was in his command. On Aug. 4, 1873, Custer's command engaged in a skirmish with a band of renegade Indians which included Rain-In-The-Face. The Indians unsuccessfully attempted to stampede the soldiers' horses. The only casualties that day were two civilians, Dr. Honzinger, the regiment veterinarian and Mr. Baliran, the sutler. Both had wandered away from the troops and were killed by the Indians. Dr. Honzinger was killed by Rain-In-The-Face. In 1874 the Seventh Cavalry was stationed at Ft. Abraham Lincoln, near Bismarck. Word was brought to Custer by a scout that Rain-In-The-Face was at Standing Rock Agency, some twenty miles away, boasting that he had killed Dr. Honzinger. Rain-In-The-Face was already a renowned warrior of extraordinary courage. The very fact that he had left Sitting Bull and his hostiles to come to the agency denoted great courage. Gen. Custer dispatched his brother, Capt. Tom Custer and Capt. Yates, with one hundred troops to the agency to arrest Rain-In-The-Face. Tom Custer over powered and arrested Rain-In-The-Face by seizing him from the back in an iron-grip. Rain-In-The-Face was taken to Ft. Lincoln. He confessed that he had shot Baliran and Honzinger, who had fallen off his horse, whereupon he had crushed his head with stones. Rain in the Face was put in the guard house and held prisoner pending his trial for murder. He was kept imprisoned despite the efforts of many prominent Indians to obtain his release. He was kept in the guard house with some civilians who had been arrested for stealing grain. One bitterly cold night, during a raging blizzard, the civilians, with some outside assistance, succeeded in making their escape. Rain-In-The-Face took advantage of this opportunity and also escaped. He then joined the hostiles under Sitting Bull and sent word back to the Custers that he intended to have his revenge for the treatment he had received. Rain-In-The-Face later stated that "I sent Little Hair (his name for Tom Custer) a picture, on a piece of buffalo skin, of a bloody heart. He knew I didn't forget my vow. The next time I saw Little Hair, ugh! (referring to the massacre at Little Big Horn). I got his heart. I have said all." In a remarkable interview with W. Kent Thomas, Rain-In-The-Face (who was at Coney Island, N.Y. on August 12, 1894, where the "Custer Indians" were taken following the World's Fair) gave the following very remarkable account of the Battle of Little Big Horn, in part: (Thomas wrote the following in his diary) "Rain-In-The-Face hobbled into the tent tonight, as McFadden & I were discussing the events of the day, and seating himself, unbidden, with true Indian stoicism, he grunted out that one word of all words so dear to a Lakota, "Minnewaukan!" which, literally translated, means "Water of God", but which, by usage, has been interpreted as "fire water". Since the other Indians were away from camp on a visit to their friends, the Oglalas, at Buffalo Bill's Camp, I decided to yield for once to Rain's oft-repeated demand, which had been hitherto as regularly denied. He took my flask, and with a guttural "How" drained it at one gulp, without straining a muscle of his face. "Ugh! Good! like Rain's heart," he remarked. With respect to the Custer Massacre, McFadden & Thomas wanted to know the details thereof and how he took Tom Custer's heart. McFadden, who was quite an artist, made an imaginary sketch of "Custer's Last Charge". He handed it to Rain, saying: "Does this look anything like the fight?" Rain studied it a long time, and then burst out laughing. "No," he said, "this picture is a lie. These long swords have swords -- they never fought us with swords, but with guns and revolvers. These men are on ponies - they fought us on foot, and every fourth man held the others' horses. That's always their way of fighting. We tie ourselves onto our ponies and fight in a circle. These people are not dressed as we dress in a fight. They look like agency Indians - we strip naked and have ourselves and our ponies painted. This picture gives us bows and arrows. We were better armed than the long swords. Their guns wouldn't shoot but once - the thing wouldn't throw out the empty cartridge shells. (In this he was historically correct, as dozens of guns were picked up on the battle-field by General Biggon's command two days after with the shells still sticking in them, showing that the ejector wouldn't work.) When we found they could not shoot we saved our bullets by knocking the long swords over with our war clubs- it was just like killing sheep. Some of them got on their knees and begged; we spared none --ugh! This picture is like all the white man's pictures of Indians, a lie. I will show you how it looked." Then turning it over, he pulled out a stump of a lead pencil from his pouch & drew a map of the battle. Regarding the massacre, Rain said: "I had sung the war song, I had smelt the powder smoke. My heart was bad -- I was like one that has no mind. I rushed in and took their flag; my pony fell dead as I took it. I cut the thong that bound me. I jumped up and brained the long sword flag man with my war club, and ran back to our line with the flag... The long sword's blood and brains splashed in my face. It felt hot, and blood ran in my mouth. I could taste it. I was mad. I got a fresh pony and rushed back, shooting, cutting, and slashing. The pony was shot, and I got another.... This time I saw Little Hair (Tom Custer). I remembered my vow. I was crazy; I feared nothing. I knew nothing would hurt me, for I had my white weasel-tail charm on. (He wears the charm to this day.) I don't know how many I killed trying to get at him. He knew me. I laughed at him and yelled at him. I saw his mouth move, but there was so much noise I couldn't hear his voice. He was afraid. When I got near enough I shot him with my revolver. My gun was gone, I don't know where. I leaped from my pony and cut out his heart and bit a piece out of it and spit it in his face. I got back on my pony and rode off shaking it. I was satisfied and sick of fighting; I didn't scalp him." "I didn't go back on the field after that. The squaws came up afterward and killed the wounded, cut their boot legs off for moccasin soles, and took their money, watches and rings. They cut their fingers off to get them quicker. They hunted for Long Yellow Hair to scalp him, but could not find him. He didn't wear his fort clothes (uniform), his hair had been cut off, and the Indians didn't know him." [Notwithstanding his "white weasel-tail charm," Rain-In-The-face was wounded in this battle. A bullet pierced his right leg above the knee. He was lame and had to walk on crutches all his life thereafter.] At the time of the interview, 1894, "Rain-In-The-face (Itiomagaju) is about sixty years of age now, and is the only chief that survives to tell the tale of the Custer fight. Gall and Sitting Bull have both gone to hunt the white buffalo long since. Rain can write his name in English. I taught him to do it at the World's Fair in order to sell Longfellow's poem, entitled "The Revenge of Rain-In-The-Face." He doesn't know the significance of it after he writes it. His knowledge of English is confined to about thirty words, but he can't say them so any one can understand him though he can understand almost anything that is said in English. Like all other Indians, his gratitude is for favors to come and not for favors already shown. He is utterly heartless and unprincipled, physically brave but morally a coward. His redeeming feature lies in the fact that you can depend upon any promise he makes, but it takes a world of patience to get him to promise anything. Even at the age of sixty he is still a Hercules. In form and face he is the most pronounced type of the ideal Fenimore Cooper, dime novel Indian in America." It was also claimed that "Rain-In-The-face" killed General Custer, which he would neither confirm nor deny. One Dollar Silver Certificate Treasury note known as a "Saddle Blanket Dollar" because of its large size, from the series of 1899. The bottom half of the bill is missing. It was horizontally folded and in time the bottom half detached from wear. (The pieces of the bottom half are preserved). Rain-in-the-Face has boldly signed the front of the bill in pencil in a blank portion to the left of the central Eagle. There are three vertical fold marks which do not detract from the signature. Provenance: Signed by Rain-in-the-face about 1900 at a gathering of Little Big Horn survivors which were mostly Indians. Lone Star purchased this piece from the grandson of the original recipient. Handsomely framed in a 2" gold wood frame and exotic brown wood veneer mats with a 6" x 8" half bust photo of Rain-in-the-Face and a brass plaque which is engraved: "RAIN-IN-THE-FACE/ BORN/ TOK-I-TCU-WA/ "HE WHO TAKES THE ENEMY"/ 1835-1905/ THE CELEBRATED SIOUX WARRIOR/ AND/ CHIEF OF THE UNKPAPA TRIBE/ IN BATTLE, HE KILLED/ CAPTAIN THOMAS WARD CUSTER/ TWO TIME RECIPIENT OF / THE CONGRESSIONAL MEDAL OF HONOR/ WHOSE HEART HE CUT OUT AND ATE/ AND ASSISTED IN THE KILLING OF/ GENERAL GEORGE ARMSTRONG CUSTER/ AT THE MASSACRE AT/ LITTLE BIG HORN/ JUNE 25, 1876." Overall size: 32.5" x 22". Rain-in-the-Face material is perhaps the rarest of all the Indian material which is available, e.g., Geronimo and Sitting Bull, although their authentic material is now quite rare and expensive. In the past 50 years we are aware of only one other Rain-in-the-Face signature having come on the market, which we also
handled. Like Geronimo and Sitting Bull, Rain-in-the-Face learned to write late in life, and signed his name only for a fee. Few authentic
examples have survived. Clearly one of the rarest of all Americana and Old West autographs. A museum quality piece......[11919]......$15,000.00
"CONVICTED ASSASSIN OF MARTIN LUTHER KING, JR."
SIGNIFICENT LOT OF LETTERS OF JAMES EARL RAY & HIS BROTHER MENTIONING RAY'S TRIAL, FRAUD & ALLUSIONS OF A CONSPIRACY.
(CRIMINALS) (MARTIN-LUTHER KING, JR.) RAY, JAMES EARL. Convicted Assassin of Martin Luther King, Jr. Three T.Ls.S., all 8vo, written from the Nashville Federal Prison, & dated March 3, 1974, July 17, 1974, & Aug. 10, 1974. All the letters are written to an English journalist who was contemplating doing an article on Ray & the King Assassination. The following are all excerpts from James Earl Ray's letters: "Re: interviews, I'm sorry but that would be impossible now due to the appeals court recent ruling granting an H. C. hearing; most of the professional Judges frown on extra-judicial statements prior to hearing or trials; further, the attorney representing me is opposed to interviews at this time. You could contact Harold Weisberg who does some writing & is the investigator in the case for the defense; his address is listed below". "the hearing will most likely commence Sept. 30th therefore I'll probably be returned to the Memphis jail sometime in late September. In this respect's in the U. S. reporters have no legal right to interview prisoners and unlike the State prison in Nashville (where interviews, pics. of both prison & prisoners are permitted) no interviews are permitted in Memphis; this naturally means any interviews would have to before am returned to Memphis; onced in Memphis I may not be returned to the Nashville institution, especially if the lower court grant's the trial. Also, theoretically the primary issue at the hearing will be whether fraud was committed in the original plea but as the second enclosure indicates (bylined by Reporter, Chastine) the prosecutor is getting somewhat zealous and his subpoenaing of various materials of atts. formally representing me will make the contents therein at issue and therefore part of the court records and public, which would then probably lead to a review of the State's records (evidence). My brother wouldn't have any problem financing his court appearance but it sometimes is hazardous here to run low on finance's since this happened a couple of years ago to another brother during which time he was arrested by the FBI and subsequently given l8 years for aiding and abeting a bank robbery while the individual who actually, later, was found & convicted of the offense received only l8 months." "it is just about certain that their will be a trial and to go into all the areas you suggest might cause difficulties for the attorney at the trial, i.e., some areas haven't been investigated and for me to comment in that area would probably be premature, or at least that's the attorney's view." The following are excerpts from four letters of Ray's brother, Jerry Ray, dated Jan. 24, 1974, June 19, 1974 (Interestingly written on the anniversary of the Emancipation Proclamation), July 10, 1974 & Nov. 22, 1974: "I am in receipt of your letter, dated Jan. 7th 1974, to my brother, James Ray; he has had little contact with the press, none with the foreign press, since his arrest as their have been allegation of fraud & collusion in his trial and (sic) the suite is now before the federal courts". "I'am inclosing a Newspaper clipping from the Nashville, Tenn, Newspaper. and you can see that James is going to receive his hearing for a New Trial. Naturally he can't explain everything to a Reporter before the hearing as he has to unload the heavy stuff in Court. Once you arrive in the United States you will find out people over here don't think like they do in Britian, Blacks and Whites alike either believe that James is innocent or there was a Conspiricy, I bet you can't find over one out of a Hundred that believes James did it alone without any help as the Government claims." "My Brother had a lot of people testifying in his behalf, including myself, and the two people he accused of selling him out refused to testify in person, naturally I'am referring to Atty. Percy Foreman and ) Author ) Williams Bradford Huie. I have talked to at least a dozen people covering the hearing, and they all said that they were sure that the Judge would rule in

James behalf. A lot of crooked things
came out during the hearing, one of them was that all of James in-coming and out going mail was zeroxed and turned over to the prosecutor, that's including his letters to and from his Attorneys. Naturally that was while he was being held in the Memphis Jail waiting to stand trial". Significant & thought provoking lot of letters regarding one of the major & most sensational crimes in our history. The lot of seven letters. [12283] $1250.00
THREE PAGE FREDERIC REMINGTON ALS MENTIONING "GOOD INGUNS"... I AM AGAINST THE WALL AND MUST FIGHT, WHICH I DO REGULARLY... I DESIRE LEISURE AND THE COMPANY OF MEN WHO THINK "STRANGE THOUGHTS..."
REMINGTON, FREDERIC (1861-1909). American painter, illustrator and sculptor. Traveled in Western U.S., worked as a cowboy and was a newspaper correspondent in Cuba during the Spanish-American War (1898). He was renowned as an animal painter and scenes from the Old West. ALS, 8vo, 3pp., signed "Frederic Remington", to "Mr. Secor", (from "301 Webster Avenue, New Rochelle, N.Y., Sunday" n.y. (circa 1890-1895). In full: "My dear Mr. Secor: I have received the fine photographs -- my X-mas from you for which I am much moved by your friendliness. They certainly are fine -- they are what we will call in a humorous way "good Inguns"./ I send you by Adams Ex a little token -- an Xmas token -- and I
hope to manage to invite you to spend a night with me here -- I am so much engaged at present that I cannot do it now. I am in the throes of this quick-living age and I have to "stand up to it". I desire nothing so much as leisure and the company of men who think "strange thoughts", but I am against the wall and must fight which I do regularly but it may be different soon -- well -- we will see. My respects Mr. Secor - (signed) Frederic Remington". Light mounting traces on blank last page. Overall a clean, darkly penned very good example with intriguing content. [11779]+.. $2500.00
QUAINT 1780 REVOLUTIONARY WAR ERA
ENGLISH DOCUMENT - RELEASE OF LEGACY, COUNTY OF CHESTER (INHABITED BY BRITONS & ROMANS FROM 61 A.D.)
(REVOLUTIONARY WAR) (GEORGE III) Legal Document, 2pp., recto & verso, 12" x 19.25", rag paper, darkly penned, signed and sealed with red wax seal on verso, being a Release and Confession of Legacy upon reaching his majority by one George Richardson which he inherited from his Grandfather, the Reverend James Richardson, late Rector of Tilston, in the County of Chester, deceased. The Legatee releases the Executors of the estate "...I do hereby further remise, release, discharge and exonerate...her, his & their lands, tenements,, goods and chattels - respectively of and from all and all manner of action and actions, suit and suits, cause and causes of actions and suits, debts, dues, duties and demands whatsoever for any matter, cause or thing whatsoever from the beginning of the world to the day of the date hereof..." Beautifully and darkly penned. In fine condition. Unusual type legal document. Quaint. Fine. ...[11783].++. $150.00
RIPLEY, ROBERT (CARTOON ART) (1893-1949). Cartoonist of "Believe It or Not" fame. Interesting 4to half bust ISP shown wearing a jungle hat signed: "To Jane Smith, All the Best, Ripley - Believe It or Not". .......................>[11479]..$195.00
ROMAN AGATE BEADS, CIRCA 1ST TO 3RD CENTURY, A.D.
(ROMAN ANTIQUITIES) Roman agate necklace, redish-orange, graduated, faceted beads, 22", nicely re-strung with modern findings. Can be worn or displayed. An attractive and attention getting 2000 year old adornment. Fine. ....[11650]. ...$595.00

SCHWEITZER, ALBERT. Physician, humanitarian and pianist. Bank check in the sum of $200. payable to him (a donation),1963. He has endorsed the check on the

verso. No cancellation marks touch signature. Uncommon in this format..................................................................[8121]........$295.00
1860 SLAVE TAX LEVY RECEIPT
(
SLAVERY) Partially printed tax levy, to the "Sheriff of Frederick County", 6" x 2", partially printed. Taxable categories include: State  Levy, County Levy, Land Tax, Slave, Parish Levy, Personal property. There is a line beside each category to fill in the respective values. An interesting and uncommon type slavery item...[4824]**...$95.00

"DR. LIVINGSTONE, I PRESUME?"
STANLEY, SIR HENRY MORTON (1841-1904). British explorer and journalist. Best known for leading expedition to Central Africa to find David Livingstone; started March 21, 1871 and after great difficulties reached Livingstone on November 10, 1871, greeting him with his famous remark: "Dr. Livingstone, I presume?" Also traced southern sources of the Nile; discovered Lake Edward. In service of Belgian King Leopold opened Congo region to trade, establishing trade stations and communications. On the basis of his work, the Congo Free State was organized. Discovered the "Mountains of the Moon." Choice bold dark signature on small card, 2.25" x 1.75". Signature covers almost the entire card.
Matted with antique engraving in ecru mats, highlighted with black "V-groove", with brass plaque engraved: "Sir Henry Morton Stanley/ British Explorer and Journalist/ (1841-1904)." Framed in 1.5" gold wood frame. Overall size: 11.5" x 14.5". Handsome display piece. +...[10457]....$395.00

ELECTRICAL WIZARD CHARLES STEINMETZ PAYS THE GAS COMPANY!
STEINMETZ, CHARLES P. (1865-1923). Electrical wizard. Electrical engineer and consulting engineer for General Electric Co. from 1893. Derived mathematically, the law of hysteresis; worked on theory and calculation of alternating current phenomena duplicting those of lightning; developed lightning arresters for high power transmission lines; patented over 100 inventions, including improvements on generators and motors. Bank check drawn on the Schenectady Trust Company,
Schenectady, N.Y., April 10, 1904, being his check No. 278, entirely completed in his beautiful and precise penmanship to the order of Mohawk Gas Co. in the sum of $11.44 and boldly signed. Usual cancellation holes but none touching signature. Fine.....[11823].... $195.00

(STATE DEPARTMENT) 3" circular medal commemorating the 50th Anniv. of Diplomatic Courier Service (1918-1968). Has flying eagle on recto and "United States of America/ None is Swifter Than These" on verso. Comes in original faux blue leather and velvet box.....[11538]........$95.00
WORLD TRAVELER, COMMENTATOR AND JOURNALIST LOWELL THOMAS SAYS
"I may not be an inorganic rock of ultraconservatism..."

THOMAS, LOWELL (1892-1981). Am. traveler, journalist, and author. Met T.E. Lawrence and made him famous with his book "With Lawrence of Arabia". TLS, 4to, Jan. 8, 1981, "I may not be an "inorganic rock of ultra-conservatism" but I like your letter!..[11976].+.$65.00

VERY RARE INSCRIBED AND SIGNED PRESENTATION COPY OF BOOKER T. WASHINGTON'S IMMORTAL AUTOBIOGRAPHY: "UP FROM SLAVERY"

WASHINGTON, BOOKER T. (1856-1915). Am. negro educator, born a slave in Franklin County, Virginia. After great hardships in his youth, he gained an education at Hampton Inst. He was the spokesman for the conservative viewpoint among American negroes opposed to agitation for social and political ends. Very rare inscribed and signed copy of his autobiography: Up From Slavery, 8vo, 330 pp., Doubleday, Page, & Co., 1902, later printing. First published in 1901. Burgundy cloth, frontispiece portrait of Washington. Very good, mild edgewear, with small chips at head of spine. Tight, attractive second edition of the famed black educator's memoir. Washington. He is most famous for founding Tuskegee Institute in 1881 and transforming it into the foremost college for blacks in this country, and his memoir is considered

an important memoir by the most influential educator of his day. A choice association copy, boldly inscribed by him on the front flyleaf to a former First Lady: "To / Mrs. James A. Garfield / with kind wishes / and in memory of / a very pleasant visit / Booker T. Washington / Jan. 4, 1903." The "Papers of Booker T. Washington" records Washington making a whirlwind speaking tour through California at this time. On January 4, 1903, he addressed 2000-3000 people at the Methodist Church in Pasadena. "After this meeting, by invitation of Mrs. Garfield, the widow of the late President Garfield, Mr. Washington was driven to her home for lunch..." -- at which time this copy of his memoir must have been inscribed and presented to her. Lucretia Garfield (1832-1918) resided in the White House only seven months before her husband's 1881 assassination; she survived him by 37 years. Ironically, Washington's Tuskegee Institute opened within a couple months of James Garfield's assassination. This is one of the most famous and widely read books in the English language. It has been translated into at least 18 different languages. In 1970 it was reprinted by the Limited Editions Club. Extremely fine association value having been presented to a former First Lady. [12351].++.. $4995.00

HISTORIC WHITE HOUSE RELIC PAPERWEIGHT

(WHITE HOUSE). Piece of original White House Brick (ca. 1792-1800) removed during President Truman's renovation in 1950. The bricks used in building the White House were all made in kilns built on the grounds of the "President's House" in the autumn of 1792 where a brick yard was established. The kilns themselves were probably located in what is today the north yard of the White House. This proved to be a cramped location and great stacks of bricks stayed in the way during the duration of building the White House and were always a source of complaints from the workmen. Because of the cost of transportation, no thought was given to importing bricks from elsewhere. In 1793 the services of a master brick maker named Jeremiah Kale were obtained by the Commission. He proved to be a wise choice and remained on the job for five (5) years, until the brick work for the White House was done. Fortuitously, Kale found the soil at the site of the President's House to be particularly suited to making brick, being rich in clay and sand with an additional supply of sand from nearby creeks and river beds. The White House bricks are a distinctive and handsome rosy-pink color which was determined by the flow of air into the kiln during the firing process and the firing temperature determined the density of the brick. When the Truman renovation of the White House began in 1950 Major General Glenn E. Edgerton, former Chief-of-Staff of the Army and Executive Director of the Commission on the Renovation of the White House presented a plan for the rescue, sale and disposal of old White House materials which was approved by President Truman on February 17, 1950. In their final report, the Commissioners wrote that "the entire operation was designed to be self-supporting and it turned out to be so by a considerable margin." Small piece of original White House brick, rosy-pink color, approximately 1 5/8" x 1/2", cut from a larger piece, handsomely mounted to a white Italian carrara marble base, 5" x 2.5", beneath which is mounted an engraved brass plaque which reads: "AUTHENTIC PIECE OF/ WHITE HOUSE BRICK/ CIRCA 1792-1800." The paperweight has felt padding on the verso to prevent scratching furniture. Provenance: Comes with copies of
correspondence to original recipient from the Commission on the Renovation of the Executive Mansion dated September 19, 1951 and a copy of the original authentication plate which was furnished with each White House memento kit. Also comes with a copy of a contemporary news paper article entitled "Rebuilding the White House Inside Out". A handsome and historic White House relic................[11443]...+.....$175.00
ELI WHITNEY SIGNATURES

(INVENTORS) WHITNEY, ELI. (1765-1825). Am. Inventor. Invented the cotton gin. Two closely clipped signatures, one signed "E. Whitney" and

the other signed "Eli Whitney":. Prices net to all.. "E. Whitney Signature....[11892]. ..$595.00
"Eli Whitney" Signature ..[11893]...$695.00