MUSIC

ANKA, PAUL. Singer/actor. Teen idol of the 50's. In: "Girl's Town", "Look In Any Window", "The Longest Day", etc. 4to glossy B&W ISP..[11682-3].. $15.00
ANKA, PAUL...Pop music star. Signed Christmas Card...[3163]..+....$25.00
AVALON, FRANKIE. Pop singer and teen idol of the 50s. 4to glossy B&W ISP. [3332]..+ $25.00 each
(POP ROCK MUSIC) English Rock Band. Vintage 4to B&W SP of the band signed by all four of the original members (Paul Rodgers, Mick Ralphs, Simon Firke & Boz Burrell), circa 1974. All have signed in gold ink. Boz Burrell has signed with his first name only. Fantastic! [3357] $250.00
HE PLAYED THE SAX FOR GLEN MILLER
(BIG BANDS) BENEKE, TEX. . ANS on 3 x 5 card......[11460].....$45.00
(BIG BANDS) BENEKE, TEX. Orchestra leader. 4to B&W ISP. Nice. Not common.. [3359] $95.00
(BIG BANDS) BENEKE, TEX. Orchestra leader. TLS, 4" x 5", sending New Years Greeting. Not common. [3360] $48.50
BERNSTEIN, LEONARD. Composer. Bold in-person signature (1970). Mounting traces on verso. Suitable for matting.... .................................................................................[11039]......$148.50
BROWNING, JOHN. Concert pianist. Enormous almost 7" ink signature, signed below his photo across his biographical information on playbill. Fine, but does not reproduce well. .........[11866]....$25.00
CAHN, SAMMY. Composer. 5" x 7" B&W ISP (1979). Interesting pose shown sitting at his piano..........................................[11033]...........$65.00
(C & W) DAVIS, SKEETER. Country & western signer of the 50's & 60's. 4to B&W SP, circa 1950. Scotch tape in several places around margins and staple hole in upper blank left corner and a few hairline creases. Still a nice item. A scarce C&W autograph....[11935]...+.$75.00
MUSIC CONTENT ALS BY THE AUTHOR OF "DIXIE" WHO CAN ONLY SEND HIS WIFE $2.00 BECAUSE HE HAS NOT RECEIVED THE ROYALTIES ON HIS FAMOUS SONG!
(CIVIL WAR) EMMETT, DANIEL DECATUR (1815-1904). Am. composer. Wrote "Dixie" and other popular songs. Born in Mt. Vernon, Ohio. He began his career as a drummer in military bands then joined the Virginia Minstrels, singing and playing the banjo. Later, he was a member of Bryant's Minstrels. He wrote the music and words to "Dixie" in 1859 and it was performed for the first time in N.Y. on April 4, 1859. The song was an immediate hit and it was adopted as a Southern fighting song during the Civil War (even though Emmett was a Northerner). His other songs, Old Dan Tucker, The Road to Richmond, and others enjoyed great favor for many years, but were all ultimately eclipsed by "Dixie". The word "Dixie" is a nostalgically regarded Am. paradise in the South. The origin of the word Dixie is obscure. ALS, 4.75" x 6.5", Mt. Vernon,

Ohio, Oct. 3rd, 1898. Boldly penned, 1 full page, to "My Dear Mary," in full: "I enclose you $2.00, and that is all I can spare you today, as I got no money from New York today.* I hope everything is all right. I cannot think of anything more to say at this time. My love to you all, from your affectionate husband, Daniel D. Emmett." Pristine. Daniel Decatur Emmett material is among the scarcest of all Americana autographs. This is the first and only such piece we have personally seen on the market the past forty years. "Dixie", the immortal Civil War song, has come to mean a vanished society and way of life in the Old South, which is gone forever." A museum quality autograph. Handsomely framed with sheet music for "Dixie", and a 4x6 confederate flag. Framed in heavy gold leaf frame with brass plaque engraved "Daniel Decatur Emmett, author of Dixie, (1815-1904)". Overall size approx. 28" x 18". A striking display piece. *New York is where all his songs, including Dixie, were published and from whence he received royalties. (Illustrated below) Net to all....[10393].......+.....$2995.00
(VINTAGE COUNTRY MUSIC LOT) COUNTRY MUSIC STARS. Lot consists of a vintage collection of Country Music stars, ca l955-l960, & all obtained in-person: a. Minnie Pearl, 4to B&W half bust printed SP. Two scotch tape stains to right blank margin. She is shown wearing her trademark straw hat w/the price tag dangling from the brim! b. George Morgan & Jimmy Newman, signed below their individual photos on a 4to biographical page; c. Kitty Wells, 4to half bust printed SP; d. Johnny & Jack: 4to ľ length printed SP signed "Johnnie Wright & Jack Onglen"; e. Hank Snow, 4to printed SP. Also signed by his wife "Jimmie Snow"; signed on verso by "String Bean"; f. Tex Ritter, 4to printed half bust SP (l969) (Signed on verso by Carl & Pearl Butler ); g. Jim Reeves, 4to B&W printed half bust SP. Minor defects. Still nice; h. Bill Monroe, Father of Blue Grass Music, rare 4to B&W printed half bust, photo; i. George Morgan, 4to glossy B&W SP. Minor defects; j. Faron Young, 4to B&W glossy SP; k. Lew Childre, the "Duke of Paducah", 4to program signed on his photo; l. Jimmy Driftwood, signed program; m. Slim Whitman, 4to printed B&W SP; n. Johnny Cash, 4to B&W glossy SP "The" earliest photo we have seen of him; o. Ray Peterson, 4to B&W glossy ISP. Full length pose, standing under two large trees. (The retail value of these items is well over $800.) The lot…..[12208]…. Bargain at $595.00
IN PERSON EVERLY BROTHERS SIGNATURES
EVERLY BROTHERS (PHIL & DON). First Rock & Roll Duo. Influenced other artists. Vintage in-person full signatures of both on verso of 3.5" x 2.25" school photo of unidentified adolescent girl. Not common Rock & Roll autographs...[7377]..+.$75.00
"EXILE" . Pop singing group. 4to B&W ISP, showing the group standing in front of a white fence. Signed by four of the five with their first names. .[6565]...............$45.00
Christmas Card from Rock Star & Teen Idol Fabian
FORTE, FABIAN. Known as "Fabian". Rock star and teen idol of 50's and 60's. Christmas card, 3.5" x 6.5", boldly signed in red "Fabian Forte". (Full signatures are uncommon as be usually signs himself with his first name only).. ..Mint..>[11608]...$25.00
FOSTER, SIDNEY. Acclaimed pianist and concert artist. Bold pencil signature on playbill...... [11864]....$25.00

"FOUR PIANO EMSEMBLE", Playbill signed by the quartet in ink: SYLVIA DICKLER, HANS HEIDEMANN, AUDREY KOOPER and STEPHEN KOVACS.........[11849]..$35.00
FRANCESCATT, ZINO. Great French violinist who played with almost every major orchestra. Bold pencil sigtnature & ORIAN DALLEY, conductor (pencil signature) ...........[11868]..$38.50
GATLIN BROTHERS. Pop & C&W singers. 4to B&W ISP signed by all three. .[11555]. $25.00



GOLD, ARTHUR and ROBERT FITZALE, Duo-pianists. Playbill boldly signed "Gold" (in pencil) and "Fizdale" (in ink)................. [11852]....$35.00
JOHNSON, THOR. Conductor, Cincinnati Symphony Orchestra, etc. Bold ink signature on playbill.... [11861]..$25.00

(C & W MUSIC) JONES, GEORGE AND MERLE HAGGARD. Great Country & Western singers. 4to B&W ISP. Both are shown 3/4 length and both have signed. Nice SP of two greats!. Signature contrast good ......................[11876]..$75.00
"THE LETTERMEN". Famous singing trio. 4to B&W SP signed by all three. Not common................................................[5342].............$45.00
VINTAGE LIBERACE ISP WITH SIGNED PIANO SKETCH
LIBERACE. Pianist and entertainer. Vintage 4to B&W ISP, circa 1955, showing a handsome young Liberace at the keyboard of his piano. Beneath his signature he has drawn his trademark piano with candelabrum. Minor surface creasing which would not show if this piece were framed. A gem, showing Liberace at his best..........[9992]..+...$165.00

ALS OF THE SWEDISH NIGHTINGALE
LIND, JENNY. (1820-1887). Called the Swedish Nightingale. Swedish soprano singer, unrivaled master of coloratura. Latterly known as Madame Jenny Lind Goldschmidt. ALS, 8vo, 4pp., 8 January, n.y. (England): Oak Lea/ Dear Lady Perry: The cook can unfortunately not come to see you on Monday, as the master has sent her orders to which she must attend. Now she is anxious to know if she will be allowed to call at your house at Wimbeldon either on Tuesday or Wednesday or any other day which may suit you, dear Lady Perry, to receive her. If you will kindly send your answer to Miss Girard, Oak Lea, she will take care that Caroline attends to your
orders. -- Goodbye dear Lady Perry - May you and yours remain in good health until we - will God! May meet again. Yours sincerely, Jenny L. Goldschmidt". Fine. Not common..... [5326].... ..........$495.00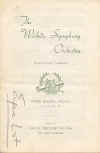 LIST, EUGENE. Am. pianist whose performance as a uniformed GI before the Big Three at Potsdam catapulted him to world wide fame. Close friend of President Truman. Known as the "President's Pianist." Bold pencil signature (Dec. 20, 1947)........................[11871]....$25.00

MAGALOFF, NIKITA. Internationally celebrated Russian pianist. Bold ink signature on playbill.......[11853].. $48.50
MENUHIN, YEHUDI. Violinist (1953)...Signature....[5845]...$45.00

"FATHER OF BLUE GRASS MUSIC"
(COUNTRY MUSIC) MONROE, BILL. C&W star. Choice 4to half bust printed SP, shown in western hat, holding guitar, circa 1955. ..........................................................................[10909].........$195.00
NELSON, RICK. Rock & roll singer. Teen idol in 50's and 60's. Vintage 5" x 5" matte finish B&W half bust ISP. Tip of upper left blank corner creased, else fine. Circa 1955-60. The earliest SP of Nelson we have seen. ......................................[9272]...............$225.00

PADEREWSKI, IGNACY JAN (1860-1941). Polish pianist and
statesman. In WWI, he devoted himself to the Polish cause and raised funds for Polish relief by his concerts. After war, went to Warsaw and formed coalition ministry in which he was Prime Minister and Minister of Foreign Affairs. Extremely fine 3.5" x 5.5" vintage half-bust photo of him boldly inscribed and signed in top blank portion: "To Mrs. John J. Walter, in kind remembrance, I.J. Paderewski". Contemporarily dated on verso "May (19) 08". The earliest and finest photo we have seen of Paderewski.......[11830]...+... $395.00
CHOICE COLE PORTER SIGNATURE
PORTER, COLE (1893-1964). Composer. Bold signature measuring almost 4", closely and somewhat irregularly clipped, thus priced. A nice example.

Comes with 4to B&W half bust printed portrait. Net to all. ............[11036]...........$195.00
PRIDE, CHARLEY. C&W singer. 4to color ISP....[5994]. ......................................................................................$18.50
RODZINSKI, ARTHUR (1892-1958). Polish-American conductor. Bold ink signature and GEORGE A. KUYPER, Manager, Chicago Symphony Orchestra...... [l1863].... $38.50
IN-PERSON TEX-RITTER SIGNATURE
(COUNTRY MUSIC) RITTER, TEX. C&W singer. Bold in-person signature on small piece of lined paper. [10910].. ................$95.00



RUBNIOFF, DAVID. Violinist. Program, 1950, signed in person on front cover below his likeness.................. .......[10907]................$25.00

SCHNEIDER, JOHN. Singer / actor. "Dukes of Hazard", etc. 4to color ISP. Nice.............[11813]......+.......$25.00
"Showplace", the Magazine of Radio City Music Hall, Vol. 6, April 2, 1942. Many quaint ads: Hildegarde - After the Theatre, etc. Maiden Form Brasseres. The program is for "Reap the Wild Wind" with Ray Milland, John Wayne, Paulete Goddard, Raymond Massey, Robert Preston, Susan Hayward, Hedda Hopper, etc. Fine......[11529]...................$35.00
SCHWEITZER, ALBERT. Physician, humanitarian and pianist. Bank check in the sum of $200. payable to him (a donation),1963. He has endorsed the check on the

verso. No cancellation marks touch signature. Uncommon in this format..................................................................[8121]........$295.00
IMPRESARIO MAX STRAKOSCH TRIES TO GET NEWSPAPER PUBLICITY FOR SPORANO EMMA THURSBY
(MUSIC) STRAKOSCH, MAX (1834-92). Bohemian impresario. Brother of Maurice Strakosch. ALS, 1 pg., 8vo, N.Y., Aug. 25, 1885, "To the editor of The Eagle, Pittsfield, Dr. Sir: Will you have the extreme kindness to notice in your next issue of your valuable columns that Miss Emma Thursby (1845-1931. Am. Soprano) the eminent American vocalist will appear for the first time in ? in a grand concert on the 3rd of September assisted by several renowned artists under the direction of Charles E. Pratt and obge. Yours most truly, Max Strakosch". Fine. Excellent content and association value..[5133]...$295.00
(MUSIC- INSTRUMENTAL ROCK) THE VENTURES. The Ventures became one of the most popular groups world-wide thanks in large part to their instrumental approach - there were no language barriers to overcome. The Ventures are still the most popular American rock group in Japan. The Ventures outsold The Beatles 2-to-1 in Japan. They have regularly toured Japan from the 1960s through 2008. According to a January 1966 Billboard Magazine article, The Ventures had five of 1965's top 10 singles in Japan. On March 10, 2008, The Ventures were inducted into the Rock and Roll Hall of Fame with John Fogerty as their presenter. With over 110 million albums sold worldwide, the group remains the best selling instrumental rock group of all time. 4to B&W SP. Signed by Gerry McGee, Mel Taylor, Don Wilson, and Gary Woods. One of the longest performing bands, the band has been performing since 1959. Two of their most popular songs are Walk, Don't Run, and the theme song for Hawaii Five-O. [3358] $95.00

(C&W) TUBB, ERNEST. C&W singer. Member, Country Music H.O.F. Inscription on note pad. Obtained in-person. Light staining on signature which is nevertheless a good strong example. ....[11936]..$25.00

WELK, LAWRENCE. Band leader. T.V. star. Interesting 4.5" x 3.5" color matte finish photograph of Lawrence Welk's feet and hand prints in Hollywood's famous "Walk of the Stars".+....[6743]...$35.00
WELK, LAWRENCE. Band leader. T.V. star. Vintage 9" x 12" color photo of Welk on front of program signed by Welk. Inside, signed by following orchestra members by their photos: Dick Dale, Aladdin, Alice Lon, Myron Floren, Rocky Rockwell. In person examples....[3145]..+..$48.50
WELK, LAWRENCE. Band leader. TLS, 4to, 1958, on "Lawrence Welk and His Champagne Music" letterhead; thanks for Christmas greetings and kind comments on television shows. Boldly signed [10000]..+.$48.50
(WELK, LAWRENCE). Band leader. Christmas card with printed greeting and original envelope (1960), a "Drive Safely" sticker and two small 2" x 3.5" calendars with his photos on recto. The quartet...[10002].+..$35.00
PATRIOTIC LAWRENCE WELK BOOK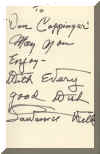 WELK, LAWRENCE. Big Band leader. Long running T.V. Show. His book My America, Your America with Bernice McGeehan, 8vo, 182 pp., Prentice - Hall, Inc., 1st edition, 1976, dust jacket, boldly inscribed on first free blank end paper: "To ____, May you enjoy -- with every good wish, Lawrence Welk." Welk reflects on his life, trials and successes in this song of praise and appreciation to his family (both personal and professional) and the ideals that make this country great. Includes stories, backstage glimpses and a Bicentennial prayer for the rebirth of America. The only signed copy of this book we have seen. [11912]..++..$65.00

WELK, LAWRENCE. Big Band leader. Long running T.V. Show. His book This I Believe, with Bernice McGeehan, 8vo, 195 pp., Prentice-Hall, Inc., 1st edition, 1979, dust jacket, boldly inscribed on first free blank end paper: "To _____, Hope you will enjoy this book and maybe share some of its philosophy. Your friend - (boldly signed) Lawrence Welk". Welk goes behind the scenes and takes you through a typical day -- showing how the band is run and how a show is taped. About this book he says: "I'm going to tell you, from the heart, the things I believe in - the philosophies that have helped me build this beautiful, beautiful life and the personality traits I believe lead to success -- the kind of success that lasts a lifetime and transcends money, fame or fleeting happiness." Profusely illustrated. Includes a photograph of him holding his famous white baton.....[11913]..++...$65.00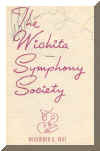 WHITTEMORE, ARTHUR & JACK LOWE. America's duo-piano team. Playbill signed "Whittemore" and "Jack Lowe". Both are in pencil. (Dec. 5, 1947).......[11854]... $25.00

WHITTEMORE, ARTHUR & JACK LOWE. America's duo-piano team. 4to B&W printed photo of both, boldly signed by both in ink. Nice. [11857].. ...........$48.50
RARE IN-PERSON HANK WILLIAMS SIGNATURE
WILLIAMS, HANK (1923-1953). C & W singer and song writer. At age 14 he organized his own country band and played at square dances all over Alabama. He played and sang on stations in Alabama and Louisiana before joining the WSM Grand Ole Opry in June 1949. His fame sky-rocketed with "Love Sick Blues" and other hits, e.g. "Cold, Cold Heart" and "Hey Good Lookin", etc. Bold in-person signature "Best Wishes, Hank Williams" contemporarily dated "11-21-51". Irregularly trimmed and scotch taped to a page from a Grand Ole Opry program with

his photo on it. Comes with another page from a Grand Ole Opry program with his photo and biographical sketch. Due to his tragic early death at age 30, his autographic material is rare

in any form. Suitable for matting. Due to defects, as noted.. The pair.. (Net to all)........... [11680]......$695.00
(FDR) YELLEN, JACK. Lyricist. W/Milton Ager, wrote "Happy Days are Here Again" in l929 for an MGM movie, "Forever Rainbows". Lacking confidence in the film, MGM stored it until l930,but Yellen & Ager arranged that the song be performed in Oct. l929 at the Pennsylvania Theater in New York on what became known as "Black Friday", the day of the stock market crash. The song was so successful that MGM re-shot the scene in which it was performed so the chorus would be added & promptly released the film. It became Franklin D. Roosevelt's theme song at the l932 Democratic National Convention in Chicago. Roosevelt preferred the song "Anchors Aweigh", but Louis Howe could not abide the pipe organ rendition of it which he heard on the radio from his room at the Congress Hotel. Lela Stiles, a reporter who worked for Howe, suggested "Happy Days Are Here Again", & Howe telephoned the organist at the convention & told him to play it after Roosevelt was nominated. New Dealer Raymond Moley remembered that after the nomination the exhausted Howe "groaned out between coughs: 'Tell them to repeat

"Happy Days Are Here Again." '". At first, the ironic "theme song of ruined stock speculators," the song became a symbol of hope during the Great Depression. Its use by Harry S. Truman, John F. Kennedy, & Jimmy Carter suggests that this legacy of the New Deal is an enduring tradition in the Democratic Party. TLS, 4to, personalized letterhead "Melody Meadows, The Yellen Farm, Concord, Erie County, New York", April 3, l934, to (the famous autograph collector) Rev. C(ornelius) Greenway, Brooklyn, N.Y.: "Dear Sir: Please forgive the delay in complying with your flattering request. I enclose the words of "Happy Days Are Here Again," in my handwriting. I regret that I cannot assist you in obtaining the autograph thereto of my former collaborator. With kindest regards and best wishes, Sincerely yours,(signed) Jack Yellen". Yellen's material is scarce in any form. This is a great content letter with great association value. [3342] + $395.00
ZAKIN, ALEXANDER. Pianist and ISAAC STERN, violinist. Bold ink signatures of both on playbill...............[11865]..$35.00