WORLD LEADERS

CHURCHILL LETTER TO HIS FORMER STABLES MANAGER
CHURCHILL, SIR WINSTON. TLS, 4to, London, 10 July, 1957, to A.A.F. Panton, Esq., "Thank you for your letter, which I was very pleased to receive. - I am glad that you are enjoying your new work, in which I wish you all success. Yours Sincerely, (signed) Winston S. Churchill". One small round file hole in upper left blank corner, else fine. Choice signature. Comes with original envelope......[1362]......$2500.00

DIEFENBAKER, JOHN. Prime Minister of Canada. Bold signature on official envelope as Prime Minister........[5834]...$45.00
ABBA EBAN'S MY COUNTRY: THE STORY OF MODERN ISRAEL and of his people's struggle for statehood and international recognition

EBAN, ABBA (b. 1915). Israeli diplomat. Minister of Foreign Affairs, Ambassador to U.S., Permanent Delegate to U.N., Minister of Education and Culture in David Ben-Gurion's cabinet & Deputy Prime Minister under Prime Minister Levi Eshkol. He played an active role in the Zionist movement before the establishment of the State of Israel. At Cambridge University he achieved the highest academic honors. His book: My country / The Story of Modern Israel, 304 pp., Random House, 1972, 1st ed., d.j. (chipped), signed on title page. The book begins with the climactic moment on May 14, 1948 when the State of Israel came into being. With the immediacy of one who has participated in the creation of history, Eban describes

his country's struggles for security, the drama of mass immigration and absorption, economic crises, revolutionary and cultural efforts to forge a new nation; and a new self-image for a people reunited with its soil; the tensions and terrors of Israel's wars and the perpetual frustration that has characterized Israel's quest for peace with its neighbors. A scarce title to find signed.........[11645]......$295.00

FAURE, EDGAR. Premier of France. TLS, 4to, on official letterhead, Paris, 21 June, 1955, in French; untranslated.......[11021]...........$25.00


(VIET NAM) KY, NGUYEN CAO. Prime Minister of Viet Nam. His book Buddha's Child: My Fight To Save Vietnam with Marvin J. Wolf, 8vo, St. Martin's Press, N.Y., 376 pp., cloth with orig. d.j., 1st ed., May, 2002. Boldly signed on the title page. Ky reveals what went on behind the scenes at the highest levels in Saigon and Washington; the coup d' etat, the secret deals, the rivalries and intrigues, he revolts, the astonishing greed of his fellow generals, the conspiracies and betrayals and ultimately the tears. Reveals previously unpublished incidents of significance and importance. A remarkable and fascinating read. Near fine..[12211].+.$195.00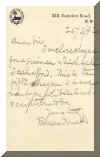 TESTY ALS OF J. RAMSEY MacDONALD ABOUT A POLITICAL DONATION
MacDONALD, J. RAMSEY (1866-1937). Twice Prime Minister of Great Britain. A pacifist, he opposed England's entry in WWI. Organized first Labor Ministry in the history of England. ALS, 4" x 6" letterhead embossed with a logo and his address. March 25, (18)92: "Dear Sir I enclose cheque for a guinea which is all I can afford. This is the fifth cheque I have sent for political subscriptions. Yours truly (boldly signed) R. MacDonald". Clean darkly penned example.....[11944]...$175.00
(NASSER, GAMAL ABDEL) Pres. of Egypt and founder and first president of the United Arab Republics. Calling card, 3.5" x 2.25" with his name printed in English. Mounting traces on verso, else fine.....[10741].. ....................................$75.00
MILITARY DOCUMENT SIGNED BY BOTH BERNARDO O'HIGGINS, THE "LIBERATOR OF CHILE" AND JOSE DE SAN MARTIN, THE LIBERATOR OF PERU
O'HIGGINS, BERNARDO. (1778-1842). Soldier and statesman. Known as the "Liberator of Chile". Military leader of Chilean patriots from 1810; made Commander of the Army (1813); after joining with San Martin; decisively defeated the Spanish at Chacabuco (Feb. 12, 1817); Dictator of Chile (1817-23). His administration was a progressive one. In 1823 he was deposed by revolution and retired to Peru.
SAN MARTIN, JOSE DE. (1778-1850). South American soldier and statesman. Offered his services to Buenos Aires in its fight for independence (1812);

defeated Spaniards (1813); succeeded Belgrano as Commander in Chief (1814); organized army in Argentina (1814-16); crossed the Andes and with General O'Higgins, defeated the Spanish at Chacabuco (1817); and Maipo (1818) in Chile; established independence of Chili; with aid of Lord Cochrane, developed a Chilean fleet and left with it for Peru (1820). Won over Peruvians and entered Lima (July, 1821) as Spanish withdrew; proclaimed independence of Peru; assumed title of "Protector of Peru". Resigned (1822), refusing to oppose Bolivar's ambition, but his work made possible Bolivar's later victories over the Spanish. Regarded as an able soldier and a farsighted and upright statesman. D.S., 8.5" x 12", in Spanish, signed by both O'Higgins ("O'Higgins") with his usual signature, as dictator, Santiago, March 26, 1820, and Jose de San Martin ("Jose de Sn. Martin", Santiago, 22nd April, 1820. The autograph of both these South American liberators is scarce, particularly O'Higgins. However, documents signed by both are virtually unobtainable, this being the only such example we have seen. The document is chipped and irregularly torn along the left border with some paper loss and minor text loss, apparently from removal from a bound volume, otherwise in fresh, clean and pristine condition. A museum quality piece....[11890]..+..$3500.00
PAHLAVI, ASHRAF. Her Imperial Highness, Princess (b.1919). Twin sister of the last and late Shah. She is best known for heading Iran's delegation to the U.N. and for serving as President of the Consultative Committee for the International Women's Year Conference of 1975. TLS, 8vo, Nov. 14, 1985, with blue embossed royal crown and her initials. Brief letter of thanks for support. Not a common royal autograph.. .....................[11453]........$150.00
ONE BRITISH PRIME MINISTER WRITES ANOTHER. SIR ROBERT PEEL WRITES TO THE SECOND EARL GREY.
PEEL, ROBERT, SIR. (1788-1850). Twice Prime Minister of Great Britain. He reformed the London police who were known thereafter as "Bobbies" in his honor. Reduced national debt and taxes by abating duties on food and raw materials. He supported emancipation of the Jews and the Whigs' free trade principles. He reorganized the Bank of England. Address cover entirely in his hand addressed to: The Earl Grey* and boldly franked in lower left corner. No postal markings. The
Earl Grey to whom the cover is addressed is the Earl Charles Grey, the 2nd Earl Grey who was Prime Minister of Great Britain (1830-34) and the immediate predecessor of Sir Robert Peel. Great association item. Light contemporary ink staining in upper blank area. Great association. [11958]. $195.00
*As Prime Minister the 2nd Earl Grey secured passage of the 1832 Reform Bill which provided for the reform of the electoral system, suffrage and the abolition of slavery in the British empire. Grey achieved his reform measure by getting William IV to reluctantly agree to create enough new peers to overcome opposition in the House of Lords.

PEEL, ROBERT, SIR. (1788-1850). Signature clipped from a letter or document. ...[11961-2]....$45.00
OFFICIAL SIGNED PHOTOGRAPH OF PRIME MINISTER YITZAK RABIN
(ISRAEL) RABIN, YITZAK. Prime Minister of Israel. Awarded Nobel Peace Prize. Assassinated in 1996. 3" x 5" matte finish SP, signed "Y. Rabin". Half bust pose. Comes with printed official transmittal note: "State of Israel/ With the Compliments of the Prime Minister's Bureau, Jerusalem". Fine.. ..[7900]..............$395.00
(JUDICIA) RABIN, YITZHAK (1922-1996). Prime Minister of Israel. Assassinated (1996). Won Nobel. Handsome 7" x 9" 3/4 length color portrait as Prime Minister showing him with a map of Israel and the Israeli flag in the background. Boldly signed on lower border. Mint....[12309]. $395.00
ROWSER, S.J.. Acting Premier of Canada. TLS, 4to, Aug. 30, 1913, office of the Prime Minister, Province of Br. Col., Victoria, to the Am. Southern Commercial Congress, Wash., D.C., regarding appointing a 3 man committee to a conference "discussing economic conditions as affecting agriculture. Declines on the ground(s) that a similar Royal Commission is in existence................................[11017]...........$15.00
RUSSELL, JOHN (1792-1878). British Prime Minister. Closely clipped signature from document. Signed "Russell".[5833]...$45.00
JEWISH NEW YEAR GREETINGS WRITTEN IN HEBREW FROM
YITZCHAK - BEN-ZVI, PRESIDENT OF ISRAEL
(JUDACIA) ZVI, YITZCHAK-BEN. President of Israel. Greetings for the Jewish New Year written in Hebrew on a small card which reads: "Blessing for the New Year, 5710 Tisrai (the Hebrew month corresponding to Sept.) Signed in Hebrew as "Yitzchak Ben Zvi". Mint. A scarce Judacia item.. [6567]....$195.00